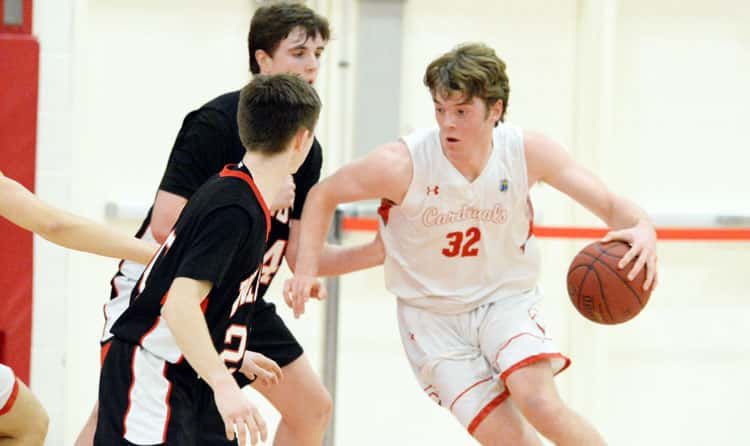 By Paul Silverfarb
Sentinel Editor
In a back-and-forth thriller in the Greenwich High School gym, the Greenwich boys' basketball team fell victim to a buzzer beater in the second overtime, falling to Fairfield Warde High School 68-66 Monday night.
However despite the loss in heartbreaking fashion, GHS head coach Chris Lovermi couldn't have been more proud of his flock of Cardinals.
"I told the boys that I can't ask for anything more," Lovermi said. "They gave a great effort. The game was there for us, but you have to give Warde credit as well. That was a great high school basketball game and a great FCIAC game. Two teams fighting for a playoff spot and unfortunately they made one more play than we did."
Leading the way for Big Red was Oliver Milledge, as the senior tri-captain finished with 18 points.
"I honestly don't think that the ending of that game was in our control," Milledge said. "It was up to the basketball Gods. I thought we really adapted well and what this game showed is that we are really coming together as a team and finally building the chemistry that we need to make a run during States, which is what we have our mind set on now. Every punch that Warde threw at us we did something to counter it."
In addition, both junior Chris Genaro and senior Chris Mark added 14 points each. Genaro was clutch from behind the three-point line, as all but one of his shots were from long distance. Not to be outdone was junior Max Steinman, who took home nine points. Senior tri-captain added six points.
"I don't think we could have done anything more on our part," said Nail. "The game came down to who was going to get the calls and who was going to make the baskets. At the end of the game they just made a couple more plays down the stretch and got a few more calls than we did. I think we are proud of the way we played and I don't think we could have done anything more."
With the score knotted at 66 in the second overtime, the Cardinals gained possession of the ball and moved it around to perfection for just over a minute. Genaro gained control of the ball and went in for the jumper, but the ball bounced out and into the hands of the Mustangs.
That's when Warde's Matt Becker took the ball up the court and went for the floater in the paint. With no time remaining the ball rattled around the net, bounced up and finally went through the hoop for the game-winner.
"We held the ball for a minute and took the shot with four seconds to go," Lovermi said. "You can't get any better look than that. Chris will make that shot nine out of 10 times, maybe 99 out of 100 times. That time it just bounced around and came out."
"Matt's our leader," said Fairfield Warde head coach Ryan Swaller. "He's our leading rebounder as my point guard, so it helps out to have that ability to start the fast break. He was able to get deep enough in the hole, throw up the floater and it bounced in. It felt like forever up there, but it fell through."
Becker finished with a game-high 24 points to pace Fairfield Warde.
"We were both fighting for that eighth seed in the FCIACs," said Swaller said. "We are all within the same striking range looking at needing a win total of nine. On the road against a team that played tough against Central the other night, it went back-and-forth. They came out hot in the first half and then we took our turn. I am proud of our guys. In overtime they had 10 fouls quick. We had to play better defense without our hands and try to move our feet. Defensively I think we had just enough stops and just enough time on the clock to make that final play."
In addition, Matt Houghton took home 23 points while teammate Brendan McMahon added 11 points and Jack McKenna added four points in the win.
"Obviously it's all a credit to my teammates," Houghton said. "They found me when I was open. The kid was playing great D on me and I barely got any shots at the end. My teammates found me when I had just the slightest opening and I hit my shots."
With Greenwich trailing 40-34 after Warde's Ben Steele connected on a deep three-pointer with less than two minutes to play in the third quarter, Big Red started its comeback. After Genaro drove the paint and hit the layup with 50 seconds to play, the junior went deep on Greenwich's next possession, hitting the baseline three-pointer with 27 seconds left in the third to cut the deficit to 40-39. Greenwich ended the quarter when Mark hit both his foul shots to give the Cards the 41-40 lead with one quarter to play.
And Mark wasn't finished. He started the fourth quarter with a driving layup in the paint and followed that up with a three-pointer from the top of the key to make the score 46-40. Although Houghton stopped the bleeding for Warde with a three-pointer of his own with 5:57 to play, Big Red didn't back down, as Billy Nail drained the baseline three-pointer to make the score 49-43.
"I thought our defense was very good and that we did a good job making Becker work for his shots," Lovermi said. "I thought we did a heck of a job against Houghton until that fourth quarter when he got a little hot there. I thought our defense was solid and it was one or two plays."
But that's when Houghton took over for the Mustangs, connecting on back-to-back deep three-pointers, with his second one tying the game at 49-49 with 3:46 left.
With 1:09 to play in the fourth, it looked like Greenwich might pull the game out in regulation, as Milledge hit one of his two free throws to extend the GHS lead to 56-53. Although McMahon hit a baseline layup to cut the deficit to one, Mark was there to calmly drain the layup with less than 30 seconds left in the fourth to bring the GHS lead to 58-55.
"I saw a lot of growth tonight," Lovermi said. "I saw a lot of maturity out there and saw a lot of mental toughness that we have been working on. We were darn close of breaking through tonight and we just didn't do it. But it's no fault of ours. I thought the effort was supreme. If we have that effort the rest of the way down the line, then we are going to be just fine."
However that's when Houghton struck again, this time connecting on the clutch three-pointer with 17 seconds to play that tied the score and pushed the game to overtime.
"We spoke a lot during practice yesterday about running our offense and being all five guys together offensively," Swaller said. "We had a lot of breakdowns and our positions weren't right. I thought we did a great job running our offense and getting guys the shots we want to get, especially down the stretch when each and every possession matters that much more.
In the first overtime, Steinman drained the floater and later gave GHS a 61-59 lead when he hit one of his two foul shots. Once again Houghton was there and came up big for Warde, hitting the layup under the basket for the 61-61 tie.
With the loss, Greenwich fell to 9-8 overall and 6-8 in the FCIAC. Although their class LL postseason ticket has already been punched, Monday's loss made reaching the conference tournament a little more challenging, as teams like Warde, Brien McMahon, Fairfield Ludlowe and Trinity Catholic all fighting for that final playoff spot.