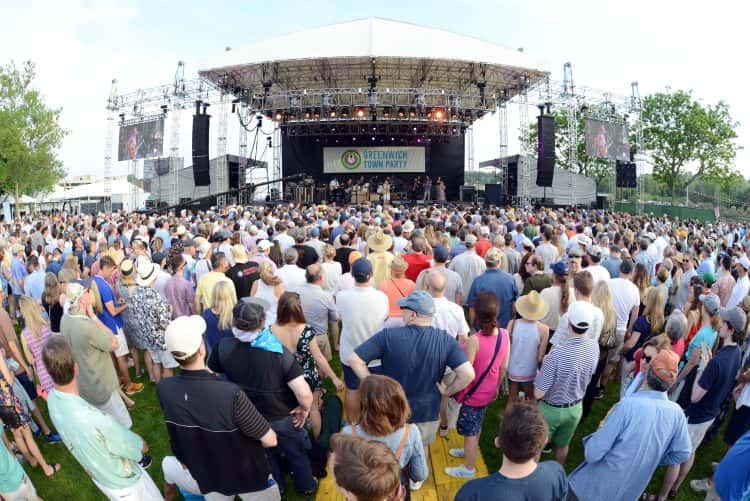 By Richard Kaufman
Although it's only February and temperatures have been hovering in the thirties, the Greenwich community can begin to dream about summer.
Earlier this week, it was announced that Rock and Roll Hall-of-Famers, Lynyrd Skynyrd and The Beach Boys, will headline the Main Stage at the 2019 Greenwich Town Party, slated for Saturday, May 25.
The all-day music festival, held annually Memorial Day Weekend at Roger Sherman Baldwin Park, will also feature the Grammy-nominated band, Trombone Shorty & Orleans Avenue, as well as pop-country singer/songwriter and Greenwich native, Caroline Jones, and the local classic rock favorite, 8Track Band.
"People can expect a great show. It's going to be a rip-roaring show," said GTP Co-President, Ray Rivers. "I think it will be a good time with good people and good music."
Rivers said a lot of work goes into finding which bands are available to perform. Past acts have included Paul Simon, James Taylor, Carlos Santana, Dave Matthews, John Fogerty, and Eric Clapton, who performed last year.
"We've been trying to get as many iconic bands as we can," Rivers said.
Lynyrd Skynyrd was formed in 1964, and became popular in the Jacksonville, Fla., area, home to its original members, Ronnie Van Zant, Bob Burns, Allen Collins, Gary Rossington and Larry Junstrom. 
In 1973 they released their self-titled album that featured "Free Bird." The band went on to record iconic tracks, "Sweet Home Alabama" and, "What's Your Name," but their story took a tragic turn, in October 1977, when a plane crash took the lives of Van Zant, Steve Gaines, backup singer Cassie Gaines, and several of their road crew. 
The band ultimately reunited after a 10-year hiatus with original member Rossington, Johnny Van Zant, Rickey Medlocke, Mark "Sparky" Matejka, Michael Cartellone, Keith Christopher, Peter Keys, Dale Krantz Rossington and Carol Chase.
The Beach Boys, who formed 50 years ago, have shaped the musical landscape and influenced countless artists with hits like, "California Girls," "Good Vibrations," and "Surfin' USA." The group has sold in excess of 100 million records worldwide, making them one of the world's best-selling bands of all time.
Trombone Shorty & Orleans Avenue was founded by Troy Andrews, a musician, producer, actor and philanthropist from New Orleans' legendary Treme neighborhood. Andrews comes from a family of musicians and earned his name "Trombone Shorty" at age four when he first picked up his trombone.
In 2010, his album "Backatown" was nominated for a Grammy award and hit the Billboard Jazz chart at number one. 
Jones is familiar to Greenwich residents, as she grew up in town and attended Greenwich Academy. Rolling Stone named her one of the "10 Country Artists You Need to Know" and Billboard called her one of the "15 Country Artists to Watch in 2018."
Jones has toured with Jimmy Buffett and the Eagles, Zac Brown Band and OneRepublic, and Tim McGraw and Faith Hill. This summer, Jones will tour with award-winning country music singer and songwriter, Kenny Chesney.
8Track Band returns to the GTP stage after performing at the event last year. Formed in 2008 by two musicians and Greenwich residents, the acoustic duo gradually morphed into a dynamic eight-piece band that brings to life classic, beloved hits from the 1970s.
Six local bands will help round out the day's performances on the popular Town Stage. Created to celebrate the diverse and abundant talent within the Greenwich community, the Town Stage band application is open to Greenwich residents of all ages, backgrounds and skill levels. Musicians and artists may apply until the end of the day on March 1, at greenwichtownparty.org/participate.
The mission of the GTP is to create an annual celebration for the people of Greenwich to come together and participate in a day of music, food, fun, family and friendship and to experience the strength of community.
The GTP is an IRS recognized 501(c)(3) non-profit, so it's privately funded through generous contributions from residents and businesses, and, in part, through ticket sales. All proceeds support the sustainability of the event, and tickets are offered at a significantly discounted price.
Tickets for last year's party sold out online in minutes, so a new process had been implemented for this year's event.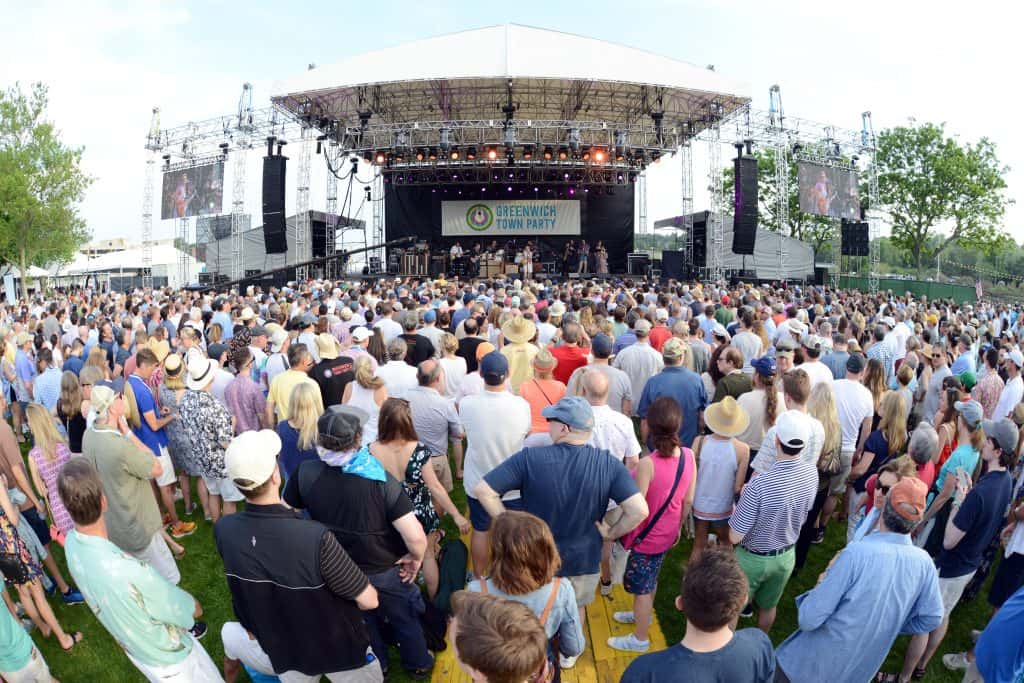 Between June 1, 2018 and Sept. 4, 2018, residents were able to submit applications to enter into a lottery for tickets. On Oct. 11, lottery winners and non-winners were notified via email. Each winner was given a special code to purchase tickets online, and non-winners were placed on a waiting list. Lottery winners had until 11:59 p.m., to purchase tickets on Oct. 19. Tickets will be delivered in May.
"[The new process] worked great in terms of it reduced some of the angst and stress around trying to be online at exactly the right minute [to get tickets], so it opened up the ability for some people who don't have the flexibility to be in front of a computer at a certain time to be able to get tickets," said Rivers, who noted the event is capped at 8,000 tickets. "All in all, I would give [the lottery process] an A-. We can always figure out how to do it a little better, and we will tweak it a little bit going forward."
Even though the lottery winners have been selected, tickets are still available online through neighbor and sponsor passes. For tickets, go to greenwichtownparty.org.
Rivers said anticipation for the party, which serves as an unofficial kick-off to summer, has grown every year since its inception in 2011.
"We strive to make the party better every year," Rivers added, noting that it will be difficult to wait between now and Memorial Day Weekend. "I wish it was May tomorrow."
For more information on the GTP and the musical acts, go to greenwichtownparty.org.