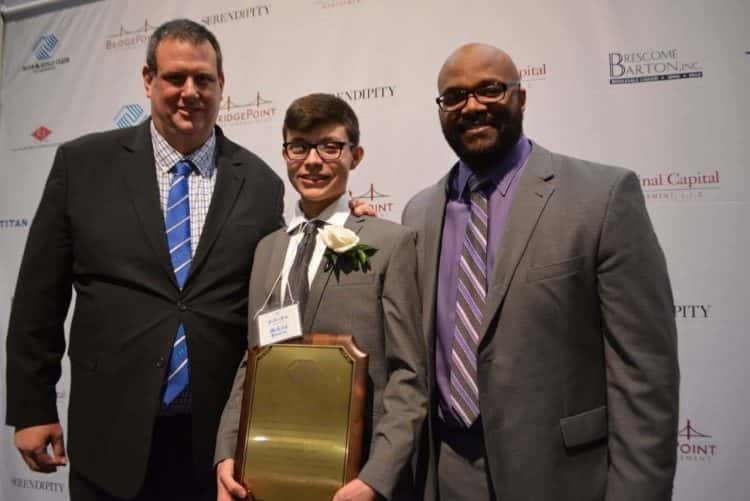 By Richard Kaufman
There were hardly any dry eyes at the Boys and Girls Club of Greenwich last Thursday, as the community gathered to celebrate the club and name a recipient of the Youth of the Year Award.
Michael Rincon, a senior from Greenwich High School, was awarded with the honor, and was overcome with emotion describing what the club has meant to him over the years.
"[When I found out I was getting the award], it was just a flashback of my whole experience here. Every little part came back into my mind. I love how everything played out exactly how it did," he said. 
Rincon first went to the club when he was four, and learned how to swim. He has been involved with the Young Mariners, ice skating, summer camp, basketball, indoor soccer and the Keystone Club ever since.
Rincon said it was extra special to have his family in attendance.
"I was so proud to be able to represent my family. They always pushed me, always told me I could strive for more," he said. "They told me to never settle for less, and that's what I've been learning. They're my foundation and support, along with the club."
When describing his older brother, David, Rincon fought back tears. 
"He's the reason I joined the club," Rincon said. "My brother is my role model. I love him to death because he always makes sure I'm ok and headed in the right direction. I love him for that."
The other Youth of the Year finalists were Mavin Campos, David Jaramillo, Vanessa Maldonado, Mason Perkins and Domenica Echeverria, who won the award last year along with the 2018 State Youth of the Year.
Club CEO, Bobby Walker Jr., said the event is one of his favorites.
"It's a chance for us to give people some sense of what being a club kid means and what are the benefits besides just being in a safe environment after school. It's about growing up and becoming a better version of you. I think that's sort of what we take pride in," he said.
"I've had the pleasure of getting to know all the finalists during my time at the club," Walker added. "They're incredible kids who do every single thing they can for the club and for themselves. I'm really proud of them."
Christine Lane, a former club kid who now works at the club, spoke about how her family has been positively impacted. She said that as a single mother, the club has provided a safe haven for her children. She was also referred to Nathaniel Witherell by Don Palmer, Programs Director at the club, and works there as well to support her kids.
"The Boys and Girls Club of Greenwich is very near and special to me," she said with tears in her eyes. "I know when I am having a bad day, need to talk about something or just vent, or just need a welcoming smile, I know I can find it in the club."
Rebecca Breed, a longtime volunteer and supporter of the club, was awarded with the Champion of Youth Award for her service over the years. Breed, a former Greenwich First Selectman, decided to go to law school after her political career. She started working in juvenile law to help young kids. 
Her son, Michael, spoke on her behalf about what the award, the club and the town has meant to her. Michael also told everyone what she has meant to him.
"I know what I was given," Michael said, overcome with emotion. "What's really cool is when you hear what she has given others. Her affect on other people has been enormous. Not just kids, but parents and people around this place. She has this way of bringing a spirit that we all want to mimic. It's tremendous."
First Selectman, Peter Tesei, who couldn't be in attendance, sent Breed an audio message congratulating her on the award. He proclaimed Feb. 7 as Rebecca Breed Day in Greenwich.
After she was given the award, Breed spoke briefly. "I love this place. When I came back tonight, I thought, 'I'm home again,'" she said to a standing ovation.
The biggest surprise of the night came when Walker announced that the Breed family donated $1 million to the club's scholarship fund, which will be distributed in $100,000 scholarships over the next 10 years. The announcement drew loud applause from the crowd.
"She's a remarkable friend of the club. She loves kids; she loves seeing all kids succeed no matter who they are, no matter what the background, no matter their circumstances. I think she believes in the power of kids, that if given the tools, if given the access and opportunity, they can really make a difference," Walker said.