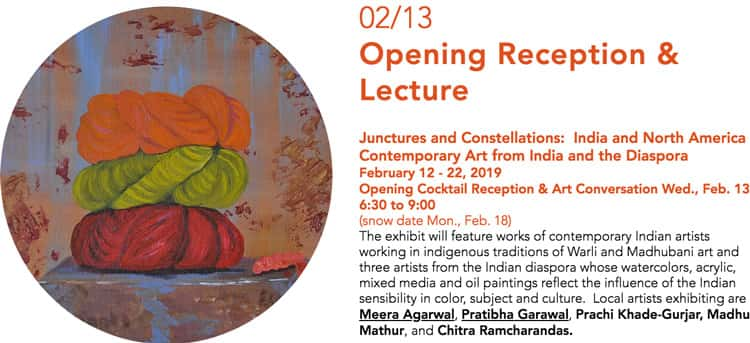 India Cultural Center of Greenwich ("ICC"), together with the Greenwich Arts Council ("GAC"), will be hosting "Junctures and Constellations: India and North America Contemporary Art from India and the Diaspora," Wednesday, Feb. 13 at 6:30 p.m., at The Bendheim Gallery, 299 Greenwich Ave.
The art exhibit, which runs from Feb. 12 through Feb. 22, will feature indigenous Warli and Madhubani works as well watercolors, acrylic, mixed media and oil paintings. Junctures and Constellations is the first-ever art exhibit held in Greenwich that will feature art exclusively of the Indian diaspora. The event is free to attend, and many of the featured works will be available for purchase.
On Feb. 13, ICC and GAC will officially open the exhibit with a catered welcome reception and remarks by Kathryn Myers, a professor of painting at the University of Connecticut and two-time Fulbright Scholar in India. Professor Myers will discuss how the art of the Indian diaspora opens up a fresh way of viewing Indian traditions and how indigenous artists and contemporary artists are traversing cultural boundaries to forge new paths.
This exhibit is part of ICC's "Discover" series, which explores the cinematic, culinary, literary, performing and visual arts of the Indian subcontinent.
For more information, contact 914-967-4249 or margie@iccgreenwich.org or visit iccgreenwich.org