February 8, 2019
The Battle of Tolls in CT is Heating Up in Greenwich Area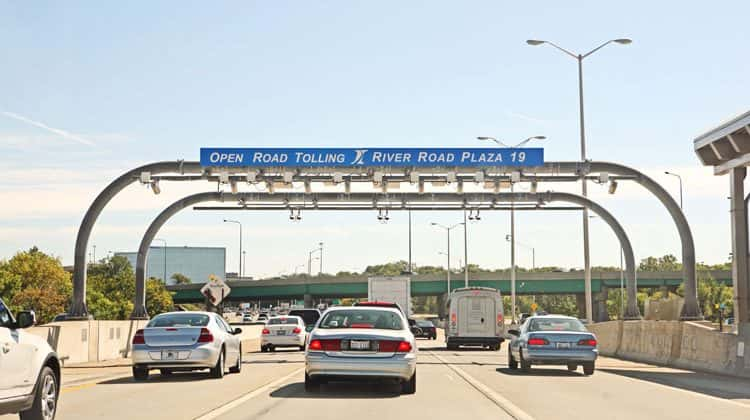 By Paul Silverfarb
Sentinel Editor
Just when he thought he was out, the State of Connecticut pulled Patrick Sasser back in.
A year after the founding member of the No Tolls CT group led a charge and declared victory in its battle to keep the Nutmeg State toll-free, Sasser, along with fellow co-founders, Bobby Katchko and Frank Cortese, are ready for another hard-fought battle.
"The battle has just begun," said Sasser, a full-time firefighter for the Town of Stamford and, along with his brother, the owner of Sasser Excavating & Trucking. "I am extremely pleased to see that so many Connecticut residents are starting to get involved. They are starting to make calls to their representatives. They are sending emails. They are signing our petitions. The movement is growing every day and to me that is a great pleasure. The true reward to me and to all the workers with No Tolls CT will come when the toll bill is either removed and tolls are off the table."
While No Tolls CT has been in vocal recently, they are far from a new organization. The three founders, Sasser, Katchko and Cortese started this a year ago when the first notion of the possibility of tolls were mentioned. Cortese, owner of New England Oil, and Katchko, owner of Katchko Construction, along with Sasser teamed up and decided to try and make some noise about how tolls will impact them, both personally and with their businesses.
They held their first rally in Stamford on a Saturday, and that was the spark of No Tolls CT. Sasser was also calling different media outlets, using any form of communication to get the word out on No Tolls CT. After gaining little traction, Sasser, Katchko and Cortese hit the books a little harder, learning about everything, both good and bad, associated with tolls.
"I was more prepared," Sasser said. "I had a plan in place of what we needed to do moving forward. What lawmakers we had to go after. Who we had to target. I went and spoke at a public hearing in Hartford. So these things started happening, and lo and behold some lawmakers held an event in Stratford. Three or four lawmakers got together to hold a Town Hall meeting regarding tolls and the place was packed, wall-to-wall. People in that place, literally, had steam coming out of their heads and they were angry about the notion of having tolls.
"As far as I'm concerned, the public spoke and the lawmakers got it," Sasser added. "They recognized that they can't put this through. People were pissed. So that was the start of it all last year."
With the possibility of tolls being front row center again, Sasser is going back to work and knows it's going to be a challenge.
Sasser, who said he spent over $1,000 of his personal money to fight the battle of tolls in Connecticut, along with Katchko and Cortese, started a GoFundMe page to help defray the costs of running No Tolls CT.
"It gets expensive to fight these battles," Sasser said. "I'm not a lobbyist or a multi-millionaire, so it gets expensive. We have a big challenge on our hands this year, so we thought it was best to form a GoFundMe page and see if we can get people to put in some small donations so we can order window stickers. We're going to need to order some signs for when we do larger protests. We printed out cards that people can hand out. All these things cost money."
Sasser, who is a full-time firefighter, doesn't have large business like the other two No Tolls CT founders. For Cortese, his trucks are constantly running back and forth all over the area filling up for oil deliveries.
"When he ran the calculations, he was looking at anywhere from $75,000 to $100,000 a year on possible toll fees," Sasser said. "How does a small business sustain that kind of impact? The only thing they can do is pass that on to their customers. And, that's the second half that I am fighting. As a taxpayer, that's the main reason I am fighting this thing. I am sick of the tax on top of tax on top of tax in Connecticut. And everybody wonders why people are fleeing our state. It's a huge impact on small businesses, but the bigger impact that these tolls are going to have is on every taxpayer in our state. You're going to pay for the tolls when you drive through them, and you're going to pay for the tolls every time you purchase goods in our state. I don't care if you're purchasing a gallon of milk or buying a book at a store," he said.
"That's what is killing me about Governor Lamont's campaign when he talks about just tolling trucks," Sasser added. "Those trucking companies aren't going to just eat the millions of dollars of tolls. They are going to increase their rates, pass that cost to the store, and the store is going to be forced to raise its costs. It's simple economics."
No Tolls CT has been a household name recently. Sasser said that State Senator Alex Bergstein made some comments about Sasser's group that weren't accurate, saying that former State Senator Scott Frantz was the leader of his group.
"She is absolutely wrong," Sasser said. "I don't know where she is getting her facts from or what research she's doing about the toll issue last year. I had a discussion with her, briefly, after one of her events where I told her that we had these toll discussions last year. She says that she put the bill in to start the discussion, but we already had these discussions. I told her that I was sorry that she wasn't up [in Hartford] last year, but we had these discussions. The people fought this last year. We stopped it last year. And here she is, a freshman senator, bringing it all right back in again. That is what is so frustrating to so many of us."
Sasser said that he wanted to make it perfectly clear that No Tolls CT is not affiliated with any group or political party.
"We are reaching out to Democrats, Republicans, Independents," said Sasser. "Anyone in the state who opposes tolls can join our group. This has nothing to do with Governor Lamont winning. This has nothing to do with Senator Bergstein winning. This has to do with the fact of another tax being put on the working class of Connecticut. It's kind of shameful that she's taking the position that we're attacking her because she's a Democrat. It has nothing to do with it. If it was a Republican that put this bill forward, I would be all over that individual just as much."
Tags:
Alex Bergstein
,
Bobby Katchko
,
cashless tolls
,
ctpolitics
,
Frank Cortese
,
greenwich
,
hartford
,
Ned Lamont
,
No Tolls CT
,
Patrick Sasser
,
Scott Frantz
,
Tolls
,
Town of Greenwich