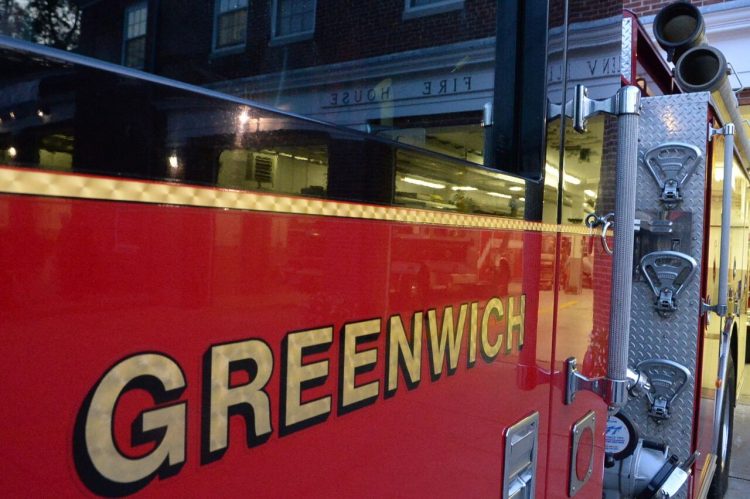 By Richard Kaufman
In front of the Board of Estimate and Taxation Budget Committee earlier this week at Town Hall, First Selectman Peter Tesei and Fire Chief Peter Siecienski presented their case for a new fire station in northwest Greenwich, citing inadequate fire protection and long response times as primary reasons a station is needed.
Back in September, the Representative Town Meeting passed a Sense of the Meeting Resolution, 136-55-3, which called for town officials to explore the possibility of constructing a new station.
Currently, Tesei is requesting $100,000 in the proposed 2019-2020 budget to identify a location for the station. If the funds ultimately get approved, architecture and engineering work will begin in the fiscal year '20-'21, with construction, totaling $5.4 million, taking place the following year. 
The facility would also serve as a joint station for Greenwich Emergency Medical Services (GEMS). There would be two bays for fire, with three firefighters working per shift, and an adjoining two-bay ambulance station for GEMS. The move would reposition GEMS from their current location at Station Four.
"The [temporary GEMS] facility is in disrepair and requires investment," Tesei said. "The facility is not adequate for operational needs, lacking a climate controlled environment to properly store ambulances."
Possible locations for the joint station have been narrowed down to King Street and Riversville Road.
The town currently has eight fire stations, which are strategically placed to cover hot spots in town.
Greenwich is held to the national standard of a four minute response time. According to a map from the presentation which showed response times throughout town, portions of northwest Greenwich well exceed four minutes.
BET member, Karen Fassuliotis, questioned the map.
"It looks like most of Greenwich is out of the four minute range. Why wouldn't this mean that we would put other fire stations in other places? How many fire stations are enough?" she asked.
Siecienski said she was correct, but that "it's a matter of what's being protected as far as the density, what's being protected as life hazard, property value and the frequency of calls."
"You're not going to have a system that's going to put the entire town into a four minute response pattern. It will not be cost effective based on the hazards, based on the frequency to place fire stations throughout the town. Speed, distance and time enter into it. I can't change the distance. I can't have fire trucks run faster," he added. "The concern that we're dealing with is how do we take care of this high-valued, high life hazard, target hazard area and provide some protection to the backcountry, similar to what the rest of the town has."
Along with residences, Tesei and Siecienski identified several target hazards in northwest Greenwich, such as Sacred Heart Greenwich, Brunswick School, a rehab center and an assisted living facility, and the Westchester County Airport.
There are also several operational challenges in getting to northwest Greenwich, according to the presentation, such as dealing with narrow and hilly connecting roads, which are especially difficult to navigate during inclement weather.
BET Budget Committee member, Leslie Tarkington, noted the expansion and development in the area over the years, especially related to Brunswick School.
"If this is such a dangerous situation, why did the fire marshal sign-off on all of this new construction? Why aren't we working together as a team in the town rather than creating hazards that are creating risks for all the residents of Greenwich," Tarkington said.
"I don't know how the town could in effect discriminate against them in wanting to develop exclusively based on that, especially when there are other insititutions that were out there previously, such as Sacred Heart," Tesei replied.
Tesei said delaying a solution to the problem in northwest Greenwich would be detrimental. In 2016, the RTM shot down the purchase of property at Fairview Country Club on King Street that would've housed a joint station for fire and GEMS.
"Doing nothing does not honor the Sense of the Meeting Resolution adopted by the RTM [in September]," Tesei said. "The costs continue to rise as solutions are delayed. Proposed construction costs are nine percent more expensive than the period in 2016 when we came forward."
Tesei said other solutions, such as providing career staff at Round Hill and Station Four, are not feasible and don't adequately address the problem.
The BET Budget Committee will vote on the budget on March 1, and the RTM will have the final say in May. The full presentation on the proposed northwest fire station can be found here.