February 5, 2019
Greenwich Police Investigating Dead Body Found Alongside Glenville Road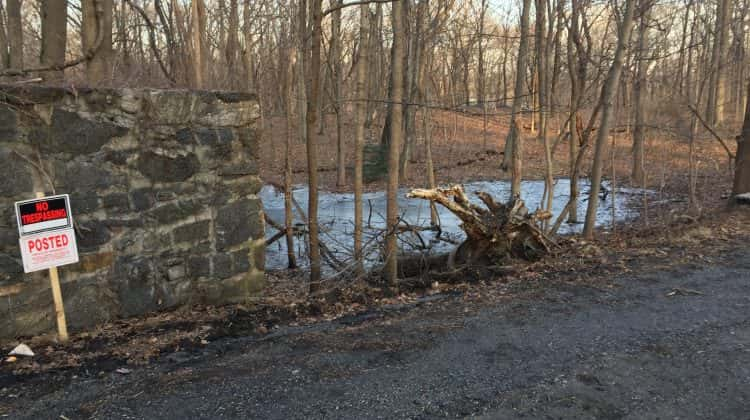 By Richard Kaufman
Update: Feb. 6, 3 p.m.
According to an update from the Greenwich Police Department, an autopsy is scheduled Wednesday afternoon, which may provide additional information on the identity and cause and manner of the female victim's death.
GPD Public Information Officer, Lt. John Slusarz, said the department has received numerous leads from the public which have been productive. GPD will continue to follow up on leads as they try to make a positive identification on the victim.
Anyone with any information related to the investigation should call the Greenwich Police tip line at 203-622-3333, or email tips@greenwichct.org.
The next scheduled release of information will be on Thursday, Feb. 7 at 11 a.m.
Update: Feb. 5, 5:45 p.m.
A homicide investigation remains ongoing, as authorities try to piece together why a woman was found dead inside a suitcase just off of Glenville Road in the Glenville section of town on Tuesday morning.
Greenwich Police confirmed reports that the female victim, believed to be between 18-30 years of age, was bound at the hands and feet and placed inside a full-size suitcase.
Town highway workers who were sweeping through the area as part of their routine duties noticed the suitcase, which was situated roughly 10-15 feet off the east side of Glenville Road just north of Stillman Lane.
Glenville Road was closed at around 9 a.m., as authorities arrived on scene. The road reopened at around 4:30 p.m., Tuesday after the scene was processed and cleared.
Capt. Robert Berry, commander of the Greenwich Police Department's detective division, said it's unclear yet how long the victim had been deceased, especially because of the environmental conditions at the scene and fluctuating temperatures over the last few days.
Berry did not release any new information on who the victim is or how she died, but said the department has "received some leads on a possible identification." He also said there have been numerous other tips from the public which are being followed up on.
"Our focus right now is obtaining that identification of the victim so that a proper notification can be done to the next of kin. It's always sensitive to us that every time we have a tragedy such as this that there's a family connected to it," Berry said. "We always try to keep that thought in our minds, and our heartfelt thoughts and prayers go out to that family wherever they may be."
As is the case with other complex investigations, GPD is working with other departments across state lines and Connecticut. They are also working closely with the Office of the Chief Medical Examiner, and the State Attorney's office.
The public is encouraged to contact the anonymous tip line at 203-622-3333 if they have any information related to the incident.
Original story: Feb. 5, 1 p.m.
A homicide investigation is underway in Glenville, as a dead body was discovered at around 8:15 a.m., on Tuesday just off of Glenville Road.
According to Capt. Robert Berry, commander of the Greenwich Police Department's detective division, town highway workers discovered the body of a deceased female, believed to be between 18-30 years old, about 10-15 feet off of Glenville Road, just north of Stillman Lane.
Glenville Road was subsequently closed as a crime scene was set up. The road will remain closed for several hours.
Although no details have been given yet on the identity of the victim, cause of death, or how the body ended up at that particular location, the GPD is confident that a homicide was involved.
"The manner of how we found the body, there's no doubt it's a homicide," said Berry, who noted that the body was "constrained and restricted," but wouldn't elaborate how or with what.
Berry also said that the death did not occur at the location the body was found, so police are conducting a neighborhood canvas of surveillance cameras and potential witnesses.
"We've been able to break a lot of our investigations by looking at those videos," Berry said.
Police also plan to check missing persons databases for clues.
"One of the biggest concerns is positively identifying the victim so we can do a proper notification to the family. This is a huge tragedy for this person and their family, and that's one of our top priorities," Berry added. "This is going to be a long and methodical process. We want to make sure we do things correctly."
Authorities plan on holding another press conference at 4 p.m. We'll update this post as more information becomes available.
Tags:
Glenville
,
greenwich
,
greenwich police
,
Greenwich Police Department
,
Town of Greenwich