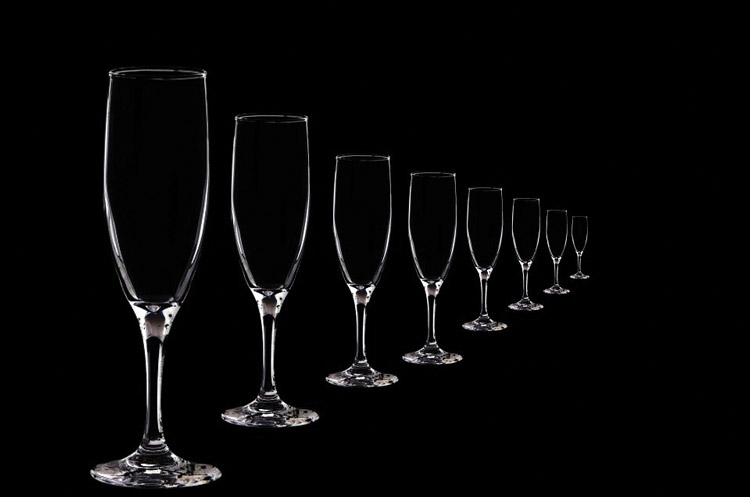 Champagne and Sparkling Wine: A Buying Strategy
By Jeb Fiorita and Carl Vitale
Today, we are talking about glorious bubbles, and how you can get what you really want and will enjoy.
All Champagne is sparkling wine but not all sparkling wine is Champagne. There are bottles of sparkling wine to match every budget and occasion, and there are a lot of them. Whether you're drinking it on its own or mixing into cocktails, some bottles of sparkling wine are better than others.
There are four dominant types of sparkling wine on the market; however, don't be afraid to try other more niche types that you may find. We never turn down an opportunity to taste something new and neither should you! You might just find your new favorite.
Shopping for Wine
All sparkling wines should have a well-rounded flavor. This means you should be able to taste different things beyond just the playful texture of the bubbles. The complexity and richness of flavor will obviously depend on the quality of wine, but we'll tell you right now, you don't have to sacrifice flavor for price. There are some great bottles under $20.
The Major Types of Sparkling Wine
Champagne
The name is strictly reserved for sparkling wine made in the Champagne region of France, east of Paris. It must be made in the methode traditionelle (traditional method) that requires hand harvesting and other special processes throughout the wine making.
American Sparkling Wines
These are produced in vineyards throughout America, using both the Charmat and traditional method for sparkling wine making. Many of the big French Champagne houses own and operate vineyards in the U.S. (Louis Roederer, Moet & Chandon, Mumm, etc.)
Cava Sparkling Wine
This is Spanish sparkling wine grown and produced through Spain. Most Cava is prepared in the traditional method. It's one of our favorite types of sparkling wine for brunch cocktails or entertaining and the price is very affordable.
Prosecco
The most popular Italian sparkling wine, hailing from the Northeast region of the country, made using the Charmat method. (It's similar the Champagne method, except part of the process takes place in a large stainless-steel vat rather than fermenting directly in the bottles.) Many people would say that Prosecco has a sweeter flavor than other sparkling wines. (If you're looking to branch out with other sparkling, Italy has at least five major types to try, each named after their specific region and wine making method.)
Flavor Styles:
These words are marked on the bottle and will determine the type of sparkling the wine maker is producing. Each type has a different taste so pay attention to the bottle when you find something you like and remember the designation for next time.
Brut: Most common: bone-dry to almost-dry in flavor. (Less than 1.5% sugar)
Extra-Dry/Extra-Sec: This is slightly sweeter than Brut. (1.2-2% sugar)
Sec: Medium sweetness (1.7-3.5% sugar)
Demi–Sec: Typically considered a dessert wine for its sweetness. (3.3 to 5% sugar)
Doux: Very sweet, also considered dessert wine.
(+5% sugar)
Sparkling Wine Terminology:
Vintage: Just like all wines, Vintages refer to wine made from a single year's harvest. They are always dated and the year is marked on the bottle. Winemakers don't necessarily release a vintage every year. These sparkling wines and Champagnes will almost be more expensive than non-vintage.
NV: Non-Vintage wines refer to wines that come from multiple harvests. They should always be consistent in flavor as the winemakers have a specific flavor profile they look to match with all non-vintage bottles.
Cuvée: Translates to "the contents of the vat." These wines are house vintages that have been aging longer than others and have a unique, custom flavor. These are special bottles and will always be more expensive than the typical NV bottles.
Rosé: These pink sparkling wines typically have notes of cherry and strawberry but are not sweet in flavor. They have become increasingly popular recently as a brunch drink or aperitif. Blanc de Blanc: Translates to "white of whites" and means that this sparkling wine is made exclusively from Chardonnay grapes. These sparklers have light, clean flavors and pair very well with food.
Blanc de Noirs: Translates to "white of blacks" and means that this sparkling wine is made entirely from Pinot Noir grapes. This wine has a richer flavor that a Blanc De Blanc with notes of red berries and vanilla typically present.
Serving Tips
A well-chilled bottle will have the perfect amount of crispness when you pour it, and as the wine warms up in your glass the flavors will open up as well. Read: Don't serve room temperature sparkling wine…ever.
Always chill your bottles before serving. Put it in the fridge for 2-3 hours, or for a quicker solution we suggest filling an ice bucket with ice, cold water and a handful of salt. The salt, ice and water create the perfect chilly bath that will cool down your bottle in 20-30 minutes. The ideal temperature for serving sparkling wine is about 40-45 degrees Fahrenheit.
To open the bottle, twist off the wire basket cap and hold your hand over the cork. Gently twist the cork back and forth to ease it out slowly.
Champagne flutes were created for a reason. Their tall, narrow shape helps to channel the bubbles of champagne over your palate for maximum flavor and texture. Tilt the glass towards you as fill it and gently pour the wine down the side of the flute. Allow the bubbles to settle before filling so it doesn't overflow.
Tips for Storing Sparkling Wine
Most wine experts don't suggest keeping a bottle of sparkling wine more than 10 years since storing it can be difficult.  If you're not going to drink it right away, sparkling wine should be stored in a cool, dark, and humid place. The ideal temperature is below 55 degrees Fahrenheit. Cheers!
Jeb Fiorita is the owner of Val's Putnam Wines, with locations at 125 West Putnam Avenue and 21 Glenville Street, in Glenville. He can be reached at 203-869-2299. Carl Vitale works for Wilson Daniels Wine Importers.