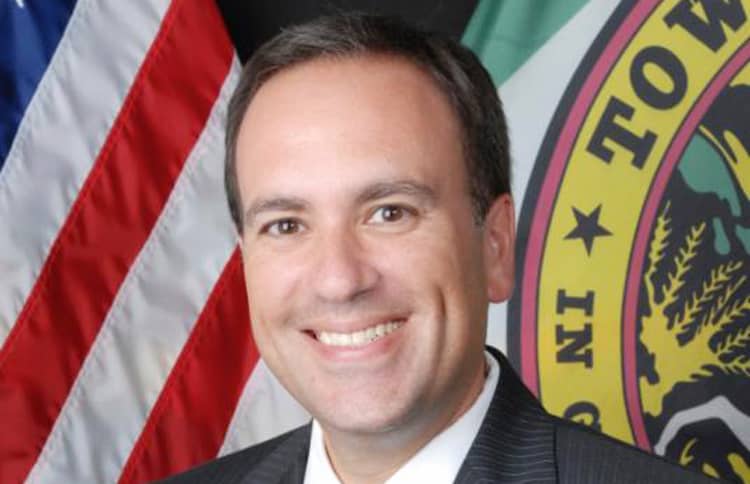 By Richard Kaufman
In front of family, friends and colleagues inside Town Hall on Friday afternoon, First Selectman Peter Tesei announced that he will not seek re-election as Greenwich's chief-elected official this November.
"It's time. I've decided over the past few months after deep personal reflection that it's time to finish this journey and begin a new one with the same focus, passion and determination that I have shown these past 31 years in Greenwich government circles," Tesei said.
Tesei, who will turn 50 next month, said he's looking to apply the skills and experiences he's gained as a public official in Greenwich into other areas of life, into perhaps a non-profit organization or a startup business
"Certainly something that is mission-focused that has the need for someone to be able to manage and execute based upon plans, and really communicate. I really enjoy being amongst people and engaging," he said.
Tesei also mentioned that being around his family and his children was a factor in his decision to not seek re-election.
"The kids are at an age where I think they deserve a father who is available more predictably, rather than running off to meetings. I was really taking into consideration their needs and what I think is right for them, which they may not appreciate today, but I hope they will appreciate a number of years from now," he added.
Tesei looked back over his 12 years in office and recounted the town's accomplishments under his tenure. He thanked his family and a number of people who were in attendance for the announcement, such as State Rep. Livvy Floren (R-149), former State Rep. Mike Bocchino, Bea Crumbine, former Selectmen Peter Crumbine and Drew Marzullo and current Selectman, John Toner.
Tesei is a fifth-generation Greenwich resident, and was elected as the youngest member in the history of the Representative Town Meeting in November 1987 at the age of 18. He served as the District 9 (Pemberwick/Glenville)Delegation Vice Chairman and Chairman during his time on the RTM until 1997.
He was later elected to the Board of Estimate and Taxation and served there for 10 years, before getting elected to his first term as First Selectman in 2007. Tesei was elected to a record-breaking sixth term in November of 2017.
Tesei said he's looking forward to finishing out his current term and continuing to stress the importance of putting Greenwich first.
"I will say, until my dying day, we're here to put Greenwich first. 'Greenwich first' is what you believe in if you believe in the values of the community and the things that make a quality community. It's not a political statement. It's just what you do if you're instinctively proud of the community in which you live and you want to see it continue to foster and grow and be a great place," he said.
For more on Tesei's announcement, check out next Friday's Greenwich Sentinel. The Sentinel will also have expanded coverage on Tesei's tenure in office, his legacy and potential candidates to replace him in the Feb. 15 print edition.