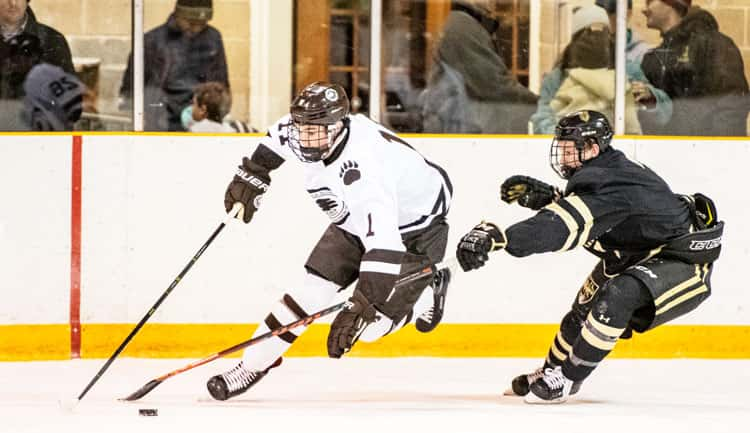 By Paul Silverfarb
Sentinel Editor
The Brunswick School ice hockey team and senior captain Charles Shaffer did everything they could do to net the victory during Monday afternoon's game at the Hartong Rink. They scored first and applied a plethora of pressure on Hotchkiss School throughout the contest.
However, Greenwich resident Alex Mozian had a big say in the outcome, as the former Greenwich High school ice hockey standout scored twice for Hotchkiss to force a tie between the two schools, 2-2.
"That's a good team out there and every game is a battle," said Brunswick School head coach Mike Kennedy. "Halfway through each game we play it seems like it's anybody's game to win. The result is a little disappointing, especially with the power play in overtime, not to get it done. But you have to keep on pushing forward. We had chances to win it down the stretch and in overtime for sure, even beyond the power play we had a couple of good chances 5-on-5 right down at the end. It just didn't go."
For the Bruins, it was Shaffer that paced the team, scoring both goals in the tie.
"It was a really fast-paced game," Shaffer said. "Hotchkiss is a really strong team and come hard on you, but we really battled with them. It obviously wasn't the result we were looking for. We wanted the win. But we're in the second half of the season now and we are honestly looking to keep going and build on that stuff. We had a lot of good moments."
Not to be outdone was Mozian. The former GHS forward, who overcame several devastating injuries as a member of the Cardinals to have a monster season last year and helped lead the team to the CIAC Division I championship game against Fairfield Prep, made his return to the Greenwich area as a post graduate with Hotchkiss School and scored both goals for the Bearcats.
"It's great to be back in Greenwich," Mozian said. "I always told myself that I would score a goal on this rink, however it just happened to be for the other team this time. It's great to be out. Growing up watching these games and finally being able to be a part of it is great."
While it was a solid return to Greenwich for Mozian, it appeared early that the Bruins were going to ruin the happy homecoming.
With only 2:20 gone by in the contest, Shaffer netted his first goal. With the defense flying high, sophomore Ryan St. Louis picked up the loose puck near the center line and dished to junior Henry Foster. Foster then hit the picture-perfect pass to Shaffer, who found the back of the net for the 1-0 lead.
After some back-and-forth play throughout much of the opening period, it appeared as if the Bruins would strike again, as St. Louis unloaded a shot at net. However the puck banged off the crossbar and bounced out to keep the score at 1-0 heading into the second period.
"It's always big to get out to the early lead," Kennedy said. "It gives the bench some energy and the team some confidence. It would have been nice to build on that and get the second one to give ourselves a little more headway on the game."
The lead didn't last long. With only 65 seconds gone by in the second period, Mozian scored his first goal of the game and was assisted on the play by junior Jack Ferguson. And Mozian wasn't done. With just under three minutes gone by in the second frame he struck again, this time unassisted, and gave Hotchkiss the 2-1 advantage.
"It was great," Mozian said. "To have my team help me out a little bit and get to the net. Obviously I wanted to score, but whether it's my or my linemates, it's great to get some points on the board. That first goal really sparked up some energy. I think our entire bench went crazy and that really helped us get some momentum for the second one. Being able to play against Brunswick, they are a great team, and we were able to tie them today."
And for Mozian, he had himself a game in front of some very familiar faces. In the crowd were several GHS boys' hockey alum, current GHS athletes, friends from around the area, former GHS hockey head coach Bob Russel, current Big Red hockey coach Chris Rurak, as well as his father Joe Mozian.
"It was great to have all my friends, former teammates and parents come and support me and come to the game," Mozian said. "I've been looking forward to this. It's great to finally play here and have the whole community with me."
Although Brunswick was down, they certainly weren't finished. Midway through the second period, a power play gave the Bruins an opportunity and Shaffer was able to capitalize. With 9:11 gone by in the second, sophomore Paul Davey had possession of the puck and connected on the cross-ice pass to Shaffer, who found an opening in front of the net and scored his second of the game to knot the scoring at 2-2.
"In prep hockey, you can't take 30 seconds off," Shaffer said. "You need a complete game. Every single time on the ice you have to battle. Every corner and every line. You can't give a team an inch because they'll take a mile. You have to make sure you play a complete game. If teams play complete games, like we are starting to put together, then we should have success in the second half of the season."
For Brunswick (5-6-4), they finished with 37 shots on goal and senior alternate captain, goalie Dan Danchille, took home 24 saves on the day.
"Both teams had some great goaltending and both teams had chances to win it down the stretch, but the goalies came up big," Kennedy said. "Both had very good game. Their kid came in as a highly-touted kid and he certainly lived up to the building."
One of the positives to come out of the game for Kennedy was the team's ability to hold its own against an opponent that is known for being physical.
"We had heard about Hotchkiss that they are a big, physical team and they didn't let their reputation down," Kennedy said. "They definitely played a hard game, but I thought we matched them physically. The boys responded and played a physical game in their own right."