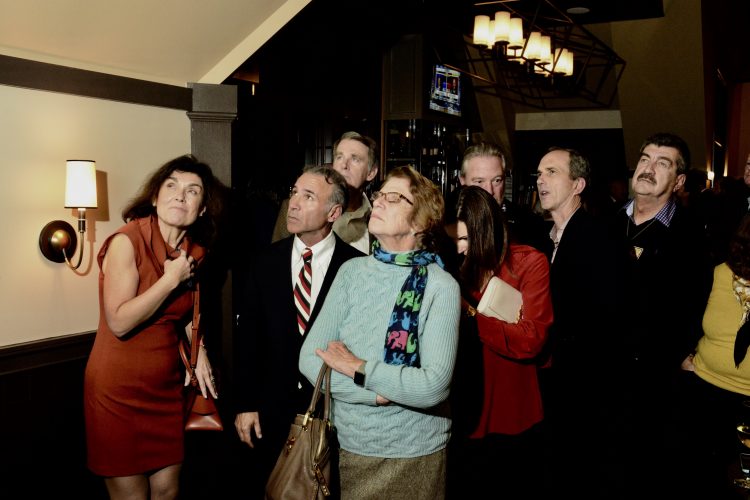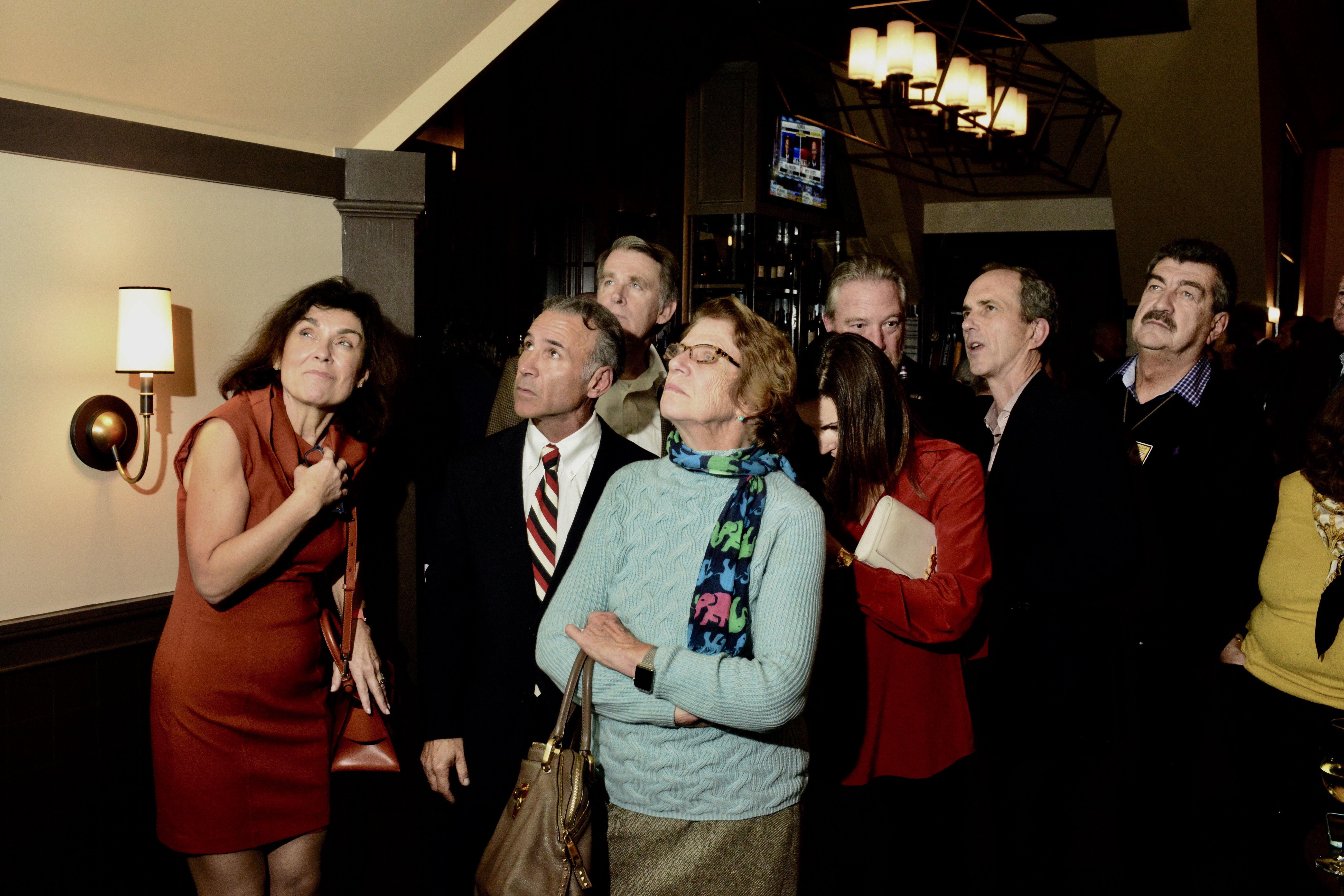 By Richard Kaufman
Democrats scored multiple victories across Connecticut on Tuesday night, as they won control of the State Senate, widened their lead in the House and swept statewide offices and congressional races.
In Greenwich, history was made in the process.
For the first time since 1912, a Democrat will represent Greenwich in the state House of Representatives, as Steve Meskers unseated Mike Bocchino in the 150th District.
Democratic challenger, Alex Bergstein, delivered an upset to five-term incumbent, L. Scott Frantz, in the race for a seat in the 36th District, which covers Greenwich, and parts of New Canaan and Stamford. Bergstein becomes the first Democrat to win the 36th District since 1930.
According to unofficial numbers from the Connecticut Secretary of State, Bergstein acquired 22,097 votes (50 percent) to Frantz's 21,474 votes (49 percent).
Frantz was able to defeat Bergstein in Greenwich by close to 1,000 votes, and won in New Canaan by a slim margin. However, Bergstein was pushed across the finish line by North Stamford, where she won by close to 2,500 votes. 
Two familiar faces will return to Hartford from Greenwich. Fred Camillo (R-151), an incumbent, defeated Laura Kostin, and Livvy Floren (R-149) ran unopposed.
Republican Town Committee Chair, Rich DiPreta, said the results in Greenwich are not an indictment on any Republican candidate, but rather a referendum on what's happening in national politics and Washington D.C.
"Our candidates, I have confidence saying, are the best candidates out there. If people voted solely on that, it would've been a landslide in our direction," said DiPreta to a large crowd at the Milbrook Club, on Tuesday night.
Frantz addressed the crowd with his race still up in the air at approximately 10:30 p.m., on Tuesday, and thanked his family and friends for their support. He said the Greenwich delegation is "the best delegation in the state," and that he hoped the voters would "get it right" in order to save Connecticut. Frantz has often said that the 18/18 split in the senate over the past two years has allowed Republicans to pass good legislation.
Democrats, however, gained six seats in the Senate, giving them the majority at 24-12. They also gained 12 seats in the House, and now hold a 92-59 advantage.
On Wednesday, after the final results were tallied, Frantz released a statement congratulating Bergstein on her win.
"I want to congratulate Alex Bergstein on her victory. She ran a spirited race. I wish her luck as she embarks on her tenure as our next State Senator. Important issues were raised during the campaign that I hope will continue to be addressed over the next two years," he said.
Meskers, a former financial analyst who served on the Greenwich RTM for 14 years, was able to garner 4,841 votes (52 percent) to Bocchino's 4,451 votes (48 percent).
Bocchino congratulated Meskers on his historic victory Tuesday night, and complimented him for running a civil campaign. He called it a great honor to serve the people of the 150th District for two terms, and noted the new New Lebanon School as a major achievement during his tenure in Hartford.
Bocchino, like DiPreta, noted the national climate as a reason for changes in the Connecticut state legislature.
"Unfortunately, this has turned into a campaign about national politics, and we are the victims of such. It's unfortunate because those national politics aren't coming to Hartford to change the things that we're doing," he said.
Bocchino was overcome with emotion while thanking his friends and his wife, Shannon, and his two sons Sean and Michael Jr., for their support. He added that he's optimistic for the future, but that Republicans need to wake up to the reality that times are changing.
"Everybody in this room, wake up. We lost only because they wanted it more," Bocchino said. "Districts have changed. The reconfiguration of these districts has changed, and Democrats were the beneficiaries. You need to rise up, you need to stop the banter, and you need to stop the dialogue that's negative between the two parties. You need to come together, and you need to damn-well make sure that Peter Tesei, or whoever is running on the Republican ticket for the First Selectman of the town of Greenwich, gets re-elected. Wake up, Republicans."
Floren ran unopposed, and will get to serve for a 10th term representing the 149th District.
"I'm really honored to be re-elected for my 10th term. It's wonderful to be a part of this delegation, and I'm going to miss Mike [Bocchino]," Floren said. "Mike was a wonderful colleague and a really a good legislator. I will do my best to work with the new team going forward."
Camillo returns to Hartford for a sixth term after defeating Democratic challenger, Laura Kostin, 6,040 votes (56 percent) to 4,674 votes (44 percent). Camillo thanked his colleagues and said working with Bocchino and Frantz has been the highlight of his tenure in Hartford
Camillo urged Republicans to do more in future campaigns and elections.
"The town has changed a little bit. You go around the state and rural towns are becoming more Republican, and down here in Fairfield County it's becoming more Democrat," Camillo said. "We have to do a much better job at reaching out. That means every single person who worked so hard on this campaign has to recruit some more people because the numbers are trending the other way."
Camillo then thanked the people of the 151st District for letting him serve for two more years.
"We bucked the trend. We have a lot of work to do. It's not a great night for Connecticut, but we'll bounce back. Life is like that. You take bumps; it's never a straight path to the top. We went over a little bit of a speed bump tonight, but we'll be back."
The Greenwich delegation had hoped for Bob Stefanowski to win the gubernatorial race, but Greenwich resident, Ned Lamont, declared victory early Wednesday morning along with Susan Bysiewicz, by nearly 18,000 votes. Stefanowski and his running mate, Joe Markley, carried the Greenwich vote by 1,000 votes.
Stefanowski released a statement on Wednesday morning, congratulating Lamont and wishing him and the state luck moving forward.
He said that while the end result of the election is not what he hoped for, he's happy that his campaign was able to bring attention to the state's tax burden.
"We were able to mold the discussion [on taxes] in such a way that the other candidates slowly began to come around to the same conclusion to varying degrees. I am hopeful that by relentlessly focusing on that issue we've started the conversation on how we can start to bring the tax burden on Connecticut families down," Stefanowski said. "I have learned a lot over the course of this campaign, but the biggest takeaway for me has been the realization that Connecticut is one big family. That won't end with the campaign."
In the other statewide elections, Greenwich resident and Republican, Harry Arora, fell to incumbent Jim Himes in the race for the 4th Congressional District. Himes won by over 60,000 votes. 
Chris Murphy easily won a second term in the U.S. Senate, defeating Republican, Matthew Corey, 788,807 votes to 540,009; Denise Merrill, a Democrat, convincingly won re-election over Republican, Susan Chapman for Secretary of State; Democrat Shawn Wooden defeated Republican, Thad Gray, for State Treasurer; Kevin Lembo will be Connecticut's Comptroller after his victory against Republican, Kurt Miller; and William Tong will be the state's Attorney General, after he defeated Republican, Sue Hatfield, 682,630 votes to 626,935.