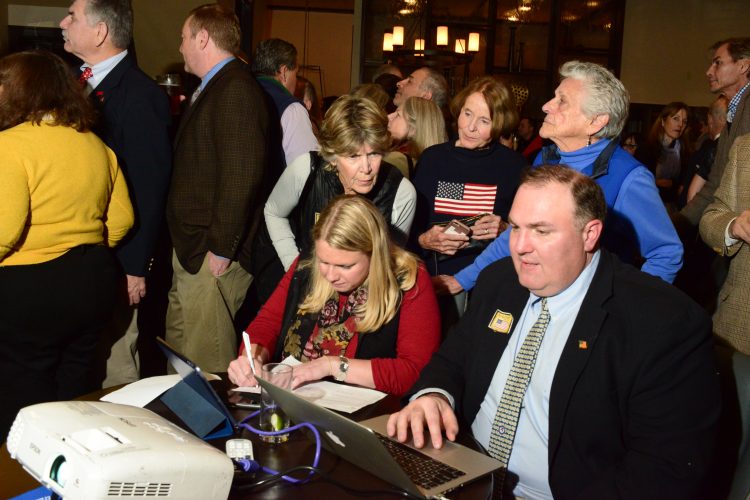 By Richard Kaufman
Sentinel Reporter
*vote totals unofficial 
After a long and hard-fought campaign season, Greenwich's delegation to Hartford received a historic shake-up during election night onTuesday.
For the first time in over 100 years, a Democrat will represent Greenwich in the state House of Representatives, as Steve Meskers unseated Mike Bocchino in the 150th District.
Although the race between incumbent L. Scott Frantz and democratic challenger, Alex Bergstein, was too close to officially call late Tuesday night, signs are pointing towards Bergstein becoming the first democratic state senator to win the 36th District since 1930.
Fred Camillo  (R-151), an incumbent, defeated Laura Kostin, and Livvy Floren (R-149), who ran unopposed, will return to Hartford.
Republican Town Committee Chair, Rich DiPreta, said the results in Greenwich are not an indictment on any Republican candidate, but rather a referendum on what's happening in national politics and Washington D.C.
"Our candidates, I have confidence saying, are the best candidates out there. If people voted solely on that, it would've been a landslide in our direction," said DiPreta to a large crowd at the Millbrook Club on Tuesday night.
Frantz, who has served for five terms, addressed the crowd and said the results of his race were still pending. Unofficial results saw Frantz leading Bergstein in Greenwich, 13,406 votes to 12,882, but the outcome of the race relied on parts of Stamford and absentee ballots.
"We all know what a difficult position our state is in. We're one of the worst in the entire country. If the voters get this right, we have a chance to save the state. If they don't, God helps us," he said.
Frantz thanked his supporters and his colleagues.
"Every single one of you has contributed so much to every single effort to each of these four candidates of the Greenwich delegation, which is the best delegation in the entire state," he said.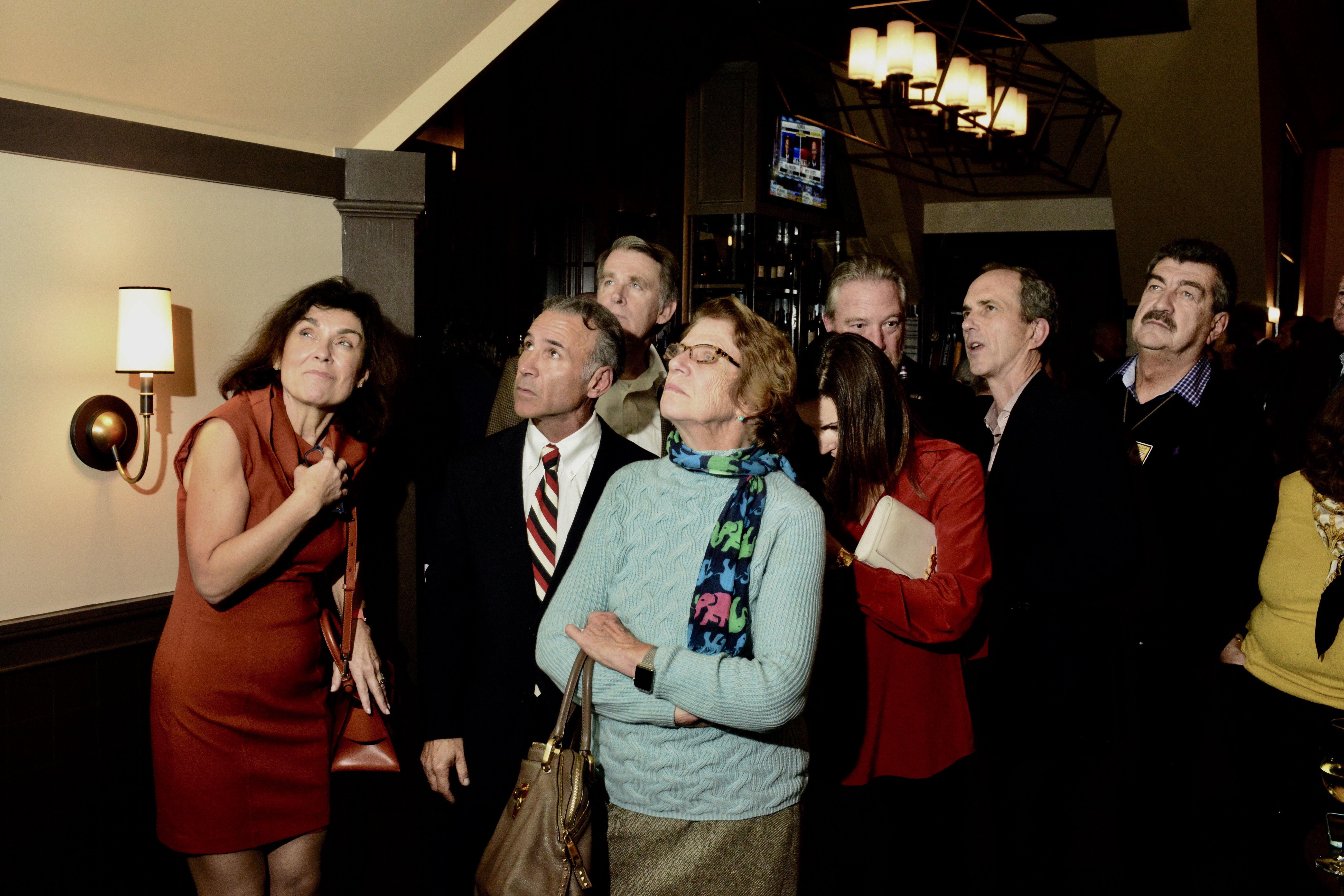 Meskers, a former banker who served on the Greenwich RTM for 14 years, was able to garner 4,841 votes (52 percent) to Bocchino's 4,259 votes (46 percent).
Bocchino congratulated Meskers on his historic victory, and complimented him for running a civil campaign. He called it a great honor to serve the people of the 150th District for two terms, and noted the new New Lebanon School as a major achievement during his tenure in Hartford.
Bocchino, like DiPreta, noted the national climate as a reason for changes in the Connecticut state legislature.
"Unfortunately, this has turned into a campaign about national politics and we are the victims of such. It's unfortunate because those national politics aren't coming to Hartford to change the things that we're doing," he said.
Bocchino was overcome with emotion while thanking his friends and his wife, Shannon, and his two sons Sean and Michael Jr., for their support. He added that he's optimistic for the future, but that Republicans need to wake up to the reality that times are changing.
"Everybody in this room, wake up. We lost only because they wanted it more," Bocchino said. "Districts have changed. The reconfiguration of these districts have changed, and Democrats were the benficiciaries. You need to rise up, you need to stop the banter, and you need to stop the dialogue that's negative between the two parties. You need to come together, and you need to damn-well make sure that Peter Tesei, or whoever is running on the Republican ticket for the First Selectman of the town of Greenwich, gets re-elected. Wake up, Republicans."
Floren ran unopposed, and will get to serve for a 10th term representing the 149th District.
"I'm really honored to be reelected for my 10th term. It's wonderful to be a part of this delegation, and I'm going to miss Mike [Bocchino]," Floren said. "Mike was a wonderful colleague and a really a good legislator. I will do my best to work with the new team going forward."
Camillo returns to Hartford for a sixth term after defeating Democratic challenger, Laura Kostin, 5,814 votes (54 percent) to 4,674 votes (43 percent). Camillo thanked his colleagues and said working with Bocchino and Frantz has been the highlight of his tenure up in Hartford
Camillo urged Republicans to do more in future campaigns and elections.
"The town has changed a little bit. You go around the state and rural towns are becoming more Republican, and down here in Fairfield County it's becoming more Democrat," Camillo said. "We have to do a much better job at reaching out. That means every single person who worked so hard on this campaign has to recruit some more people because the numbers are trending the other way."
Camillo then thanked the people of the 151st District for letting him serve for two more years. "We bucked the trend… We have a lot of work to do. It's not a great night for Connecticut, but we'll bounce back. Life is like that. You take bumps, it's never a straight path to the top. We went over a little bit of a speed bump tonight, but we'll be back."