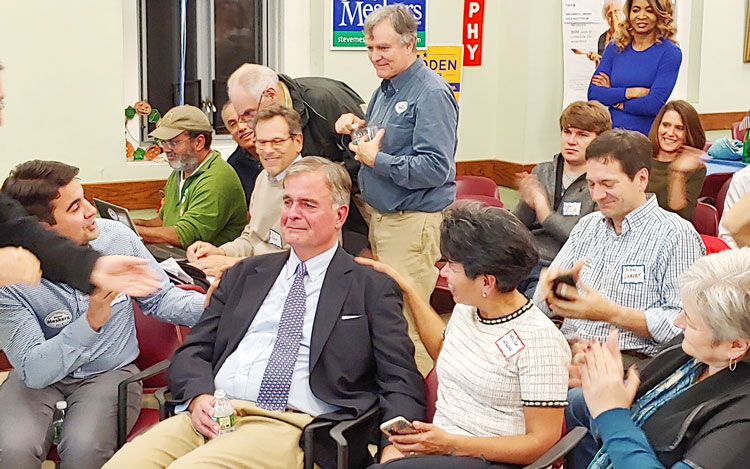 By Paul Silverfarb
Sentinel Editor
In what can only be described as historic, the Greenwich Democrats came away with a stunning victory and broke a century-long hold by the Republicans on the State House of Representatives.
Steve Meskers, an Old Greenwich resident, came away with the slim margin of victory against incumbent Mike Bocchino in the 150th District.
"It was a tough campaign and it was hard-fought," Meskers said. "I went door-to-door to reach out to people. And the number of people who believed in me and trusted me and inspired me was overwhelming. I always came in with a joke or a smile and you people were all miserable and tortured me because you believed in me. I woke in the morning and there were many days where I said to myself that could I live up to your trust and your belief and your effort. There were days where I was looking to quit because I almost felt overwhelmed with the trust and faith people showed me."
While it appeared early around an hour after the polls closed that Meskers might pull out the victory, Meskers, who was clearly emotional as a victory was within sight, didn't claim victory until much later into the night.
"Happy days are here again for the Democrats," said Democratic Town Committee Chair Tony Turner. "We have a real winner and I can't tell you how important it has been that we have a quality candidate in Steve. We have a quality campaign in Steve."
In the end, it was Meskers that picked up 4,841 votes compared to Bocchino's 4,451.
"Over 8,000 people showed up to vote out of 11,000 in our registered electorate," Meskers said. "The only criticism I would give is that there is probably about 15,000 who should be registered to vote. We have 17,000 voting age population. So I'm cognizant that I have been given a decent mandate in terms of serving."
And once Meskers received the phone call from Bocchino to congratulate him on the victory is when the Democrats were able to officially celebrate a historic victory.
"My opponent called me and reminded me in a constructive way that it's a job to represent the 150th District," said Meskers. "And the first thing he said to me was that he was going to send me over all his files on the people in need and the people that he has been speaking to. And he was not worried, but cautiously reminding me that my job was to serve the 150th District. I guess it's the job that I've taken up. It's the job that I wanted and I am grateful for it. I am very thankful."
In a neck-in-neck race, Greenwich Democrat Alex Bergstein and incumbent L. Scott Frantz are in a dead heat for the State Senator, 36th District. Although signs are pointing in the direction of Bergstein pulling off the upset victory, results aren't official yet.
If Bergstein wins the State Senate 36th District seat, she will be the first democratic state senator to win there since 1930.
In other races, the Greenwich Democrats put up a good fight, but were defeated. In the 151st District race, Laura Kostin, competing in her first election as a candidate, was beaten by incumbent Fred Camillo.
Camillo came away with 56.38% of the vote, while Kostin ended the day with 43.63%.
"I am super proud," Kostin said. "I have no experience as a candidate really and I feel like we couldn't overcome the demographics. It is what is it. Even in a year where I thought there would be a lot more engagement, if you can't overcome the demographics, you can't do it. I feel proud that I stepped up as a first-timer with no experience and did the best that I can do."
Although Laura Kostin came up a little short in her first run at political office, she said she learned a lot from the campaign.
"Being on the pointy end of the sphere is a totally different experience than being a bystander and reporter," Kostin said. "But it was a valuable experience and I can't complain at all."
At the Federal level, it was a battle of Greenwich residents for the 4th Congressional District of the United States House of Representatives. Democratic incumbent Jim Himes came away with 54.73% of the votes to beat Republican challenger Harry Arora, who took home 45.37% of the votes.
Not to be outdone was incumbent Democrat Chris Murphy for the United States Senate. Battling Republican Matthew Corey, Murphy easily won reelection, netting 55.62% of votes cast while Corey took home 42.60%