October 19, 2018
Hill House Senior Art Show Showcases Talent and a Mission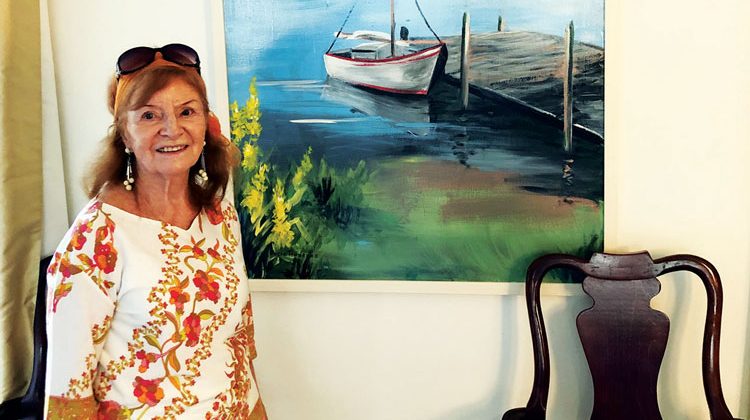 By Michelle Moskowitz
Sentinel Reporter
The inhabitants of Hill House, the senior residential community located at 10 Riverside Ave., hosted its annual art exhibition last week, featuring the dynamic and varied works of art comprised by 12 resident artists.
Founded in 1978, Hill House is a 61-apartment congregate home for low-to-moderate income, well-elderly people.  Their mission is to encourage elders to be comfortable and safe, yet maintain an independent, active involvement within the Greenwich community through its rich on-site programming, as well as off-site cultural events and excursions.
Regular weekly activities held at the facility include crafting, chair yoga, bingo night and one of the most popular and longest-running classes, "Art with Lucie Anderes." Anderes is an accomplished artist and art aficionado in her own right, and her cheerful works adorn the walls throughout the senior center.
Anderes, who has taught at Hill House for the past 16 years, is a board member of the Old Greenwich Art Society, as well as a member of the Greenwich Art Society and the National League of American Pen Women.
She has boasted a number of art shows throughout Fairfield County, as well as three exhibits in Switzerland where she was born and raised. Anderes also provides stage sets for the St. Catherine Players musicals each year.
"I've taught so many serious students/artists over the years here [at Hill House] and everyone is just so nice," said Anderes with a warm expression.
"But, it's the social aspect of our classes that is so wonderful for all of us.
Over the course of the year, those who partake in the weekly class learn about technique, sketching, proportion, as well as different uses of media. Hill House hosts a celebratory art show and wine reception where artists get to showcase their best works in front of family and friends, drawing a crowd of up to 100.
One exuberant artist featured was resident Mildred Cogliandro, who showcased four works of art, all done in acrylic, and gladly took some time to reflect on her works. "This has been such a great experience for me, albeit a little stressful as I really wanted them to turn out well," said Cogliandro with conviction.
"But, I am very proud of myself for doing this," said Cogliandro, who at 95 shared that aside from dabbling in arts and crafts over the years, her only art education was a course she took back in high school.
When viewing one of her paintings, "Madame Butterfly," it is hard to believe that her experience was as limited as she described. Her painting burst with bright yellow daffodils and an electric, vibrant butterfly perfectly proportioned on the canvas.
When asked about her source of inspiration, she replied, "I just looked through old magazines and books until I found pictures of things that inspired me."
Another artist featured, Geraldine Christophersen, created a spirited pencil coloring of an owl, which she chose to have untitled.
"I was actually surprised by the way it turned out," said Christophersen. "But, it goes to show you that it's never too late."
The twelve artists featured at the exhibit also collaborated on a special Seasoned Art 2019 calendar, featuring one special work to represent each month, and it is currently available for sale in the front lobby at Hill House.  Residents dedicated the calendar to Anderes for her commitment to the center. Anderes' husband personally frames each and every work of art each year for prominent display.
Some of the select works featured in the calendar include, "Irish Countryside," by Margaret Fatta, for February, "Reflections," by Vincent Bologna, for March, and, "Familiar Shapes and Colors," by Pat McQuade, for October.
Bologna, who has been at Hill House for less than a year, often painted on the side just for fun, but through this class, discovered he was surprisingly pretty good. His fellow residents seemed to notice and took pride in pointing out his piece on display, "Reflections."
While the crew took pride in putting together the glossy calendar, there was an additional motive.
Monies raised from calendar sales are part of a larger, on-going campaign organized by a resident committee, who took it upon themselves to fundraise for a new bus for the Hill House community.
In order to maintain independence, residents like to partake in daily excursions, including trips to local grocery stores, pharmacies, museums, movie theaters, and much more. They currently have a regularly scheduled writer's workshop with the students at Greenwich High School, where they are able to share their vast, generational experiences and insight with local youth.
The existing bus has not only broken down a number of times since they bought it in 2002, but prohibits those who require the aid of a wheelchair or a walker because the bus is not equipped with a hydraulic lift, often leaving friends behind due to safety concerns.
"The bus is critical for our residents to get outside and come together," said Lisa Crowley, the social service programmer and resident services coordinator. "I want to take them even farther than the trips we already have planned, but we need to be able to accommodate everyone."
The group's first fundraising effort, "Pennies from Heaven," consisted of placing jars for spare change at Hill House, as well as at other public venues around town. They have also hosted bake sales and been collecting bottles and cans for deposit refunds.
So far, the residents have raised about $12,000 on their own, but the cost of a new bus that can accommodate adaptive equipment costs approximately $65,000.
The full roster of works will continue to be on display in the reception area at Hill House through Oct. 24.
Hill House is an independent, non-profit, non-sectarian corporation governed by a volunteer Board of Directors and served by many dedicated volunteers.
Visit thehillhouse.org for more information or call (203) 637-3177.
Tags:
greenwich
,
Hill House
,
Hill House Senior Art Show
,
Hill House Senior Center