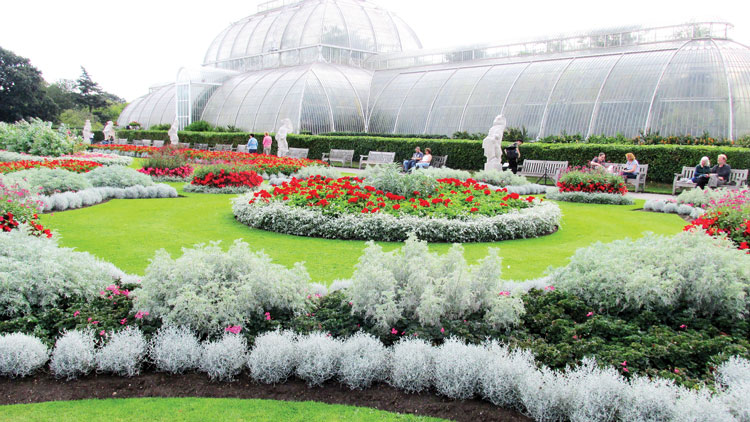 By Anne W. Semmes
Sentinel Correspondent
It was Sir Ghillean "Iain" Prance, one of the world's most celebrated explorers of the Amazonian rainforest, who inspired my trip last week to London's Royal Botanic Garden at Kew, where Iain was to give a talk. Iain, as senior vice president of the New York Botanical Garden, had inspired my first trip to the Amazon rainforest 30 years ago, following his slide show before the Greenwich Arts Council, sponsored by the then Greenwich Audubon Society.
In those intervening years, Iain as a renowned botanist had directed the Royal Botanic Garden for 11 years, and continued his crusade for saving the earth's biodiversity. He would be sharing his part in that unique ecological experiment, Biosphere 2, in Arizona's Sonora Desert, where eight scientists shut themselves inside the world's largest science laboratory from 1991-1993. Iain would introduce Mark Nelson, one of the eight scientists and mastermind of the project, and his new book, Pushing Our Limits – Insights from Biosphere 2.
It was a warm day. "It's the hottest year every recorded in England," so said my taxi driver. And, here I thought I'd left it behind in Greenwich! With time to explore before the talk, I took the "train" tour of the Garden, circling around the 326 acres (compared to the 250-acre New York Botanical Garden) and got a gander at the garden's wonders.
"There are 700 varieties of holly," intoned the tour guide, "and 300 oak trees," and redwoods as gigantic as in California – and a good number of badger setts or underground burrows. "There are 17 buildings in the garden and 250 scientists studying how to conserve plants around the world," the guide continued. Of those buildings, I would enter three of the most famous: the Palm House, the Princess of Wales Conservatory, and the Water Lily house, the latter with Iain as my guide. I would sadly not visit the great new attraction, the enlarged Temperate House, now dubbed a botanical cathedral with its 15,000 panes of glass and 10,000 plants.
I first saw Iain striding strongly at 81 years towards the Jodrell Laboratory, the site of the talks. His bushy white beard and mustache gave him a look of a sprightly John Burroughs, although Burroughs did not have 40 Amazon expeditions under his belt. The audience was scientific and included a few interns fortunate to be studying with noted scientists from around the world. Smith College has offered its students summer internships at Kew for the last 24 years.
Iain related his part in designing the rainforest area of "that extraordinary visionary project," Biosphere 2, and then shared his similar role in what has become England's greatest tourist attraction, the Eden Project in Cornwall. The project, with its giant biomes filled with a variety of environments, including an impressive rainforest, is now being replicated around the world.
Dr. Mark Nelson then told of the challenges of that two-year enclosure in Biosphere 2, "with nothing allowed [except humans] that would damage life."  Mark was intrigued (along with a billion followers of the live-in project) to learn "what humans do to the biosphere," and how to support life without harming it. Iain seemed to speak for both of them when he noted at end of his talk, "That's what excites me: research on climate change."
After an informative Q&A between speakers and attendees, Iain accompanied me to the garden for an interview. So what did he think about plant blindness, a new term I discovered in the news, describing how even today's botanists are unable to identify common garden plants. Iain had just attended two symposiums on plant blindness in London. "The Eden Project has been visited by 70,000 school children – we have organized things for them," he noted. At Kew there were weekend courses for teachers, "who take what they learn back to their classes to get students interested in plants. We have courses in plants and math, plants and history, etc.," he said.
With time short on his schedule, the urge was too great – could we please go to the Waterlily House to see the famous Victoria Amazonica water lily, I asked. "But, of course," said Iain, the great discoverer of the exotic sex life of that giant South American water lily plant that opens its exquisite white flower beneath the stars. And, luck was with us as a flower, though a day old, was there to behold in its pink coloration, floating in the pond amongst the truly giant water lily pads.
Before addressing that exotic pollination tale, Iain told of the struggle during his directorship of getting the plant to prosper. "We discovered copper was very bad for them. The water came through copper pipes, so we had the pipes replaced."
It was in 1974, in Manaus, Brazil, that Iain determined to find the answers to his students' questions as to how the known pollinating beetles got inside the closed lily buds and then managed to escape to carry away the pollen with their slick bodies. The story is fascinatingly told in, "A Passion for Plants," on Iain's "life and vision," of how he stood chest deep in the murky waters of the Amazon, with his flashlight catching the glint of eyes of Cayman alligators to observe the amazing unfolding sequence of insect-plant cooperation.
So, I had to ask, what did he fear most in those murky waters? "The most unpleasant part," he said, "were the leeches that would attach themselves to me."
Walking towards his other meeting, we passed a towering gingko tree, circa 1762. It's label read, "One of the 'Great British Trees' celebrated during the Queen's Golden Jubilee in 2002." I then shared with him my unsuccessful search for a book on Kew's great trees in the garden shop. "Then it needs to be written," he said.