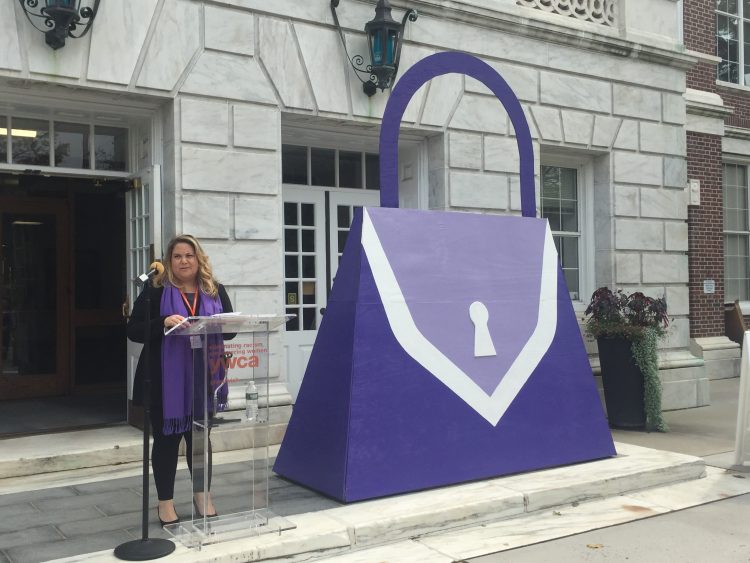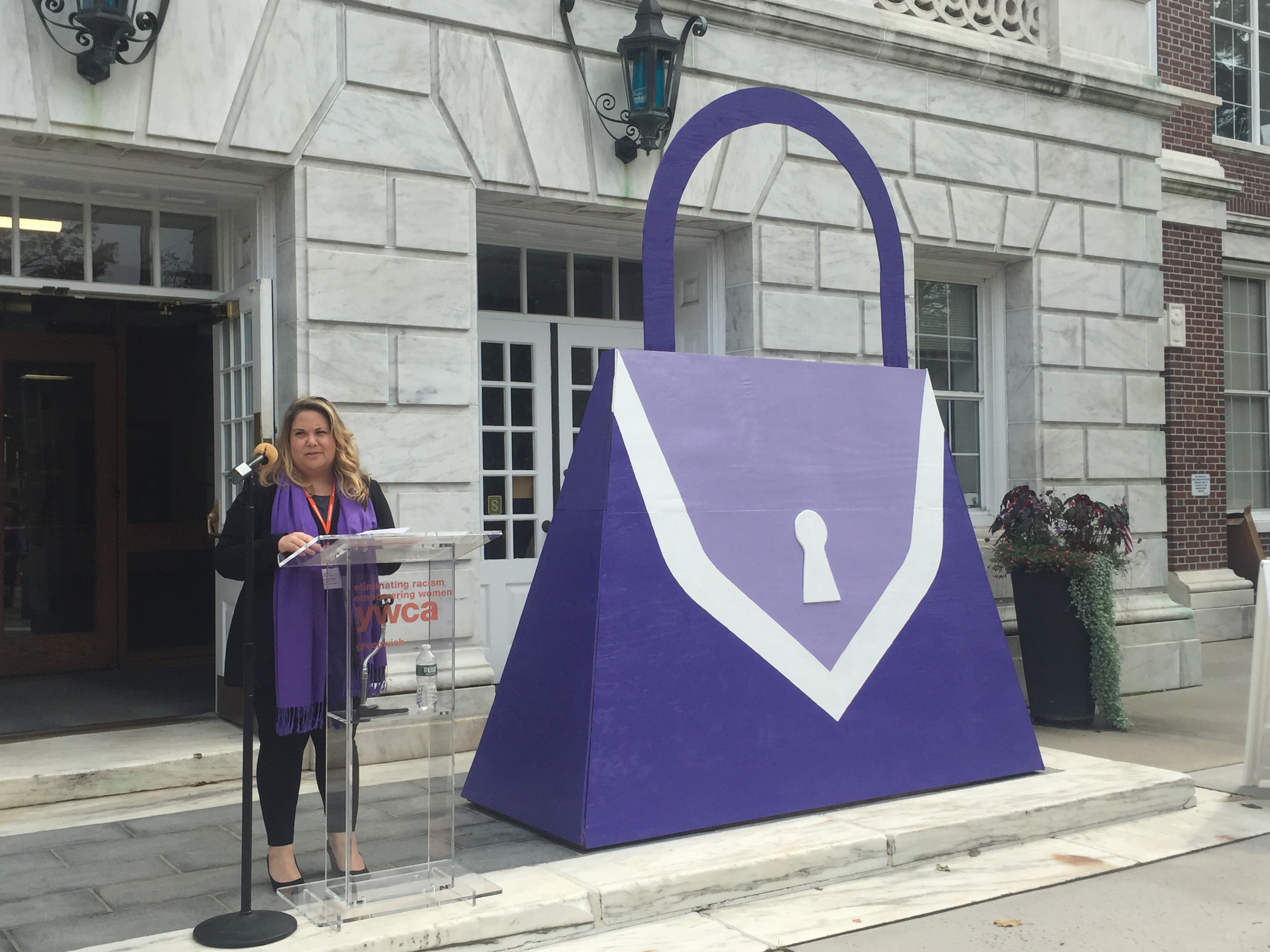 By Richard Kaufman
The town of Greenwich will once again turn people for the month of October.
On Tuesday afternoon on the steps of Town Hall, local elected officials, members of the YWCA of Greenwich, first responders and residents, gathered to kick off the start of Domestic Violence Awareness & Prevention Month.
The YWCA of Greenwich, celebrating its centennial year, is the only state-accredited provider of domestic abuse services in the community. According to YWCA of Greenwich President and CEO, Mary Lee Kiernan, thousands of men, women and children have been helped by the YWCA's free domestic abuse services since the domestic abuse services advisory council was established in 1981.
Kiernan said that last year alone, YWCA staff responded to 3,500 calls on its hotline (203-622-0003) from residents looking for help, either for themselves or for loved ones.
"Unfortunately, domestic violence remains the number-one violent crime in this community. This is a very serious public health and criminal issue in our midst," Kiernan said. "It affects people of all races, genders, religion, income level and really does live on every street in this community."
According to Greenwich Police Chief, James Heavey, there have been 2,100 incidents of domestic violence that have involved police response in Greenwich over the past 10 years.
This year, there have been 172 such incidents, compared to 216 last year at the same time. Heavey noted that the department's relationship with the YWCA is "super important" in lowering that number.
"Greenwich is a great place to live. We've got lots of great houses, but to make them homes where they're safe and loving, we have to continue the effort to make sure domestic violence doesn't happen," Heavey said.
Standing next to the podium outside of Town Hall was a large purple purse, which is a metaphor for women's power. Sponsored by the Allstate Foundation, the purse will travel to seven different locations throughout Greenwich this month as part of the Purple Purse Challenge. Volunteers from the YWCA will be on hand collecting donations, and educating residents on domestic violence and how to help support victims.
For more information and to donate and help Greenwich win up to $100,000 to go toward supporting domestic violence services, go to ywcagreenwich.org/purplepurse.
Purple ribbons will also be visible at various businesses around town. All first responders will wear purple ribbons, and emergency vehicles will be outfitted with purple magnets.
Kiernan urged residents to support victims of domestic violence by advocating for the reauthorization of the Violence Against Women Act (VAWA), which expired on Sept. 30 but was extended by Congress though Dec. 7. The law, established in 1994, has helped support millions of women and men who have faced domestic violence and sexual assault.
"We need you to add your voices, and fight for the reauthorization of this important law," Kiernan said.
Kiernan mentioned the passage of the Dominant Aggressor Bill, in Hartford, which goes into effect on Jan. 1, 2019. It's designed to lower the dual arrest rate in Connecticut, which has discouraged victims from calling police in the past.
Although no action was taken on other bills in Hartford involving sexual assault and domestic violence, Kiernan is hopeful that change is on the horizon.
"We're hopeful that 2019 will bring some change, and we need your help to make that happen," she said.
First Selectman Peter Tesei thanked the first responders in town and the YWCA of Greenwich for all that they do in helping the community better understand domestic violence. He then read the following proclamation:
"The citizens of Greenwich must unite to directly confront this crisis. Law enforcement officials, those involved with shelters and hotline services, health care providers, the clergy and other concerned citizens are helping in the effort to end domestic violence. We must recognize the compassion and dedication of these volunteers and professionals, applaud their efforts and increase public understanding of this important problem."
Meredith Gold, Director of Domestic Abuse Services at the YWCA of Greenwich, spoke about the many services the Y offers, such as: temporary emergency shelter; individual and group counseling; criminal court advocacy; safety planning; emotional support; case management; and the newly introduced civil legal clinic, which provides victims with free legal services. 
All of these services are accessible through a 24-hour crisis hotline. 
Gold said that prevention is key, and first graders up through seniors in high school are becoming educated on how to have healthy relationships in order to prevent future violent incidents.
"This issue is not easy to talk about. Today, it does seem to be getting easier as more survivors are coming forward and sharing stories," Gold added. "They're encouraging others to reach out for help and to talk in a public space about their experiences."
Several other public events are scheduled throughout October.
On Tuesday, Oct. 9 at 6:30 p.m., there will be a candlelight vigil and art show reception at the YWCA to celebrate survivors and honor victims who have lost their lives to domestic violence. 
On Thursday, Oct. 18 at 7 p.m., the movie, A Cry for Help: The Tracey Thurman Story, about a landmark case involving domestic violence and a woman from Torrington, Conn., will be shown.
On Thursday, Oct. 25 from 6 to 8 p.m., there will be an open house and fall fashion show at Carlisle Collection, on Greenwich Avenue. Carlisle Collection has partnered with the YWCA to donate clothing to domestic abuse victims.
For more information on Domestic Violence Awareness and Prevention Month, go to ywcagreenwich.org.