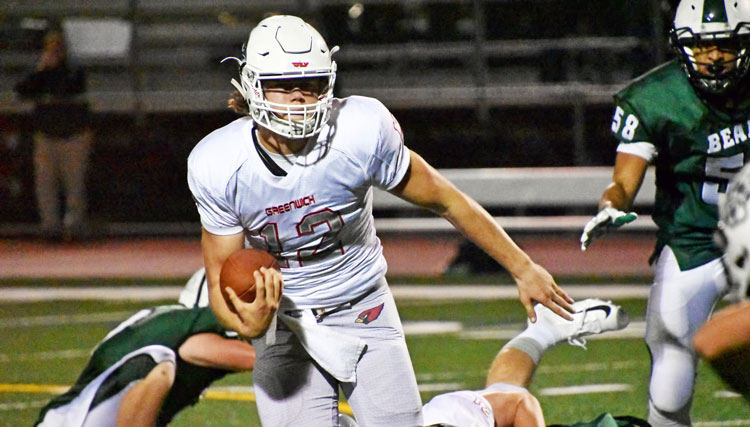 By Paul Silverfarb
Sentinel Editor
It wasn't the prettiest of starts for the Greenwich High School football team, but head coach John Marinelli and the rest of the Cardinals will gladly take the result.
Keying on a 22-point second quarter, Big Red traveled to Norwalk High School and upended the Bears 55-0 Friday night.
"I thought in the first quarter we came out kind of flat, and I attribute that to kind of a bad week of practice," said senior quarterback Gavin Muir. "Coming off the bye, we weren't as focused as we needed to be. In the second quarter, we kind of picked it up and we scored 22 points. It set the tone for the rest of the game. The big guys up front did an amazing job of letting Tysen run down the field, and the receivers were getting open all over the place. It made my job really easy."
Coming off its bye week, the Cardinals had some issues getting back into the swing of things. Although the defense was holding down the fort, Greenwich's offense wasn't clicking. In fact, it took Big Red until the clock showed 5:14 left in the opening quarter to get on the scoreboard, courtesy of Tysen Comizio's 41-yard touchdown run.
"I hated that bye week," Comizio said. "It felt so good to be back out here. I can't wait for next week already."
It was obvious Comizio was excited to be back on the turf. He finished the game with 128 yards on 12 carries and added an additional touchdown to his total. Not to be outdone was wideout Stephen Bennett, as the senior captain led the receivers with 92 yards on four receptions and one touchdown.
"Practices are great, but you can't really replicate the game feeling," Bennett said. "I think that showed because we were all really excited to be out here. My guys were opening up lanes all over the field, and I just found the ball. It was just a lot of fun. Our line has been dominant all year and has been really strong. That helps our passing game a lot and we are really clicking as an offense."
Muir also had another strong contest against the Bears. He finished 17-for-27 for 262 yards and threw for two touchdowns.
Midway through the second quarter Muir and Greenwich High erupted, scoring 22 points in the quarter to take a 28-0 lead at the break. With 7:27 left in the half, Muir handed the ball to junior Jack Warren, who busted up the middle for 25 yards and the touchdown. Warren carried the ball three times in the contest for 39 yards and, along with Comizio, was key to Big Red's success on the ground.
"Pound for pound Tysen's one of the strongest kids we have on the team, and it showed tonight," Marinelli said. "It took more than one guy to bring him down. He runs through arm tackles and is a serious weapon. Jack was unbelievable tonight as well. He found the holes that the offensive line gave him and gained a lot of key yards for us."
Keeping the good times rolling was Bennett, who grabbed the ball in the corner of the NHS end zone for the 4-yard score.
"He always finds a way to get the ball," Marinelli said. "He's not that fast, but he's incredibly elusive and could do some things that are amazing."
A little over a minute later, it was Comizio who grabbed the handoff and busted up the middle three yards for the touchdown and 28-0 lead for Greenwich.
"We woke up," Marinelli said. "We had a terrible week of practice, and we showed it. We were unfocused and had six mistakes during our walk-through yesterday. Coming off a bye week where we usually have been strong, we were asleep at the wheel. When we woke up in the second quarter, we turned up the gas and went from there."
Comizio kept the good times rolling to start the second half. Only three minutes in, Greenwich went on a 10-play drive that ended with Comizio finding the end zone on a one-yard run. And just like they were doing throughout the first half, the GHS offensive line was solid in the scoring drive, as they let Muir find Lance Large for 26 yards and Bennett for 14 yards. Muir also called his own number on the drive and scampered for 15 yards.
"We felt great today, and I can't give enough credit to my offensive line," Comizio said. "They had an amazing day, and it showed on the run game. I felt great, and I am really proud of our guys today. We started a little slow. We came off from the sideline, had a little talk and we knew we had to pick it up. So we did that, and good things happened. We practiced this all week and practiced playing fast. That's what we did tonight."
With the victory against the Bears, Greenwich improved to 3-0 overall. However, their undefeated record will be tested in a big way tomorrow night, as Greenwich travels up to New Canaan High School for a contest against the Rams.
In order to come out of Dunning Stadium with a victory, Marinelli stressed that Big Red needs to play its game and play smart.
"We can't make mistakes and create our own adversity," Marinelli said. "If we play our game, we have a chance against anybody. With that said, I think it's going to be an uphill battle for us. They are a phenomenal team. If anything, that St. Joe's loss probably helped them more than anything. We have to go back to the drawing board and figure out what we are doing wrong to have slow first quarters, extend their drives on offense, our penalties and how we back ourselves up on offense. As good as it felt at the end of this game, the first quarter showed how much work we have to work on."
Despite Greenwich's motto of taking things one game at a time, it's obvious they've had this contest against New Canaan circled on their calendar.
"We have been waiting for these guys for a while now," Comizio said. "We are really pumped up and excited. I am hoping we have a great week of practice, and I can't wait to get out there. Our win against New Canaan will come from this week of practice. We need to have a great practice."
"We know that New Canaan is always a big game," Muir said. "It's going to be a hard one going to their home field and trying to take them on, but we are all really excited for it and this is what we play football for. This is going to be a good one. We need to stay disciplined. We can't kill ourselves with penalties. If we don't play disciplined football, we really can't do what want to do on both offense and defense."
While Greenwich's big-play ability and ease of moving the ball will be tested in a big way, Marinelli said the key to the contest will be Greenwich's defense, which has only given up seven points all season and has posted back-to-back shutouts.
"[New Canaan quarterback] Drew Pine is an unbelievable talent," said Marinelli. "He's unbelievable, and our defense is going to be tested big time against him and New Canaan. But, our defense has also withstood every test so far. I would much rather have that. They are incredible. They get after the quarterback, and we have cover guys in the back end that make it hard for a quarterback. If they can continue that next week, it will help us for sure."