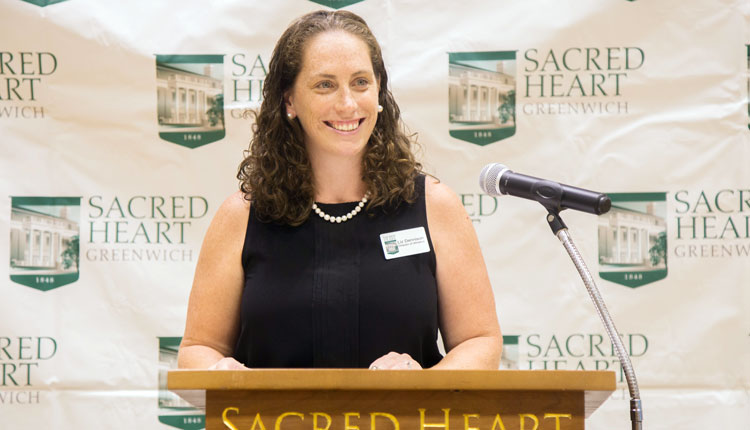 By Paul Silverfarb
Sentinel Editor
During the summer, new athletic director at Sacred Heart Greenwich Elizabeth Dennison had some time to sit in her corner office, in the newly renovated athletic department building, and plan for the upcoming school year.
She also had some time to get to know the coaching staff, faculty and some students and to familiarize herself with the campus.
During her first few months at athletic director, Dennison's main objective, in addition to getting to know the Sacred Heart community, was to plan for the 2018-19 athletic school year. Nevertheless, all the planning couldn't prepare Dennison, a former rowing coach and associate rowing director at Cornell University, for the experience of the first day of fall practice. The quiet summer in the athletic building was transformed to a noisy complex with students running around carrying volleyballs, field hockey sticks, cross-country sneakers, soccer balls and rowing oars.
And, while the sudden change from summer calm to fall chaos may have been a little intense, it was music to Dennison's ears.
"The staff and the athletic department here has been really exceptional, and without them my transition would not have been as smooth," Dennison said. "They are the key to keeping everything moving on a day to day. During this beginning, it's been a lot about listening to them and following their lead. But, that first day was so exciting to see the students out there and then you remember why you're doing the job. It's easy to sit in your office, do paperwork, answer emails and things that need to get done. But, then you see the students out there and you remember that this is the whole point. That gives meaning to the job."
After a summer of intense preparation, getting to know the athletes, the facilities, coaches and faculty, the new athletic director for the Tigers has teams competing almost every day at the highest levels of high school athletics.
"Liz has made an immediate impact on the Sacred Heart Greenwich campus," said Pam Hayes, Head of School at Sacred Heart Greenwich. "Her extensive college coaching experience has given our student-athletes access to an unparalleled resource, as they navigate competitive FAA and NEPSAC schedules and consider playing at the next level. Liz's vision for the athletics department, combined with our collegiate level facilities and the momentum in our programs, will propel Sacred Heart Greenwich athletics forward to new heights."
While getting to know the athletes, their parents and coaches has been fun, what Dennison treasures most is the afternoon. Since the fall season kicked off a few weeks ago, Dennison sneaks away from her desk in the athletic complex and walks down to one of the fields of competition, saying that watching students perform at their best is a great way to end the afternoon.
"It's been a lot of fun to get started," Dennison said. "The most fun thing so far was getting to know the students. Their energy and enthusiasm for the sports they play, and for the school in general, is just really contagious. It's been great to get to know the community, as well. It's such a great community. The parents, staff and faculty have been so welcoming, and that has made the job a lot of fun as well."
That connection has been vital for Dennison, as talking to parents, students, coaches and faculty has been instrumental in her success from the beginning. Right from the start, Dennison has met with the coaches and talked with the students and parents in large groups.
"There's a lot of people to connect with on an individual basis, and that will take time," Dennison said. "Hopefully, through some of those bigger events and some of our welcoming events and the beginning of the year kickoff meetings, that they have started to see the vision I have for the department. For me, a lot of it this year will be seeing how things work. I certainly don't want to reinvent the wheel. There are a lot of things that are working here really well, and my goal is to keep them going and not mess with them. I will look for areas and opportunities for growth in the program and where we can do things better and see what we need to do to do that.
"And a big part of that is supporting our coaches and letting them do what they do best, which is coach on the field, in the water, in the pool and on the court, and make sure they are having those resources and tools," Dennison said. "They are the ones that interact with the students the most, so making sure we have coaches that have everything they need to do that effectively is very important."
One of Dennison's visions for the program is to win. As a former rowing coach, it's no secret that the Sacred Heart Greenwich AD is competitive. However, it's not just about coming up on the winning side of the ledger.
"I want to win, but I want to do it the right way," Dennison said. "For me, having great sportsmanship and integrity and promoting some of those values in both practices and competitions is really important. Not only is athletics important to push your body and compete at the highest level possible, but to reinforce some of those ideas that you learn in the classroom and beyond. Developing leadership, confidence, focusing on student's well-being and making sure that we are tying all that back together to academics and athletics is crucial."
In addition to competition, Dennison is determined to make sure that every athlete at Sacred Heart Greenwich thoroughly enjoys their time as a member of the Tigers athletic community.
"I want to provide a great experience for every individual who wants to be a part of our program," Dennison said. "There's going to be a variety of skill level, so for us it's important to provide the right skills, tools and coaches for all those levels and then develop every single student every single year. Development never stops, and I want to make sure every team has a purpose and every student as a purpose on that team."
For Dennison and her husband, coming to Sacred Heart Greenwich presented an exciting opportunity to start a new adventure. For the previous decade, Dennison was a proud member of Cornell University, first as their women's rowing head coach and more recently the associate director of rowing.
"It's a new place, and it challenges me with a new position," Dennison said. "I loved my time at Cornell. I was there for almost 10 years before this and had an amazing experience. It was really sad to leave, and that made it a hard decision because it was such a great place to work. But, for me, this was a great opportunity. The facilities, the resources here are amazing. The dedication of the students, the staff and the community to strive and be the best in the classroom and on the field really drew me in and go for it."
And, with the position of athletic director, Dennison, who previously was focused on the coaching side of rowing and then the administrative aspect during her last year at Cornell, has a lot more athletics to brush up on.
"One of the biggest changes for me right now is getting even more familiar again with all the other sports," Dennison said. "It's been really fun to remember the sports that I played when I was really young or watched and supported while in Cornell. That's been really great."
While she's quickly becoming an expert on a plethora of sports at Sacred Heart Greenwich, the love of rowing has not left her. Two weeks ago, Dennison was thrilled to go out on the water with the Sacred Heart rowing team.
"Yeah, I definitely got the bug a little bit," Dennison said. "I gave them a few thoughts. But, I certainly missed a few parts of my old job and, of course, the athletes I got to work with while at Cornell. But, it's been really great getting to know the students here and their families. It's so exciting to watch all the sports. I miss rowing, but it's obvious that this is a great fit for me at Sacred Heart."