October 1, 2018
Social-Emotional Learning – An Interdisciplinary Discussion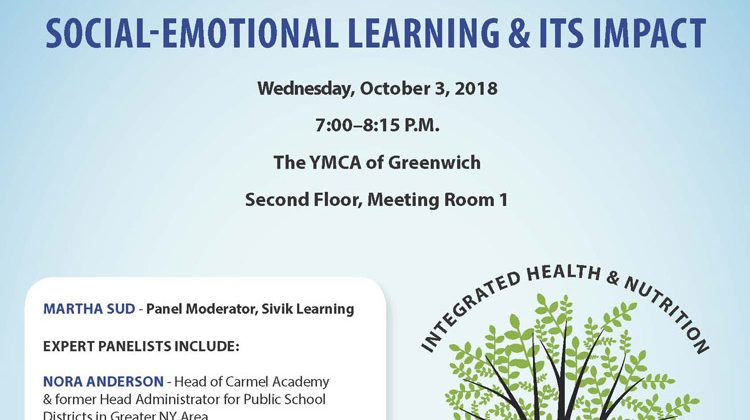 Join an interdisciplinary panel of experts on Wednesday, Oct. 3 at 7 p.m., as they discuss the importance of Social-Emotional Learning (SEL), a critical and timely topic in today's environment where chaos and uncertainty are the norms. The program will take place at YMCA of Greenwich, 2nd floor, Room: Module 1, 50 East Putnam Ave.
Schools nationwide and globally are now implementing SEL as part of their curricula, and global companies and their heads are paying more attention to these soft skills which impact productivity, engagement, and talent management. In fact, SEL not only improves achievement by an average of 11 percentile points, but it also increases social behaviors such as kindness, sharing, and empathy, while reducing depression.
Moderated by Martha Sud of Sivik Learning, the panelists include Sergio Ezama, Global Head of HR for PepsiCo; Nora Anderson, Carmel Academy's Head of School; Rebecca Comizio, New Canaan Country School's and Waverly Group's Psychologist and SEL Curriculum Developer; Dr. Nelson Dorta, Pediatric Neuropsychologist, Columbia University and Dorta Associates; Elizabeth Greig, Nurse Practitioner in Functional Medicine, Blum Center For Health; and Dr. Ann Heekin, University Professor of Interfaith Studies and Executive Director of Don Bosco Community Center.
Overall, this dynamic interdisciplinary panel of experts will help audience members to enhance their learning in order to become better parents, partners, friends, and co-workers.
This educational program is for residents, parents, and educators of children and teens of all ages. There is no cost for this program, but please RSVP to martha@siviklearning.com
Tags:
greenwich
,
social emotional learning
,
YMCA of Greenwich