October 1, 2018
Dana's Angels Research Trust Holds First Walk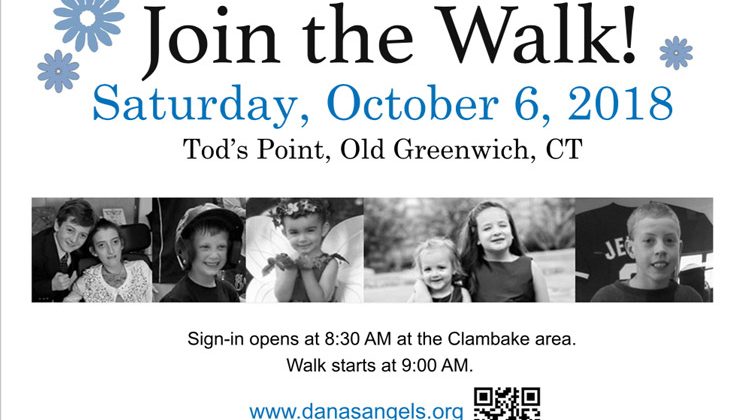 Registration is open for the first-ever Dana's Angels Research Trust (DART) "Walk to the Finish" on Saturday, Oct. 6, at Greenwich Point Park. Fun for the whole family, the event is a great way to help raise crucial funds for Niemann-Pick type C disease (NPC). New York City disc jockey and radio host Scott Shannon will kick-off the walk. To register, visit danasangels.org
"NPC is a rare and fatal, cholesterol storage disease affecting children and is often called children's Alzheimer's," said Phil Marella, co-founder of DART. Marella noted that, "We founded DART after two of our four children, Dana and Andrew, were diagnosed with NPC. Dana sadly passed away at the age of 19 in 2013, but there is hope for Andrew, our youngest child, who just turned 19 and has been in a clinical trial that DART has helped fund. He is doing much better than Dana was in her late teens, but is still battling seizures and has walking and swallowing issues."
Most children who suffer from NPC die in their early teens from the disease, but DART is helping to change that fate. As an all-volunteer organization, funds raised at DART events are channeled directly into supporting pivotal NPC research – research that may also help millions of people suffering from HIV/Aids, Ebola, heart disease, stroke, Alzheimer's disease and other disorders that appear to be related to cholesterol.
"We are so grateful to this community for all their support over these difficult years," noted Andrea Marella. "Without them, we would not have the treatments that bring us closer to a cure."
DART typically holds a large fundraiser every other year and has hosted musical performers. This the first year the organization is holding a walk.
To learn more about Dana's Angels Research Trust (DART) or to register for the event, visit danasangels.org
Tags:
Dana's Angels Research Trust
,
DART
,
greenwich
,
greenwich point
,
old greenwich
,
Walk to the Finish