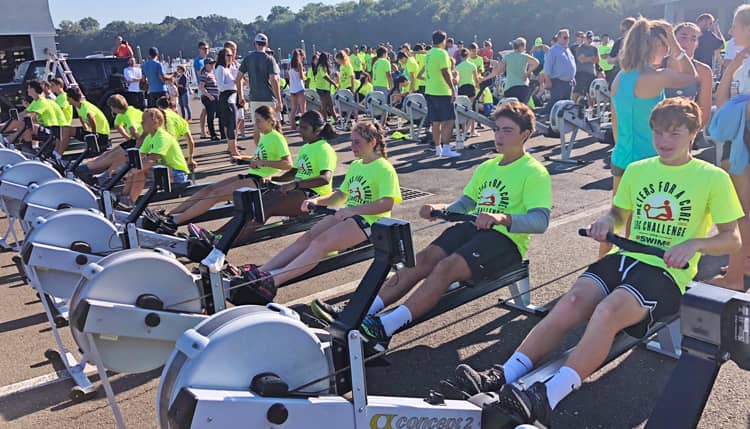 By Paul Silverfarb
Sentinel Editor
Greenwich Water Club hosted the inaugural Swim Across America Fairfield County Meters for a Cure ERG Challenge, and to say that it was a success would be an understatement.
Over 170 rowers, ranging from beginners to masters, middle schoolers to adults and individuals to corporations, rolled up their sleeves and got comfortable with an erg rowing machine, with the goal of raising money for the nonprofit and Stamford-based Alliance for Cancer Gene Therapy. The ACGT is dedicated exclusively to funding cancer gene therapy research.
"We were overjoyed that we were able to extend the footprint of Swim Across America in Fairfield County," said co-chair Michele Graham. "We are so delighted that Greenwich Crew came up with this idea. It gives the Swim Across America brand the ability to reach more people."
The Meters for a Cure ERG Challenge featured relay teams of four that rowed on the erg machines in 40-minute sessions. Both youth and adult teams participated. The high school team "GCrewGangnamstyle" rowed 12,437 meters, followed by the adult team "Coaches" who rowed 11,882 meters. Grabbing the bronze was the adult team "Hammertime" with 11,631 meters.
Special guest rowers at the event included State Sen. L. Scott Frantz, who is an avid rower and was on the crew team at his alma mater Princeton University, U.S. Representative Jim Himes, who rowed for Harvard University and was joined by his wife Mary, also an avid rower, and Greenwich First Selectman Peter Tesei.
"I was happy to be able to support Greenwich Crew at the Greenwich Water Club for the ergothon," said Tesei."There were more than 200 participants who raised more than $25,000 in this inaugural event. That is truly a testament to their commitment and our community's commitment to support the efforts to fund cancer research with the goal of finding cures for all forms of this insidious disease."
"It was incredibly inspiring to play a very small role in the Swim Across America Fairfield County erg competition and even more inspiring to hear from some excellent speakers and to witness the rowers putting in their best performances to raise money to cure cancer," said Frantz. "Every person involved in organizing and running this large and complex event should be commended for a job extremely well done."
In total, $25,000 was raised from last weekend's event, and the money will be added to the funds raised earlier this past June at the Swim Across America Open Water Swim.
"We were incredibly impressed with the turnout, especially when you put it in context," Graham said. "This was the first time the event has been done, everybody has just come back from the summer and only two or three weeks into the school year. To be able to ramp up and get over 170 rowers right off the bat was really great. It really resonated with the rowing community and people from Westchester to Westport were involved. We couldn't be happier with how it turned out."
The event, which Graham co-chaired with fellow Greenwich resident Lorrie Lorenz, is incredibly personal. Lorenz's daughter, Brooke, is a cancer survivor and eight years cancer-free. Graham's daughter, Nicole, went through a stem cell transplant at the end of the June and is currently undergoing immunotherapy for her relapsed leukemia. She was originally diagnosed six years ago. Both Nicole and Brooke are Greenwich High School alums.
"For Lorrie and I, as parents with children who have or had cancer, to see people pull together to raise funds for groundbreaking cancer research is amazing," Michele Graham said. "No one wants to see anyone go through what we've gone through and what we've seen friends go through. There's no one that hasn't been affected by cancer in their lives, so this is something that I think everyone can relate to. What we are seeing with cancer gene therapy and immunotherapy, the strides that are being made in research are just phenomenal and it's changing the face of survival rates and making treatment less harsh on people."
Michael Wieneke, Director of Programs and Member Services at the Greenwich Water Club, said it was an honor for the club to host the event.
"GWC and Greenwich Crew were happy to partner with Swim Across America-Fairfield County to support the Alliance for Cancer Gene Therapy through the Meters for a Cure Erg Challenge," said Wieneke. "The event brought together an awesome group of junior and adult rowers and non-rowers to support a great cause. The success of the event, close to 200 rowers and over $25,000 raised, exceeded our expectations. As a rowing program, we look to develop good people, not just good rowers. It's important to teach young adults the importance of supporting their communities. The Meters for a Cure Erg Challenge gave our athletes a chance to give back and support a cause that has impacted so many of us."
The event was spearheaded by Greenwich Crew parent and Swim Across America volunteer Alice Catalano. In addition to Weineke, Michele Graham and Lorrie Lorenz, Marcus Zavattaro, Kellie Norrgard, Tracey Shaw, Paul Ruggeberg, Karen Piscitelli and David Ward all were key contributors to the event being such a success.
"We have all been affected by cancer, either by losing a loved one, a friend, being a survivor or currently undergoing treatment for this deadly disease," said Zavattaro. "This is why we created the event, to raise money to defeat cancer. Our desire was to create a land-based event for all ages to participate in, with the ability for those not participating to be able to cheer them on during the competition. Our decision to partner with Swim Across America was also a natural fit, since they have had tremendous success with their swim events with the full amount of their fundraising going directly to fund critical research."
Lisa Harkness, the mother of a young child that passed away from glioblastoma brain cancer, and a mother of a teen crew member, was the featured speaker and kicked off the event with an inspirational story of why her family rows to raise funds for cancer.
The Harkness family was hit with tragedy when their third child, David, was diagnosed with glioblastoma as a newborn infant and died a few short days after birth. Since then, Lisa has been a staunch advocate for the fight against glioblastoma. Lisa Harkness' son, Matthew, David's younger brother, also rows crew and participated in the event.