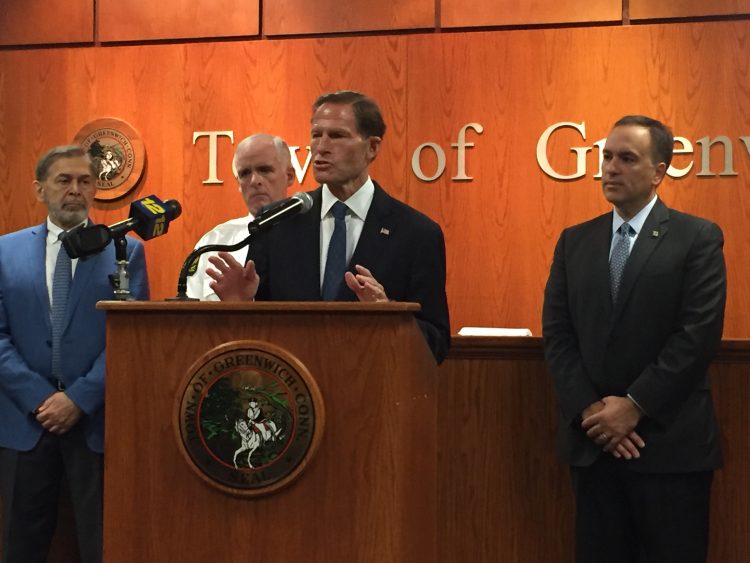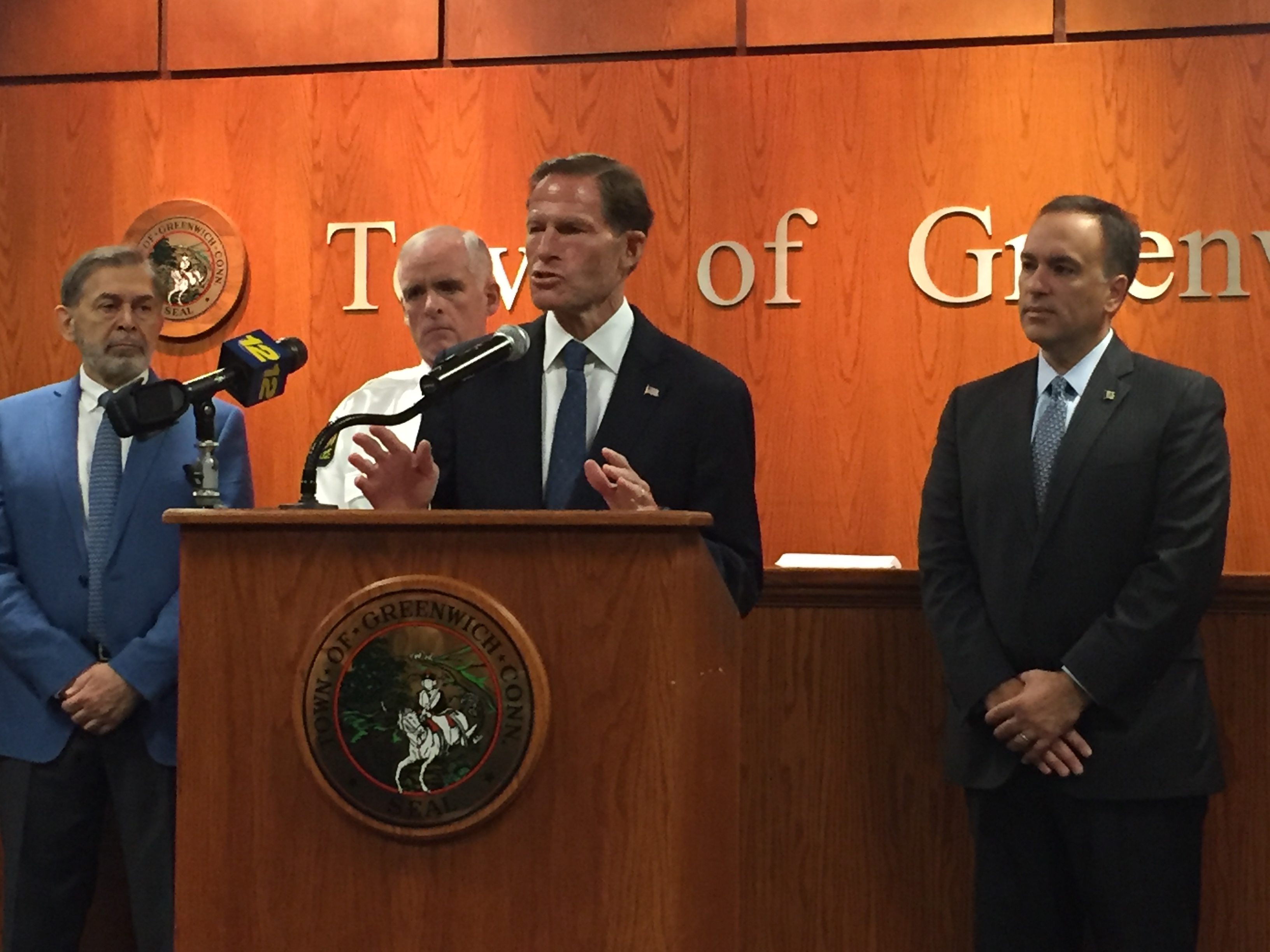 By Richard Kaufman
On Monday, Sept. 17, the U.S. Senate voted on and passed a bipartisan package of bills aimed at combating the ongoing opioid epidemic. 
Just last week, at Greenwich Town Hall, U.S. Senator Richard Blumenthal, along with First Selectman Peter Tesei and other town officials, gathered for a press conference to show support for the legislation and to raise awareness about the dangers of opioids.
"[This legislation is a ] sweeping measure that has bipartisan support, strong support on both sides of the aisle, because there is nothing partisan about the opioid epidemic," Blumenthal said last Friday at Town Hall. "It affects Republicans, Democrats and everyone else."
Among the items in the legislation, there would be additional funding for law enforcement, and for the postal service to crack down on overseas shipments involving deadly synthetic opioids, such as fentanyl and K2. 
"This measure will require the postal service to provide information about the destination and origin, and the specific identities of who is shipping any kind of substance that comes from manufacturing plants overseas," Blumenthal said. "That information then can enable the customs and border patrol to open the packages and prevent them from arriving."
There would also be guidelines on payments from pharmaceutical companies given to nurse practitioners or physician's assistants, and funding for drug take-back programs.
Overall, there is $1.5 billion worth of funding over three years for programs that provide treatment and counseling for those with substance abuse problems. Blumenthal said Connecticut would receive roughly $5 million to $10 million. 
While Blumenthal stressed that the legislation is helpful in the here and now, especially in Fairfield County, he said, "This is only the beginning," and more work needs to be done to bring the epidemic to a halt.
"The opioid and drug abuse epidemic is sweeping this country. It's growing much faster than the increase in resources we're devoting to combating it," Blumenthal said. "[The funding is] inadequate to address the mammoth proportions of this drug epidemic." 
Of the 70,000 drug overdose deaths in the U.S., in 2017, 30,000 were from synthetic opioids, according to the Centers for Disease Control.
Greenwich isn't immune to the epidemic. 
"We've been hit directly by this scourge," Tesei said. "On a local level, we're in a position to educate and identify those individuals and provide some counseling, some intervention and prevention, but we cannot get to the source. We truly need the leadership of our federal government."
Also,at last Friday's press conference was interim Superintendent of Schools, Ralph Mayo; Greenwich Police Chief, James Heavey; Greenwich Fire Department Deputy Chief, Thomas Zack; Greenwich Emergency Medical Services Director of Operations, Patrick O'Connor; and Greenwich Commissioner of Human Services, Alan Barry.
"These folks are on the frontline," Blumenthal said. "They're in the trenches. They're the ones who see the effects of the opioid epidemic first hand."
Blumenthal also praised Tesei and his leadership in Greenwich. 
"Everybody has a stake in this fight. It really requires a partnership, local and state and federal. I'm proud to be in Greenwich because this town, under Peter Tesei's leadership, has really been so active and proactive in fighting the opioid epidemic not only in treatment, but also in education and prevention," Blumenthal said.
According to Heavey, two years ago there were 17 overdoses, 5 of which were fatal, around town. There hasn't been a fatal overdose in Greenwich since last October.
Heavey believes the legislation will help the department in fighting the epidemic. The department has already been proactive; there is a drug take-back container in the lobby of the public safety complex for residents to anonymously drop off their unused medications, and GPD patrol cars were outfitted with doses of Narcan earlier this year. 
Narcan is used to reverse the effects of an overdose and was successfully deployed recently in Greenwich. 
"[Narcan is] another tool in our toolbox," Heavey said.
Heavey added that the town will release the results of a student survey on opioids soon. Barry said the feedback and results will give the town concrete information upon which they can base strategies on.
"This affects everyone across all ages, all economic backgrounds. We have to get more creative and smarter in what we're doing in terms of developing strategies in order for us to be able to truly have an impact on this epidemic," Barry said. 
Every U.S. Senator went to his or her home state last weekend to get the word out about the legislation. "[We want to] put additional pressure on the administration to do the right thing here because the President has talked the talk, now he needs to walk the resources to where they're needed," Blumenthal said.
The Senate and House will likely have to iron out details before the legislation package is sent to President Trump's desk. 
"Time is of the essence," Blumenthal said.