September 14, 2018
Greenwich Remembers the Tragic Events of Sept. 11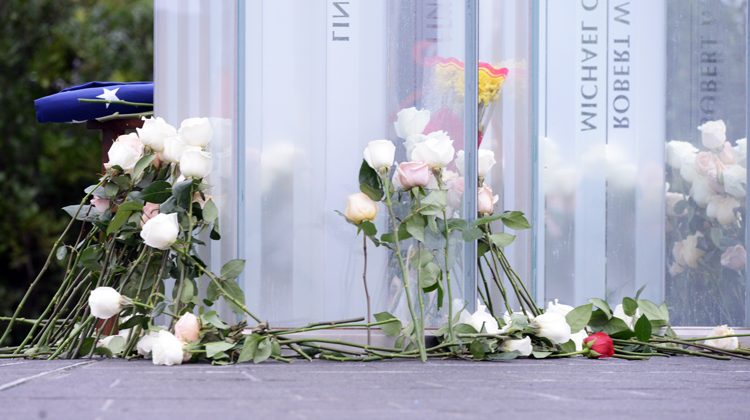 By Richard Kaufman
Sentinel Reporter
On Tuesday, the town of Greenwich gathered in Cos Cob Park to pay tribute to those who were lost in the Sept. 11 terrorist attacks 17 years ago.
Overlooking the Long Island Sound in Cos Cob Park, the 9/11 memorial sits on a bluff and displays 33 names of Greenwich residents who perished in the attacks.
Tuesday's remembrance ceremony featured honor guards from the Boys & Girls Club and from Greenwich's first responders in the police, fire and emergency medical services departments.
State Rep. Mike Bocchino (R-150) introduced the guest speaker for this year's ceremony: FDNY Battalion Chief, 9/11 first responder and Greenwich High School graduate, Joseph McHugh.
McHugh's career in fire services began as a volunteer in 1984 at the Sound Beach Volunteer Fire Department. In September of 1991, shortly after graduating from the University of New Haven, McHugh joined the FDNY and was subsequently assigned to Ladder Company 25, located on the upper west side of Manhattan.
On the morning of Sept. 11, 2001, McHugh walked into the firehouse in Old Greenwich to study for his upcoming Lieutenant's exam. The firefighters on duty had the TV on, and everyone watched the terrorist attacks on the World Trade Center unfold.
McHugh made the decision to head into the city after the South Tower was hit. After he reached his firehouse, he and a couple of other firefighters from Ladder 25 commandeered a city bus in order to get down to the scene and help with rescue efforts.
Upon arrival, McHugh noticed a fire truck covered in dust near West Street. All of the members from Ladder 25 left their shoes inside the truck before they went into the South Tower. Unable to go into the site because of fears that Building No. 7 would collapse, McHugh was forced to wait.
"During these agonizing hours and waiting to enter the site, I kept going back to our fire truck to see if our members had returned. I did this at least a dozen times, and every time I went back, their shoes were still in the same place and there was no sign of them," he said.
Of the 343 total firefighters lost in the attacks, six of them were from Ladder 25. An additional firefighter from McHugh's firehouse died in 2004 from cancer most likely related to Ground Zero. McHugh noted that more people will eventually die from 9/11-related illness than actually died that day.
McHugh said he spent a week helping with rescue efforts before finally returning home to see his family. During his first night back, his wife had invited friends over.
"After spending the evening with all of them, when I left, it was at this point I realized I was not the same person I was before 9/11," he said. "That first week at Ground Zero had changed my life forever. My memories of that week, what I saw and what I did, I will keep to myself."
McHugh went on to describe the "blur" of the next several months, which featured multiple memorial services for his fallen brethren.
"I know it isn't any easier 17 years later," he told the crowd. "Time went on slowly, the firehouses and the FDNY began to have some sort of normalcy again, but I won't lie to you, Ladder 25 and the FDNY will never be the same."
McHugh admitted that he's only really been able to talk about 9/11 in recent years.
"My ability to speak now is part of the healing process," he said.
The names of Greenwich's 33 victims were read by Teddy and Mason Maloney, whose father was lost in the attacks. Teddy's nieces, Lindsay and Tierney Maloney, rang a bell for each name. The girls also honored the first responders who have become sick in the years since 9/11.
Although the attacks occurred 17 years ago, the emotions from that day remain strong. Susan Wohlforth, who lost her husband, Martin "Buff" Wohlforth, on that day, said she appreciates the support she has had from the community.
"I hope the people of Greenwich and everywhere understand what it means to families who lost someone. It means the world to know that they are not forgotten and will, as far as I can see, always be remembered," she said. "We really can't afford to forget. I'm grateful, and I always am."
After the ceremony, attendees made their way up the winding path to the two glass towers, and laid down flowers near the memorial.
Tags:
9/11
,
Cos Cob
,
Glenville
,
greenwich
,
september 11
,
Town of Greenwich