September 14, 2018
Tesei to Present Ovarian Cancer Awareness Month Proclamation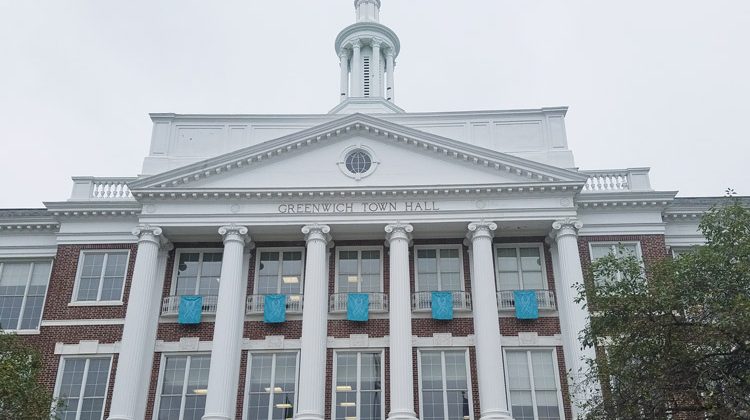 Greenwich First Selectman Peter J. Tesei announced that September will be Ovarian Cancer Awareness Month.
In designating September as Ovarian Cancer Awareness, the goal is to highlight the work of the T.E.A.L. (Tell Every Amazing Lady) organization and Kaile Ann Josephs Zagger, for the work they are doing to elevate awareness of this disease and create education platforms within our community for the general population and the medical community. It also honors the memory of Zagger's mother, Marilyn Ann Trahan Josephs who died from the disease at the age of 46.
This inaugural proclamation event will take place on the steps of Greenwich Town Hall on Sept. 17 at 6:15 p.m. when lights on the building will be changed from white to teal, and the ovarian cancer flags will be raised, to encourage awareness of the disease.
Tesei will present the proclamation to Zagger and Dr. Elena Ratner on behalf of the women they fight to protect and educate each day. They will speak briefly about signs, symptoms, preventative measures and treatment options of the disease.
One in 75 women will be diagnosed with ovarian cancer in their lifetime and in women ages 35 to 74, it is the 5th leading cause of all cancer – related deaths. The American Cancer Society estimates that there will be more than 23,000 cases diagnosed this year and that more than 15,000 women will die from this horrific disease.
Ovarian cancer has non-specific signs and symptoms and lacks methods for early detection, rendering only 20% of cases are found in early stages (I & II). If ovarian cancer is caught in stage III or higher, the survival rate can be as low as 28%. There is no effective screening test for ovarian cancer and the pap smear does not detect for the disease. Some symptoms of ovarian cancer are bloating, unusual weight gain or loss, vague but persistent and unexplained gastrointestinal complaints, back pain, frequency and/or urgency of urination, among others. Visit TellEveryAmazingLady.org/facts to learn more.
Connecticut has the 8th highest incidence ranking in the United States for ovarian cancer with approximately 300 new cases diagnosed each year, and 200 lives being cut short due to this silent killer. Southern Connecticut and Fairfield County have a higher concentration of diagnosis than the rest of the state.
Visit TellEveryAmazingLady.org/Greenwich for information on how to connect and volunteer, find support if you are a survivor or currently undergoing treatment, donate funds, or learn about the educational and awareness events being held in September in Greenwich, to include various lighting events, educational forums in partnership with the YWCA, and a walk for awareness in Litchfield.
Tags:
greenwich
,
Ovarian Cancer Awareness
,
TEAL
,
Tell Every Amazing Lady