September 11, 2018
Tesoriero, Bramante to Discuss 'The Class'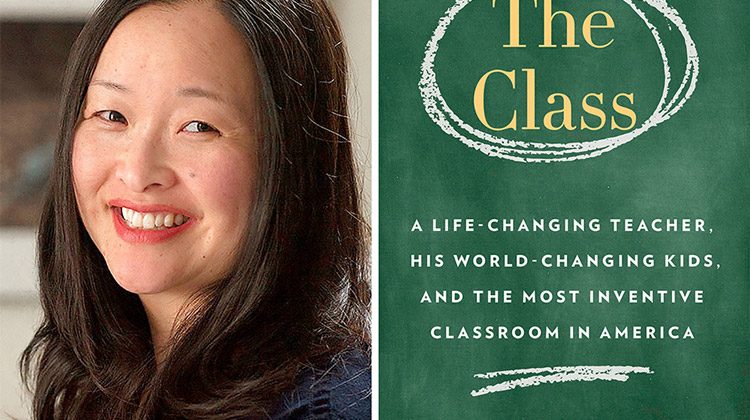 AuthorsLive presents Heather Won Tesoriero, author of The Class: A Brilliant Teacher, His World-Changing Kids, and the Most Inventive Classroom in America, in conversation with GHS Science Teacher Andy Bramante, on Wednesday, Sept 12.
While on assignment at Greenwich High School Heather Tesoriero, a former CBS News producer, first encountered The Class. There to film a piece about a teenage girl who had just won the prestigious Google Science Fair for creating a fast and inexpensive Ebola test, it didn't take long for her to realize that this classroom was a hotbed of emerging young talent—students taking on projects like finding a cure for Lyme disease, creating a detection test for pre-malignant pancreatic cancer, developing a liquid adhesive Band-Aid, and much more. The common bond: their teacher, Andy Bramante, a former corporate scientist who gave up his successful career in industry to teach at a public high school. At that moment, Tesoriero realized this classroom, filled with incredible students and led by their fearless teacher, was one whose story needed to be shared. And in the fall of 2016, she found herself back in high school.
The Class follows a group of Bramante's award-winning students as they make their way through the highs and lows of their teenage years while navigating the cut-throat science fair circuit over the 2016-2017 season. From getting dates to prom to waiting on acceptance letters to some of the best colleges in the country, Tesoriero was there to watch it all unfold. By the end she has you rooting for each and every student, dreaming their big dreams, and feeling as though you're part of the classroom too.
Heather Won Tesoriero is an Emmy-winning former producer for CBS News and has been a reporter at The Wall Street Journal, TIME, and Newsweek. A Korean adoptee who was discovered on a doorstep when was she just a few days old, she grew up on the eastern end of Long Island and now lives in New York City with her husband and two young daughters.
Please register online using the Library's online calendar. Doors will open at 6:15 p.m.
Books will be available for sale and signing at the event. Advance copies of the book can also be purchased by contacting Diane's Books at, 203-869-1515.
For more information, please contact Stephen Schmidt at 203-625-6527, email authorslive@greenwichlibrary.org or visit greenwichlibrary.org/authorslive
Tags:
Andy Bramante
,
AuthorsLive
,
GHS
,
greenwich
,
Greenwich Library
,
Heather Won Tesoriero
,
The Class