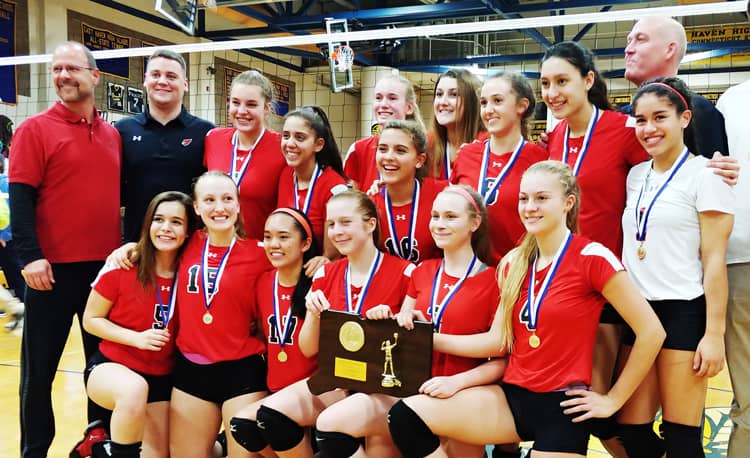 By Paul Silverfarb
Sentinel Editor
The Greenwich High School girls' volleyball team will be looking to continue last year's unforgettable season. Last year, the Lady Cardinals had a storybook season, starting without a home court to practice on and ending with two championship trophies.
This year, Big Red hopes to keep the good times rolling with similar results. While repeating as state and conference champs will be challenge, head coach Steve Lapham and the rest of the Cardinals are up to the task.
"I love being a leader here and it's such an honor," senior captain Caroline Lew said. "It's great to lead such a wonderful team and one that was so successful the previous year. We have a lot of underclassmen and less experience than the team we had last year. Nearly all our starters from last year left, and that's definitely hard to come back from, but I tell all the people that weren't here last year how hard we had to work last year to get to where we did. We have a home gym now, so we have a home advantage, and that's nice."
With the renovation to the Greenwich High gymnasium delayed and no court to play on, the volleyball team had to start last season practicing at the Eastern Middle School gymnasium. In fact, the Cards didn't get to play a home game until Senior Night, the final home game of the regular season. Despite the distraction, and starting the season 4-4 overall, Greenwich got hot at the right time and never looked back.
As the No. 2 seed, they captured the Fairfield County Interscholastic Athletic Conference championship by blanking St. Joseph, 3-0. Taking an 18-4 record into the Connecticut Interscholastic Athletic Conference class LL tourney, the No. 6 seeded Cardinals beat Darien 3-0 in the opening round and crushed both Newington and Ridgefield 3-0 before beating No. 2 seeded Southington 3-1 in the class LL semis and then smashing Amity Regional High School in the title game, 3-1 (14-25, 25-19, 25-21, 25-14).
"The best part about it was the journey," Lapham said. "When we started 4-4, and we haven't been .500 in many years, we were questioning ourselves. Our motto was that it's going to make one hell of a story, that we need to hang in there and if we work hard good things would happen. We kept on getting better and better and we switched the lineup around. When you see the kids shine in the biggest games and on the biggest stage, the FCIAC finals and the CIAC finals, it's so rewarding. We played lights out volleyball. Super clean and super steady, and as a coach that's all you can ask for. That's the pinnacle of success, when your girls, in the biggest stage, play their best volleyball."
The celebration was on, however it was tough for Lapham to ignore that nearly all the starters from the championship team would graduate. While this year's team is still highly talented, they are inexperienced at the varsity level.
"It's a whole new team and whole new look, and that's exciting," Lapham said. "The leaders, Carolina [Lew] and Amelia [Bartlett], carry the experience. Lily [Saleeby] is playing great volleyball right now as a sophomore. A lot of the girls have also played club ball out of season. So, they are in tune and have played big games. We will come along, but we need to get our basics down. We have to pass the ball and serve better. If we are not passing, then a lot of players don't see the ball."
Leading the way this season will be the team's lone captain, senior Carolina Lew. This season Lew will be the team's libero. In addition, she will see some time setting the ball and will be a defensive specialist.
"We hope to be in the finals," Lew said. "We have a lot of work to do in order to get there, but we did last year as well. We didn't start off as the strongest team. We have a lot of fundamentals to work on this year and the basics, like getting the ball back into play when we are in a little trouble. But I think we work so hard and have all the potential to get to where we were last year."
Also coming back from last year's team will be fellow senior Bartlett, the team's main setter.
"This year we have a lot of potential with our players here, but the skills aren't harnessed yet," Bartlett said. "Last year everybody had great skills. I do think that the gym and not having the good facilities like we have now, really did help push and motivate us last year."
"She moved out of the middle position, which is uncommon in volleyball," Lapham said. "She has a lot of experience, has a great game IQ and to have her out there leading us on the court is going to be huge. We are lacking the experience at the varsity level. We have a lot of young kids. They are really strong volleyball players, but they do not have that varsity experience yet."
Coming on strong last year, and becoming the team's best hitter this season, is sophomore Saleeby.
"Right now we have a lot of sophomores and freshmen on our team, so we need to get them introduced to the varsity level," Saleeby said. "Our younger players are really good and we will see a lot of them in the future. We also have a lot of people in each class, so we need to find that bond. We have all been through different experiences, so finding that common bond will be huge for us."
"She has some great mechanics," Lapham said. "She splits out of the outside and is very strong. She can put the ball where she wants and mixes it up well."
Big Red will be looking for big things from senior Erin O'Keefe as a middle hitter.
"She has a good reach and gets over the net," Lapham said. "She puts up a good block and her attack is improving every day."
In addition, senior Gia Alfano will be at the right side. As a lefty, Lapham said that it will be nice to have a left-handed hitter on the right side.
Sophomore Caroline Mrdelja and junior Ciara Munnelly will battle for one of the middle positions on the court, while freshman Adele Sotgiu will play outside.
"Adele has a really good pass and her hitting is solid," Lapham said. "We need to clean up some of that hitting technique, but she's great."
When it comes to improving, Lapham is quick to mention that the team's serve-receive and commitment to the ball on defense are going to have to get better if they want to succeed.
"Our serving has to be better," Lapham said. "We are serving around 80% and that's not good enough. We have to be in the 90's."
And, in addition to the improvement on the court, Greenwich will have to come out and play every game this season in top form. Because the Cardinals claimed gold in both the FCIAC and class LL championships, it's obvious that all teams will be looking to beat the best.
"There's going to be pressure," Lapham said. "We have to put them in situations in practice where they have to be uncomfortable. If we are not doing that, then we are not training there. We will get their heads straight, but we need their technique down. If you don't have the technique, then you're going to have a lot of trouble."
While the team might be inexperienced at the varsity level, Bartlett is confident of how strong the younger athletes have been looking this preseason.
"We have a very young team this year," Bartlett said. "Last year, I think we lost six seniors, so it will be tough. But, it's good for us because all these girls have so much potential. We even have the strongest JV team that we've had in a long time. I am hoping that we win FCIAC and States again. I think if we keep on working hard, we can achieve that again."
While the pressure might be on the team to replicate last year's success, Saleeby said that seeing the team reach gold first-hand last season will help a lot this season as well.
"It was such an honor to be on that team last year," Saleeby said. "We didn't have our gym, so we worked really hard, and it felt good to be a part of a team who wanted to win. We were dirty and scrappy and wanted that championship title. We worked our butts off for our titles. We have that momentum for this year, and we know that we have the capability of being a great program. A lot of people say that this could be a rebuilding season for GHS, but we still have the exact same goals. We may have a younger team, but we're still going for the championships."