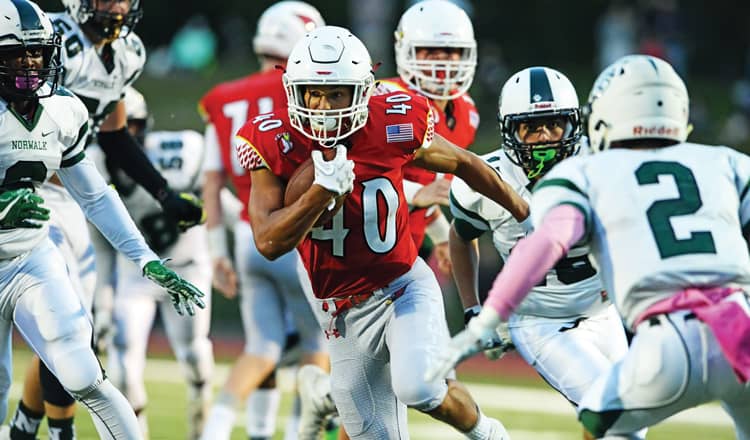 By Richard Kaufman
Sentinel Reporter
Last year at this time, Greenwich High football head coach, John Marinelli, wasn't quite sure of what to expect from his squad.
Big Red seemed to be a work-in-progress from week to week, but they gained confidence with each victory.
Before they knew it, the undefeated Cardinals were the top team during the Fairfield County Interscholastic Athletic Conference regular season and were also the top seed in the Connecticut Interscholastic Athletic Conference class LL state playoffs, losing their only game of the season to fellow FCIAC foe Darien in a snowy championship game by a score of 31-22.
Now, going into the 2018 season, the Cardinals have their eyes set on the ultimate prize.
"I think this year, having had such a successful campaign last year, I think the expectations are higher with the returning players we have, and I think they know what's at stake," Marinelli said. "I think we're more geared for the long haul. Last year, I felt like we were kind of like, 'Hey, what's going to happen this week?'"
The Cardinals kick off the new campaign with two home games against Trumbull and Trinity Catholic on Sept. 8 and Sept. 15, respectively. Greenwich then goes on the road for three straight games against Norwalk, New Canaan and Westhill before returning home to square off against Fairfield Ludlowe for senior day and homecoming.
The season continues on the road against Ridgefield and Danbury and finishes at home against Xavier and Staples for the annual Thanksgiving game.
Marinelli called the FCIAC "the toughest conference in the state" and said there's some uncertainty with how a handful of teams that have new coaches will game-plan around the conference.
"You look around I think we play three or four new head coaches, so there's a level of mystery there and how are they going to play us," he said. "The same coaches every year you can kind of get tendencies, you understand their thought process and there's a level of comfortability there. This year, I don't care about the town or the team."
This year's captains will be quarterback, Gavin Muir; running back, Tysen Comizio; linebacker, Jack Feda; linebacker, Mozi Bici; and wideout/defensive back, Charlie Ducret.
The majority of this year's team still has a bitter taste in its mouth from last year's game against Darien. The Cardinals have over 35 seniors suiting up, and Marinelli said leadership is the team's biggest strength.
"When you have older kids that really take to the younger guys and show them the ropes, to us that's one of the biggest strengths that we have," he said.
On offense, Muir and Comizio, along with returning receivers Lance Large and Stephen Bennett, will once again lead what figures to be a high-powered offense for the Cardinals. Last season, Muir passed for 2,902 yards with 33 touchdowns. Comizio rushed for 1,379 yards and 20 touchdowns. Large lead the team with 42 receptions for 411 yards and five touchdowns.
"We're at our best when on a drive each receiver can have a catch, and you have two or three different running backs get the ball and you don't know where we're coming from, and our tempo is high," Marinelli said.
Muir believes his past experience as Greenwich's signal caller in big games can help him close out his senior year on a high note. His chemistry with the offensive line and receiving corps. is key.
"I really feel comfortable out there with the guys. I think my past experiences taught me that no moment is too big, and to just go out there and play every game like it's a normal game," he said.
Marinelli added that running back is likely the team's deepest position, with Jack Warren, Spencer Hartley and Hunter Clark also in the mix for some playing time depending on certain plays and schemes.
"We do have a diverse and deep running back group which is always a good thing," Comizio said. "We always build off each other and learn from each other's mistakes. It benefits all of us."
On defense, Marinelli said communication will be paramount. He said that his players need to understand that they can't try to overcompensate for a missed play or a future play.
"I think that if we can just maintain our ability to do our job and be consistent across the board, I feel like defensive is one of our strongest point," he said.
"Last year we were No. 2 defense in the state, so we want to be No. 1, but we take it game by game, week by week and see how it goes," Feda said.
Bici wants the defense to pursue the ball a lot faster than they did last year. He said that the defensive unit feeds off each other and makes each other better.
"We build off each other, so if a guy makes a good play we feed off each other and we pick each other up if we make a mistake. We stay positive," Bici said.
Overall, the Cardinals hope to work on their discipline as the season goes on. Limiting unforced errors and penalties will be the difference between winning and losing in most games.
"We have to not hurt ourselves," Marinelli said, adding that he felt his team lost the state championship game last year more than Darien won it. "Our offseason has just been, if we're going to lose a game let's let a team beat us… I think just not giving up yards, and always being disciplined and looking out for each other on the football field all applies."
The captains all agreed that the Cardinal coaching staff does a great job of getting everyone ready to play. For Ducret, who will split time on both sides of the ball, coaching has been instrumental in making sure he's prepared.
"The coaches do an incredible job. They prepare every single day watching film and it makes my job easier. They know how to talk with players, and they're easy to communicate with," he said.
Marinelli still stressed the importance of playing one game at a time, even though the bigger picture is still in the back of everyone's heads.
He also admitted that in Greenwich, the expectations are always high, even if there are 22 new starters or 22 returning starters.
"We want to take care of week one first against Trumbull and to protect home field is definitely one of our goals," Marinelli said. "We want to get back to the state playoffs, win the FCIAC again, and defend our title. Those are our three goals, but every week, we have to take care of business that week."