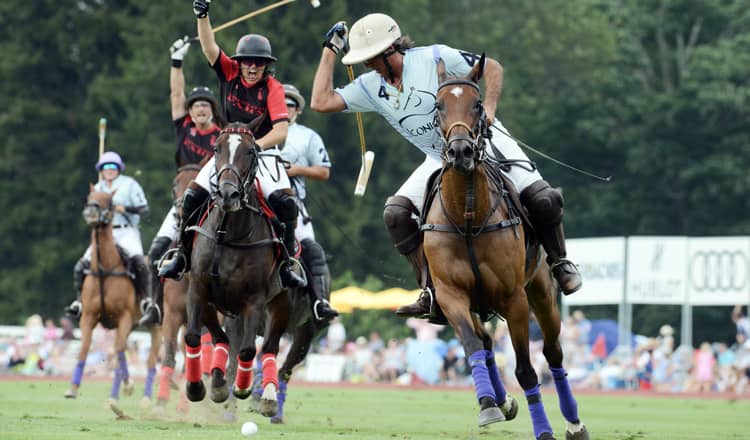 By Liz Leamy
Sentinel Correspondent
Last Sunday, Iconica, the firecracker 20-goal Wellington, Florida-based contingent, edged out Postage Stamp Farm, the formidable 19-goal force, also from Wellington, to clinch a nine-eight victory in the first round of the East Coast Open, reputed to be one of the most prestigious high-goal tournaments in the sport of polo.
This high-octane match, held at the Greenwich Polo Club, in front of a sold-out crowd of approximately 3,500 spectators, was first rate in every regard as it featured a host of decorated world-class players, a mighty battalion of thoroughbred horses, a lively and involved audience, some heavy-hitting corporate sponsors and a battery of tasty gourmet food trucks, all of which worked in perfect tandem together to make the afternoon an affair to remember.
Right from the outset, it was clear these two teams had brought out their A game to this match, as they fiercely battled it out against one another on the massive field of this famed sports locale, regarded to be a main summer U.S. high-goal capital of polo, in hopes of claiming victory.
In the end, Iconica, whose four-member roster included Matias Magrini and Mariano Gonzalez, the ever-powerful and celebrated Argentinian seven goalers, Peke Gonzalez, the talented up and coming five goaler (who is the son of Mariano Gonzalez) and Maureen Brennan, the fiery and fierce number-one player, triumphed.
"I feel good about how we played," said Matias Magrini, who was named the Most Valuable Player of the match due primarily to the way he helped set up the Iconica team out on the field all afternoon. "It's always nice to do well and it was tough. The other team was amazing."
Throughout the first half of this dramatic faceoff, Iconica maintained the lead over Postage Stamp Farm (PSF).
During the second half, however, PSF made a terrific comeback, tying the score seven-seven at one point during the final (sixth) chukker, just prior to Iconica's pulling off a nine-eight win in the final tally.
"We started really well and then Postage Stamp really came back," said Mariano Gonzalez of Iconica. "It was good to get out there and play and also to start [the East Coast Open] this way."
Without a doubt, both teams demonstrated the world-class playing standard of this famous annual 20-goal tournament, which will be held for the next several weeks through Sunday, September 9th at the GPC, which was founded in 1981 by Peter Brant, the renowned business mogul and longtime patron of the iconic Greenwich-based White Birch team, the 2016 East Coast Open champions.
"This is such a great tournament," said Gonzalez, who also added how proud he was to be playing in the East Coast Open this year with his son, Peke.
The PSF roster, meanwhile, featured such standout contenders as Tomas Garcia del Rio, the dynamic Argentinian seven goaler, Valerio ('Lerin') Zubiaurre, the Argentinian eight goaler, Brandon Phillips, the Canadian four goaler and Annabelle Gundlach, the team's vibrant patron known for her lightning-quick playing style. (Cali Tunito, played by Garcia del Rio in the fourth chukker, was awarded the Best Playing Pony citation of this match for his incredible speed and agility.)
A golden afternoon
Overall, this match was a main event in every sense of the word.
The throes of spectators sitting in the grandstand and along the sidelines and who mingled under the massive white tents tents ultimately generated as much excitement as the match itself.
Donning bright, sophisticated and eye-catching ensembles which made for a spectacular collective palette of color against the lush, green pastoral backdrop of this storybook-like venue, this contingent cheered on the players and ponies with enthusiasm and support, designating this event as all the more thrilling.
This high-energy faction, combined with the presence of such heavy-hitting corporate sponsors and business partners as Audi of America (who is a partner of the 2018 East Coast Open with the GPC), the Barbados Tourism Marketing Inc., Veuve Cliquot, Shreve, Crump and Low, Design Within Reach, Saks Fifth Avenue and Hublot, among others as well as the lineup of gourmet food trucks situated right behind the grandstand, designated this as a one-of-a-kind experience on all fronts.
"I just loved being here and couldn't have asked for a better time," said Elizabeth Rossi, a Greenwich resident who recently moved back to town from Scottsdale, Arizona, and who had been attending the match with her sister and friends. "It's such an amazing community of people and it is so gorgeous up here. It's really been a special day."
Others agreed.
"I love being here, everyone is so friendly," said Maria Pietrobon of the Caffe Bon LLC food truck, whose menu featured an extensive selection of European-style coffees, beverages, paninis, desserts and other tasty things. "There is so much happening and it's very exciting. When the horses are galloping, you can feel the ground moving and the audience cheering and it's just an incredible thing."
Pietrobon, who has been bringing her food truck to the Sunday GPC high-goal matches since 2011 (and was the first of the food trucks to set up shop there), said being at the GPC is a special experience.
"I love it here," said Pietrobon. "Here [at the food truck], we have to make sure everything is in order with the food and drinks and also make sure everything else is running, like the generator. I go home tired, but it's a good feeling."
Others said the GPC reminded them of a faraway travel destination.
"It's so beautiful here. It reminds me of Europe," said Julia Lomax, a Brooklyn resident who is also a native of Germany. "Everybody is dressed beautifully and it's so lively. It's such a positive place."
Elizabeth Rossi agreed.
"This has been quite an experience for me, especially after having moved back here from Scottsdale," said Rossi. "Greenwich is so beautiful and this is an amazing place. It's really helped make this such a special homecoming for me."
The 2018 East Coast Open matches will be held every Sunday through Sept. 9 at the GPC. Gates open at 1 p.m. and matches are slated to start at 3 p.m. Matches generally last for approximately two hours.
For more information, please visit the GPC website at greenwichpoloclub.com