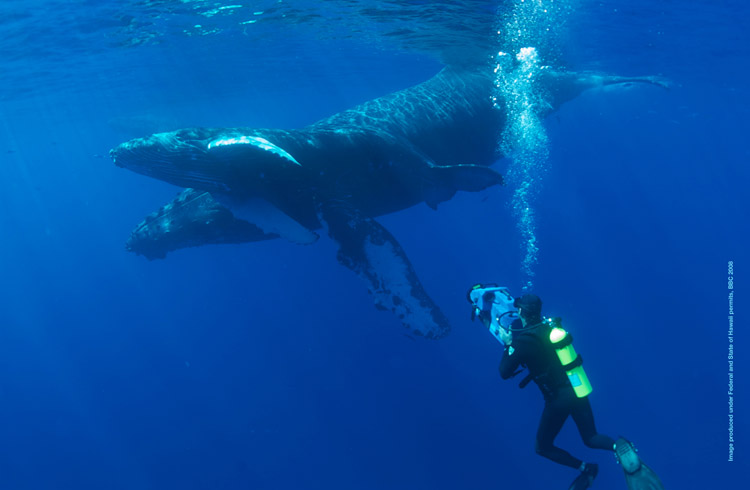 On Tuesday, Aug. 7 from 6:30 to 8 p.m., the Bruce Museum will host "Challenges in Wildlife Filmmaking," a science lecture by Tom Fitz. A three-time Emmy Award-winning cameraman, producer, and director who has documented Earth's stunning wildlife for more than 30 years, Fitz will speak about his extensive experience as a filmmaker on all seven continents and five oceans.
Filming under water is Fitz's main area of expertise, and he has worked under ice in both polar regions as well as a mile beneath the surface of the sea in a submarine. His breathtaking footage of natural beauty has appeared in documentaries broadcast on BBC, PBS, National Geographic, ABC, Discovery, and NHK, and you may have glimpsed his work in popular television shows such as Planet Earth II and The Blue Planet.
Fitz began creating his own films in 2004, earning numerous awards, including the BAFTA Award. In 2008 he co-founded Schoolyard Films, Inc., which produces short natural history and environmental films for K-12 classes and distributes them to schools across the U.S. for free, along with accompanying study guides. Fitz believes that educating today's young students about the world's environmental challenges is the most effective means to ensuring a healthier planet tomorrow.
In "Challenges in Wildlife Filmmaking," Fitz will share memorable film clips, divulge some behind-the-scenes stories and mishaps, describe advances in filmmaking technology, and discuss the impact of his work.
Museum doors open at 6:20 p.m.; a reception with light bites and refreshments will take place from 6:30 to 7 p.m. The lecture begins at 7 and will be followed by a Q&A session. The lecture is free for museum members and students; $15 for non-members. Please register in advance at brucemuseum.org. Tickets at the door: $10 for members and students; $25 for non-members. The Bruce Museum is located at 1 Museum Dr.