July 28, 2018
Induction Day at Cooperstown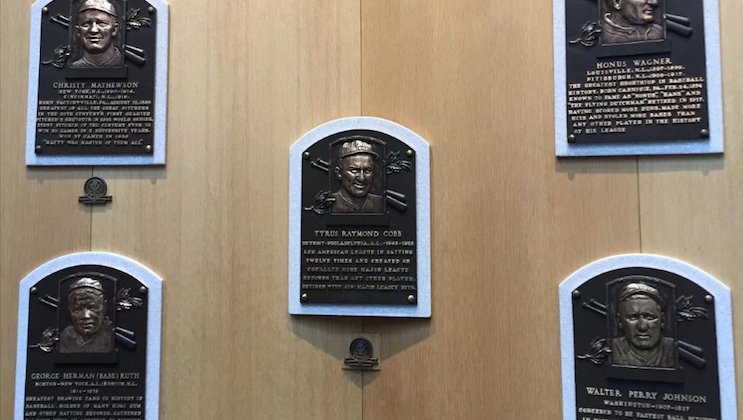 By Richard Kaufman
Nestled in Cooperstown, a quaint village in upstate New York, situated between the Adirondacks and the Catskills with a population of just over 1,700 people, resides a symbol of Americana: The National Baseball Hall of Fame and Museum.
Last week, at the Retired Men's Association of Greenwich's weekly meeting, teacher, author, historian and baseball fan, Dennis Corcoran, spoke about his book, Induction Day at Cooperstown: A History of the Baseball Hall of Fame Ceremony, and how the ceremony has evolved since 1939. He also highlighted some of his favorite speeches from over the years.
By the end of the 19th century, baseball had become the National Pastime, but there was no clear answer as to where the game originated. The Spalding Commission was created by A.G. Spalding to determine where baseball was invented. The commission eventually found that Abner Graves, a mining engineer, had said that Abner Doubleday, a decorated Union Army Officer, invented baseball in 1839, in Cooperstown. 
However, there have been conflicting stories about baseball's origins, as Hoboken, N.J., is often credited with being the true birthplace.
Almost three decades after the commission's findings, Stephen C. Clark, a philanthropist in Cooperstown who was looking to preserve the national pastime and give an economic boon to his small town, asked then National League President, Ford C. Frick, if he'd support the creation of a Hall of Fame.
In 1936, the first class was elected, and featured the likes of Ty Cobb, Walter Johnson, Christy Mathewson, Babe Ruth and Honus Wagner. In 1939, the year which many believed to be baseball's centennial anniversary, the Hall of Fame building officially opened and the first four Hall of Fame classes were inducted.
The Hall of Fame not only pays tribute to the game's greatest players, coaches, umpires, broadcasters, and executives, it preserves the sport's rich and storied history through thousands of artifacts, displayed in various exhibits. Today, the museum is comprised of five connected buildings, and the facility can easily accommodate 3,000 people per day.
Every year since 1939, thousands of fans, and more than four dozen Hall of Famers, come back to Cooperstown, in July, for Induction Weekend. The induction ceremony used to be held in front of the building up until 1966 when it was moved to the side. It wasn't until 1992 that the ceremony was moved to a park about a mile from the Hall of Fame.
The ceremony has evolved quite a bit since 1939, Corcoran said.
"Back then, until 1969, players had to pay out of their own pocket and you didn't get a lot of Hall of Famers coming," Corcoran said. "In 1947, four guys were inducted into the Hall of Fame and none of them showed up because they were going to have to pay out of their own pocket: Frankie Frisch, Mickey Cochrane, Lefty Grove, Carl Hubbell. They all eventually came, but they didn't come for their own induction."
In 1955, Yankee legend Joe DiMaggio was inducted into the Hall after he retired in 1951, but he actually received votes while he was serving during World War II.
Now, players must be retired for five years before they are eligible to appear on the ballot. Players must also get at least 75 percent of the vote to be inducted, and must get at least five percent of the vote to stay on the ballot for the next year.
To further show how times have changed, Corcoran noted that the Otesaga Hotel, a four-star hotel near the Hall of Fame, where inductees and other players stay, is off limits to the general public during induction weekend.
During the 1974 induction, fans would go into the hotel to seek Mickey Mantle's autograph, sometimes at 3 a.m. Mantle never returned for an induction.
Corcoran mentioned a few of his favorite induction speeches from over the years.
He said Ted Williams, believed to be the greatest hitter of all time, had perhaps the most significant speech of all time, because he advocated for the induction of Negro League players in 1966.
"Inside this building there are plaques dedicated to baseball men of all generations, and I'm privileged to join them," Williams said. "Baseball gives every boy a chance to excel and I hope someday, the names of Satchel Paige and Josh Gibson can some way be added as a symbol of the great negro players who are not here only because they were not given a chance."
Paige was eventually voted in in 1971, and about 40 players from the Negro Leagues have gone in since.
Corcoran said that Phil Rizzuto's speech in 1994 is the funniest of all time. Rizzuto, who played 13 years as a shortstop with the New York Yankees, went on to be a broadcaster with the Yankees for 40 years. His quirky sense of humor, along with his unique style and trademark "Holy Cow!" broadcast call made him a fan favorite.
During Rizzuto's speech, he repeatedly swatted at a fly that was buzzing near his face, and made joke after joke. He turned around at some point and told the other Hall of Famers they were free to leave, at which point Yogi Berra and Johnny Bench jokingly got up and left the stage.
Corcoran credited Pirates legend, Bill Mazeroski, with having the most emotional speech of all time, in 2001. Mazeroski had an 11-page speech prepared, but a few minutes in he began to get flustered and overwhelmed. Eventually, he broke down and left the stage in tears. The Hall of Famers sitting behind him gave him a standing ovation.
"A lot of these guys, when they have to give these induction speeches, it's the most nervous thing they've ever done. Speaking in front of easily 40,000 people; they're not used to it," Corcoran said.
Ozzie Smith of the St. Louis Cardinals, Corcoran said, gets credit for having one of the most creative speeches. Usually, the commissioner of Major League Baseball introduces the inductees, and reads their plaque. However, since Smith was the only inductee in 2002, he asked if his son could read it.
Corcoran, who went to his first induction ceremony in 2004, said the fans who attend every year were the inspiration for writing his book. He noted that 75,000 people were on hand to see Cal Ripken Jr., and Tony Gwynn go into the Hall of Fame in 2007, and that some predict an attendance of 100,000 when Derek Jeter is expected to be listed, in 2020. 
Corcoran, a Yankee fan, said he plans to write a sequel to his book when Jeter goes in that will cover the last 10 inductions.
On Sunday, a large crowd is expected to gather to see six new members welcomed into the Hall: Jack Morris, Alan Trammell, Vladimir Guerrero, Chipper Jones and Jim Thome. It promises to be another fun-filled weekend in Cooperstown that's sure to create lasting memories for thousands of baseball fans.
For more information, check out Corcoran's monthly blog at denniscorcoran.mlblogs.com 
Tags:
Cooperstown
,
greenwich
,
major league baseball
,
National Baseball Hall of Fame
,
Retired Men's Association of Greenwich
,
Town of Greenwich