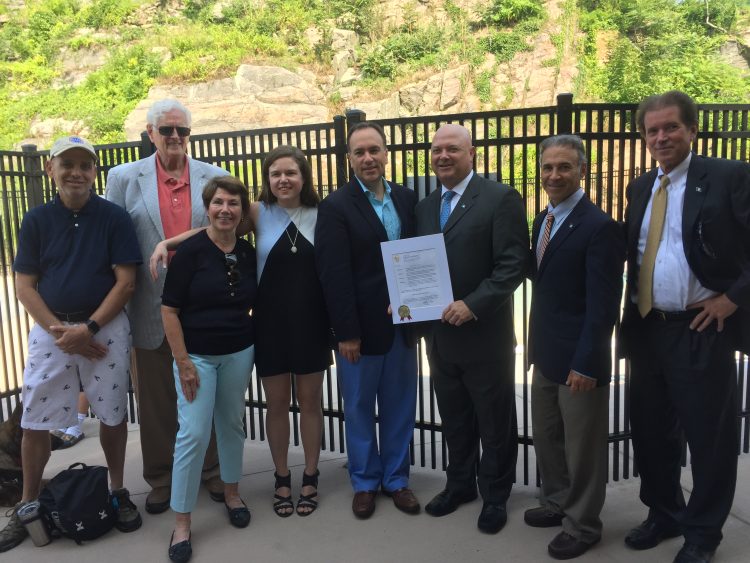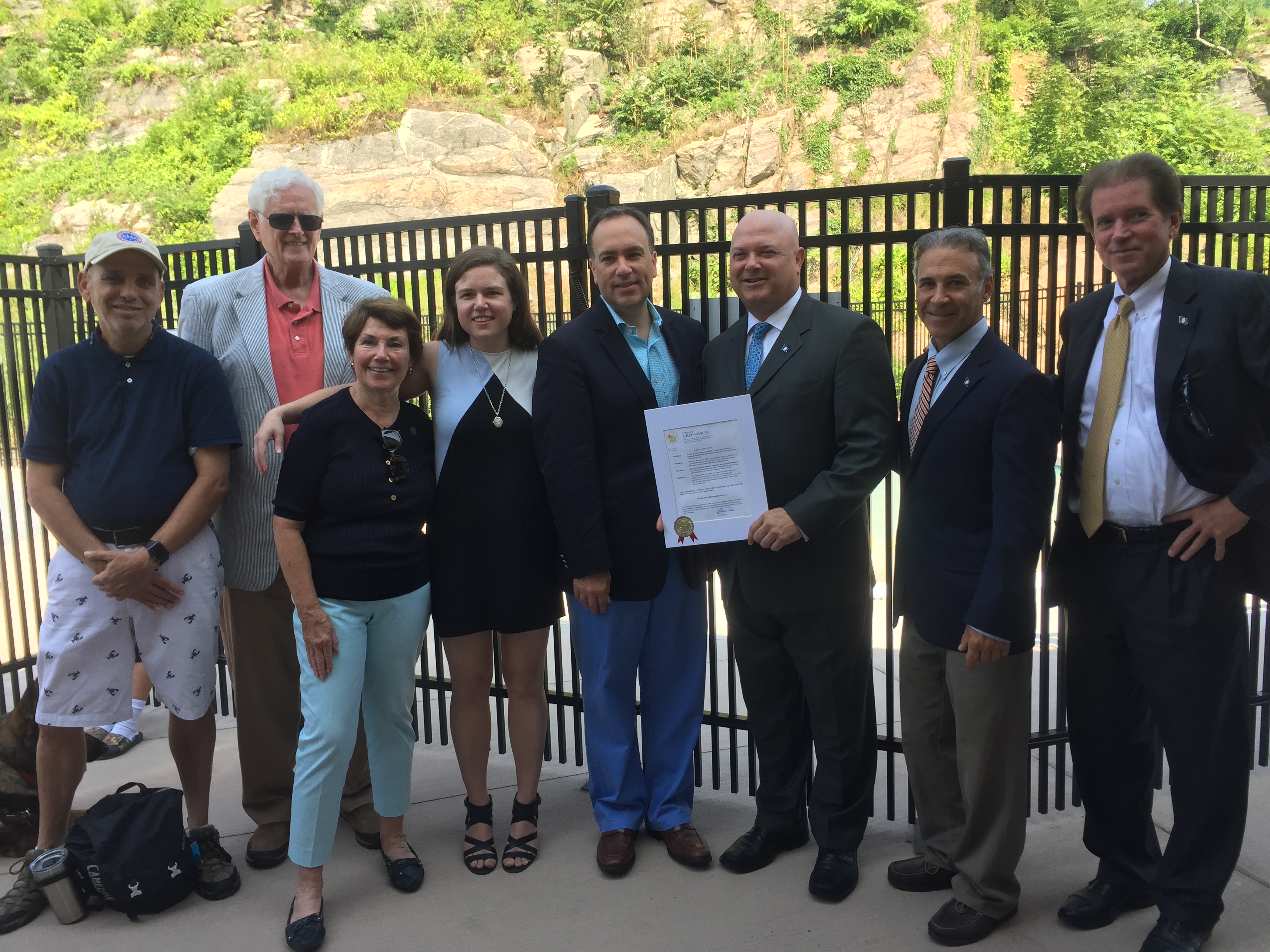 By Richard Kaufman
The Greenwich community, including state and local elected officials and members from the Town's various departments, gathered at the brand new Byram Park Pool on Friday to commemorate the 28th anniversary of the Americans With Disabilities Act (ADA).
The ADA was signed into law on July 26, 1990 by President George H.W. Bush. The law prohibits discrimination against individuals with disabilities in all areas of public life, including jobs, schools, transportation, and all public and private places that are open to the general public. The law makes sure that people with disabilities have the same rights and opportunities as everyone else.
"The ADA changed everything for people with disabilities. Many people with disabilities were out of sight, out of mind, before the Act," said Alan Gunzburg, chair of First Selectman Peter Tesei's Advisory Committee For People with Disabilities.
"It's been a life changer for me," Gunzburg added. "Wheelchair accessible public transportation, curb cuts, ATM's with braille, closed captioning, fire alarms that can be seen and heard, service dogs can go anywhere. These are just a few things that we see that have come out of the ADA."
Gunzburg went on to say that the ADA has positively affected all citizens, and not just those who face challenges. This is known as the Curb Cut Effect.
For example, curb cuts make it easier for kids with bicycles to ride safely onto sidewalks, or for people with strollers or shopping carts full of groceries to walk easily. Gunzburg said that Greenwich has played an important role in making sure all citizens are equal and important.
"The town of Greenwich has been at the forefront of making our lives more accessible. Our buildings in town, our bathrooms, our facilities, are all working towards being as accessible as possible," Gunzburg said.
It only made sense to have the celebration at the new Byram Park Pool, the town's newest crown jewel. From the low counter at the concession stand which allows those in wheelchairs to be served, to the restrooms, showers, changing facilities, kiddie pool, main pool, splash pad and even picnic tables, the facility is 100 percent ADA compliant.
"All of this was designed with the thought that we're going to have a new building, a new complex, and let's make it 100 percent compliant," said Parks and Recreation Director, Joe Siciliano. "We've been getting a lot of compliments from people, no matter what their disability is or slight handicap."
Melissa Thomas, who grew up in Greenwich and now works as a peer specialist for Pathways, a Greenwich-based organization that serves adults with mental health disabilities, talked about her own experience with mental illness.
"My disability affects me always. But you wouldn't know that from looking at me, at least not most days. I look nice, am educated, I speak well, but I am your disabled neighbor, the one whose limits are not easy to see. The one who maybe the curb cuts aren't apparent for at first but I still need them," Thomas said.
"I am fighting battles you cannot see. Everyone is fighting battles no one else can see. Being disabled limits me, but it doesn't define me," Thomas added. "Being disabled does not take away my humanity; I am a person first. I am a person who happens to have problems with her mental health. I am a person, and I am your neighbor who happens to have a disability."
Tesei thanked the various departments of the Town, as well as State Sen. L. Scott Frantz (R-36), and State Reps., Livvy Floren (R-149), Michael Bocchino (R-150), and Fred Camillo (R-151), for continuing to help the community realize the promise of the ADA .
Tesei then issued a proclamation, which marked Friday, July 27, 2018 as Americans With Disabilities Day in the Town of Greenwich.
"The ADA expanded opportunities for Americans with disabilities by reducing barriers and changing perceptions and increasing full participation in community life. However, the whole promise of the ADA will only be reached if we remain committed to continue our efforts to fully implement the ADA," the proclamation read in part.
For an expanded story, be sure to check out next Friday's Greenwich Sentinel