July 27, 2018
Greenwich's Ropiak Golden at Met PGA NYC Championships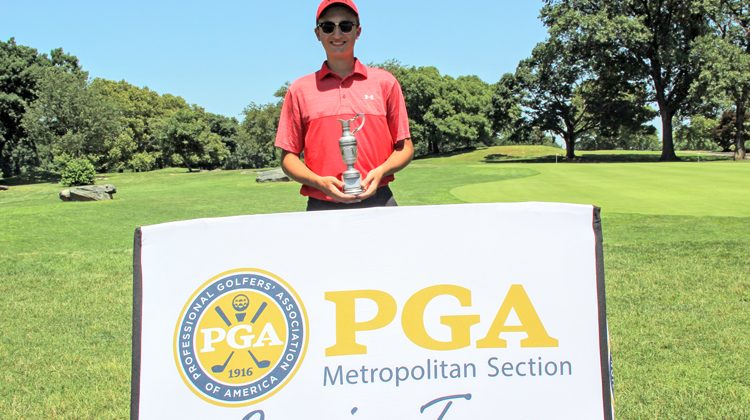 By Paul Silverfarb
Sentinel Editor
All that determination and hard work paid off for Greenwich resident and upcoming Greenwich High School senior Ben Ropiak.
The GHS standout golfer took to the links at Pelham Bay Golf Course last week and came away with the PGA Metropolitan Section New York City Championship, firing a 5-under par 142.
"It was validation for all the hard work," Ropiak said. "I have been close many times at other tournaments, finishing in the top five but never winning. To finally break through and win is a great feeling."
After finishing the first day with four birdies and three bogeys to finish the first day tied with four other golfers with a 70 and another one stroke behind, Ropiak stepped up his game on the second and final day.
In addition to all that preparation, Ropiak did his best impersonation of New York Yankees legend and future Hall of Fame relief pitcher Mariano Rivera on the second day. With a slew of golfers within striking distance of the championship, Ropiak, just like Rivera, entered the field of play under enormous pressure and was unrelenting, shutting the door to secure the victory.
"I could only control what I could do, but getting off to a good start really helped," Ropiak said. "I birdied the first two holes and that immediately gave me a four-shot lead on everybody because they were all making bogeys left and right and I was making birdies. I think after three holes, I went from being tied with a bunch of people to being four strokes ahead of them. That was really helpful to establish that cushion for the rest of the round."
Ropiak finished the second round with one eagle and three birdies. The key was with the bogeys, as he only netted one, on the last hole of the tournament, while already well in front of the competition.
"It was cool," Ropiak said. "The second day started with five of us tied for the lead, so I knew that I would have to shoot a really low score. The fact that I actually did that was really amazing. I couldn't be happier."
Throughout the tournament, Ropiak said his putting really helped set the tone.
"I really did a nice job with my putting," Ropiak said. "It was the best that I have putted in almost a year. It wasn't even the birdie putts. I made a bunch of 15-footers for par when I was out of position off the tee, and that was huge. I almost think that it was more important to make those 15-footers to maintain momentum than those birdie putts. Those par savers were instrumental to my success."
And, Ropiak got the good times rolling during the spring golf season for Greenwich High. During the CIAC Division I golf final at the Stanley Golf Course in New Britain, Ropiak tied for third place and shot an even 71. He was one of five that helped the Greenwich golf team claim an overall team gold medal and Division I title.
During his summer season on the Met PGA circuit, Ropiak has consistently placed stronger. During the Eisenhower Spring Challenge back in early June, Ropiak tied for 26th place with a 14-over par 158. During that two-round tournament, he finished with a combined three birdies and 11 bogeys and three double bogeys.
Exactly a month later, Ropiak was back on the course, competing at Hollow Brook Golf Club in the Boys Met Junior PGA Championship. This time around, Ropiak fared much better, finishing tied for sixth place with a 4-over par 146. At this tournament, Ropiak fired off five birdies and nine bogeys. Most importantly, there wasn't a double bogey in the two round, 18-hole competition.
Ropiak isn't done just yet this summer, as he will be competing in several Amateur Golf Association tournaments, as well as another Met PGA championship later in August.
"I think this Met PGA championship will help me," Ropiak said. "I think it will help me when I am in contention again in other tournaments. I can rely on the fact that I was able to do what is needed to win a championship, and that will give me confidence on the second day."
Tags:
Ben Ropiak
,
GHS Golf
,
Golf
,
greenwich
,
Greenwich Golf
,
Met PGA
,
PGA