June 8, 2018
Greenwich Tracksters Battle the Best at CIAC State Opens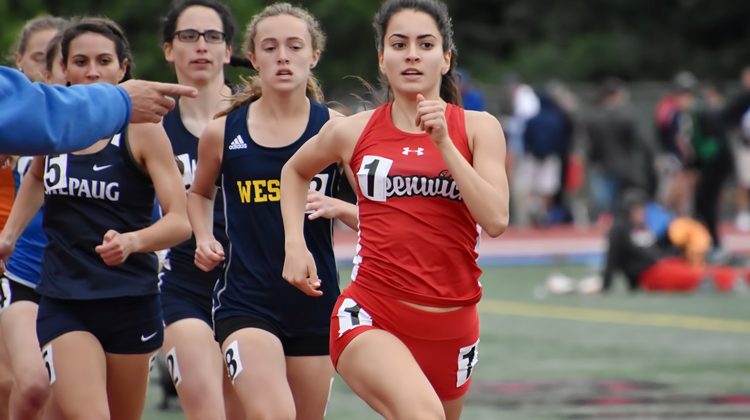 By Paul Silverfarb
Sentinel Editor
While there were a bunch of standout performance during this year's Connecticut Interscholastic Athletic Conference state open finals, it was a plethora of seniors that shined bright in their final CIAC-sanctioned event as members of the Greenwich High School track and field team.
And during Monday's CIAC boys' and girls' meet, which was held at Willow Brook Park in New Britain, all their hard work and dedication was on display.
"It was a productive day for us," said Greenwich High School girls' track head coach Evan Dubin. "We did well. It was unfortunate that there are some of our athletes that aren't advancing in their individual races. They worked hard and deserve it, but it goes to show you the depth of talent in the state of Connecticut for track and field."
The GHS girls' team took home 27 points and that was good enough for fourth place overall. They were one point away from Danbury and one point ahead of Hamden High School.
Our team did really well in all the events," GHS senior Hetty McMillan said. "Everybody was either getting their personal bests or matching them. I think it was a great day overall."
No one had a better day than senior Emily Philippides. The GHS senior took to the track in the 800-meter run and finished with another gold medal, crossing the finish line with a time of 2:11.78. Philippides easily put the field in her rear-view mirror, as Glastonbury senior Erin McGill was second, finishing over four seconds behind Philippides.
"Every year my goal has been to defend my title, so that was my goal this time around," said Philippides, who wasn't aware of how much space she opened on the rest of the field. "I really don't look behind me and focus on myself. And I get paranoid that there's someone right on my shoulders, so that always motivates me to push through to the finish line. I tell myself that there's someone right there so that way I can keep going."
And she wasn't done. Philippides, joined by fellow seniors Hetty McMillan and Kate Ragone, along with sophomore Zoe Harris, competed in the 4×800-meter relay and struck gold with a time of 9:13.58. Yet again Philippides was staring down the finish line with a lot of space between her and Immaculate High School, as they took second with a time of 9:19.76.
On the boys' side, it was senior Oliver Fulton who finished his career with the Cardinals with a personal best.
"It was fun," Fulton said. "I haven't gotten this far ever, so this was pretty cool. It has made the postseason a lot of fun and it's great to also be in a relay that's competing at the state open. It feels like more of a team sport to me this year compared to the past when I was only competing for myself as a hurdler."
In the 300-meter hurdles, Fulton took care of business and finished 11th overall, posting a time of 40.79 seconds. A week earlier at the LL finals, Fulton grabbed the bronze, posting a time of 41.12.
"It felt good today," Fulton said. "It was nice and cool out, so I didn't have the sun beating down on me. But it's also nice when it's warmer out because the track is softer. Not to be picky, but it's kind of like Goldilocks. I would like it right in the middle. I would like it cool, but have a little sun out as well."
Competing through injury all season, senior Lia Zavattaro took to the pole vault for the final team as a member of the Cardinals. Her height of 10-00 placed her eighth overall.
"Today I came in with high hopes, but unfortunately I fell a little bit short," said Zavattaro. "But I have no regrets. I did whatever I was told to do, but it just wasn't meant to be today. Honestly, if there was any way I wanted to end my season, it was with my team. My competition, whether it was Megan [Biscoglio], Paige [Martin] or Madison [Martin], were all amazing. We all support each other.
In addition to her top performance in the 4×800-meter relay, McMillan was top 10 in the 1,600-meter run, posting a 10th place time of 5:14.47.
"My events were fun and I thought I did well," said McMillan. "Although the mile didn't go in my favor, I was still happy because just making it here was a big accomplishment for me. Having this as my last meet in Connecticut as a senior was fun. I was really happy with how I did and how the team did."
In addition, junior Jordan Numme competed in the 400-meter dash and crossed the finish line with a time of 58.95 and that was good enough for ninth. Fellow junior Caroline Webb battled in the longest event of the day, the 3,200-meter run, and finished the event 11th overall with a time of 11:20.63.
On the boys' side of the individual events, Big Red's Georgios Karakadas, a senior, took home 14th place in the 800-meter run, posting a time of 1:59.11. Karakadas, along with Fulton, junior Lucien Durvet and freshman Zane Robinson-Nye, represented GHS in the 4×400-meter relay and finished 10th overall with a time of 3:28.64.
In addition to the gold in the 4×800-meter relay, the Greenwich girls' had another stellar relay performance at Opens. Philippides, Numme, sophomore Zoe Harris and freshman Sophia Bastek were on the 4×400-meter relay team that took the podium and third place overall with a time of 3:59.01.
With the conclusion of the CIAC state open competition, it finished the careers of several talented seniors that have left a huge mark on the program.
"This group is truly something special," said Dubin. "Not only in their talent level and their commitment to the team and strive for success, they have also set a new bar for, not only excellence, but the expectations for what it takes to be a track and field athlete. Any new members that come out for the team will know about their legacy the expected success at big meets that they built for this team."
Dubin said that when these seniors entered Greenwich High School as freshmen, the thought of competing at the national level or competing against the elite athletes was something like a holy grail.
"In the midst of their careers, they have made championships levels for nationals and have done well within that division," Dubin said. "That is a true testament to what they have built here. It's been a pleasure to coach and guide them through this journey. They have done this themselves and being able to watch it, day after day, has truly been something special."
One of those seniors that transformed the program has been Philippides. After breaking onto the scene during cross country, the Princeton-bound athlete has been lights out.
During the 2016 Indoor season state open, Philippides won the 600-meter title with a time of 1:35.72. A year later she won the indoor season's 1,000-meter run (2:58.99) state title and back that up this past winter season with a top time of 2:58.08.
"Her athletic ability speaks for herself," Dubin said. "Her confidence level grows after each year. She competes against the best and does really well there. She knows what she has to do against some of the best competition in the country and that clams a lot of those potential nerves that she has when competing in Connecticut. She knows she's one of the best in Connecticut and does it without pressure."
She has been just as dominant outdoors as well. During the 2016 spring season, Philippides dominated the competition in the 800-meter run, posting a gold medal time of 2:11.90 in the State Opens. A year later it was another gold in the 800-meter at Opens. And on Monday she capped off her career with another top podium spot and a time of 2:11.78.
"There are a lot of mixed feelings here," Philippides said. "I really enjoyed my four years here and it was always a great time, for both the team and for me individually. I am upset that it's over, but I'm excited to move on to college. Honestly, if I look back at my freshman year, I was okay. I wasn't anything like I am now and I think that I really started to pick up my times my sophomore year and just used each meet as motivation to get better than the last. I feel like I've come such a long way."
And then there's someone like Zavattaro, who has made great leaps since her freshman year…literally.
When Zavattaro joined the track team her freshman year, the pole vault wasn't even on her radar. Due to injury, she was unable to compete in the running events, so barely able to move she tried her hands at the pole vault.
And it was a good decision. Over the past few years, and with a lot of hard work, the heights got bigger and the pole got heavier. During her sophomore year's indoor season, Zavattaro broke the FCIAC championship record at 11-06 and her height of 11-00 won the CIAC class LL indoor meet.
"I thought it was pretty cool at first, but wasn't really sure," said Zavattaro of her decision to become a pole vaulter. "All of a sudden the heights grew and I was clearing FCIAC and state qualifying heights. Every season I progressed so much more than I expected. So many people helped push me, whether it was my teammates, my coaches or my competition.
She also qualified for the New Balance Indoor Track National Championships and was fifth on the entire East Coast with a height of 12-00.
This year Zavattaro, who will be attending Bucknell in the fall, took top honors at both the FCIAC indoor and this spring's outdoor championships. She also was second during the 2018 indoor state opens and was third during this spring's class LL meet.
"Her journey on this team and with the pole vault has been remarkable," Dubin said. "She picked it up one day her freshman year and hasn't looked back. She got bit by that bug. She put the time and effort into whatever it took to be great in the event and that's exactly what she is. Being able to watch her grow and develop throughout the years has been great. She's really been a huge contributor to the team and it's been an honor to have her with us."
When it comes to performing in a big spot, not a lot are more clutch than McMillan. In addition to being on several relay teams that have struck gold throughout her tenure with the track program, McMillan has seen success individually.
Most recently, she was seventh in the 3,200-meter run during the 2018 indoor season state open finals (11:26.73). During her junior year's indoor season, McMillan took fifth in the state at the 1,000-meter run (3:05.92).
"She's another one of those seniors that have done really well throughout her career here and has been a major contributor to the team," Dubin said. "She had a little hiccup last year during the spring, but it's been great seeing her this season rebounding and getting back to the times that she's capable of. It's nice to see her going toward the end of her career here at Greenwich High School back on top again."
McMillan said the best word to describe her senior campaign would be "crazy." Indoors she was running the 3,200-meter event and faring well. This spring outdoor season, McMillan wanted to experience everything, so she attempted the steeple chase and described it as interesting. She also tried her hands at the long jump.
"That was motivated by the fact that it's my last season and I wanted to do try everything before college," said McMillan, who will attend Leigh in the fall. "Luckily I am continuing my running career in college as a middle-distance runner."
And to say that Opens was bittersweet for McMillan is an understatement.
"It's my last high school open race ever," said McMillan, who used to be a member of the GHS dance team. "Converting to track has made me both a mentally and physically stronger person. Without it I wouldn't be the person that I am today. All the coaches have done so much for me and the girls on the team have been amazing."
According to Dubin, Ragone has really blossomed this season. A member of the Cardinals for four years, this season Ragone rose to be a key contributor in the 4×800-meter relay during this spring season.
"She has gotten better and better and has continually outperformed her best times," Dubin said. "Today she ran a 2:23 and that's her fastest by two seconds. She put in the work, day after day, and it finally paid off. This year we needed her to fill the role in the relay and she stepped right up and did a great job. She helped the team win the state open and LL titles. And she was a key part of that. She ran leadoff and really put us in a spot to give us the chance to succeed."
And McMillan wasn't the only person that had mixed emotions at Opens.
"It's been fantastic to have these athletes in the program and be able to coach them every day," Dubin said. "At times it was nerve-racking but at the end of the day I can look back at this team and know how special they are to the success of this program. It will bring a smile to my face whenever I think back to these times."
Tags:
CIAC
,
cttrack
,
Evan Dubin
,
FCIAC
,
GHS
,
GHS Track
,
greenwich
,
Greenwich Track
,
State Opens