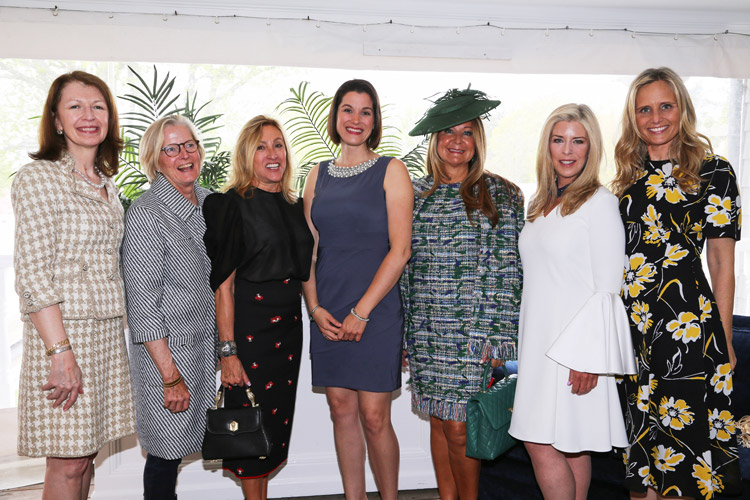 Jennifer Willoughby spoke from the heart at the 13th Annual YWCA Old Bags Luncheon. In front of more than 350 guests at the Belle Haven Club, Willoughby sent a message that domestic violence of any kind is wrong.
"The reason this story matters, is not because of what job Rob held or who is in the Oval Office," Willoughby said. "It matters because it has called out how we rationalize what we are seeing and avoid accountability when abuse is involved."
Willoughby is the ex-wife of White House staffer, Rob Porter, who was fired after allegations of domestic abuse were made public. In her essay, "Why I Stayed," Willoughby writes about her experience in an abusive relationship and the complexities that kept her from leaving.
"One in four women will experience domestic abuse in their lifetime," said Mary Lee Kiernan, President and CEO YWCA Greenwich. "By telling her story, Jennie is inspiring thousands of women who suffer in silence at the hands of their abusers."
In its 13th year, the Old Bags Luncheon is an especially meaningful event for YWCA Greenwich. All proceeds from this event exclusively benefit domestic violence victims and their children in the Greenwich community. The bags are donated by manufacturers, retailers and generous individuals in Greenwich. Scott Mitchell of Richards served as this year's auctioneer.
Leading up to the event, hundreds of bags, both hi-end and more affordable, are dropped off at the YWCA to be sold in the live and silent auctions. "These donations are a way for women to contribute to the cause and support the community in a unique way," said Kathy Seiden, Chief Advancement Officer, YWCA Greenwich. "We're very grateful for their generosity."
YWCA Greenwich provides critical support to local victims of domestic violence, and all YWCA services for victims of abuse are provided free of charge. Domestic violence remains the number one violent crime in the community, and last year the YWCA received thousands of calls to its 24/7 hotline. Domestic abuse services include crisis intervention, safety planning, group and individual counseling for adults and children, emergency shelter, and civil and criminal court advocacy.
During the event, the organization announced the launch a Civil Legal Clinic, which will provide free legal services to victims being served by the YWCA who don't have the assets or access to their finances to pay for civil legal representation.
YWCA Greenwich also provides training to the police, healthcare workers and other professionals, like hair stylists and lawyers, as well as prevention programs with youth to mitigate the cycle of abuse.
If you or someone you know is a victim of domestic abuse, call the YWCA hotline at 203-622-0003.