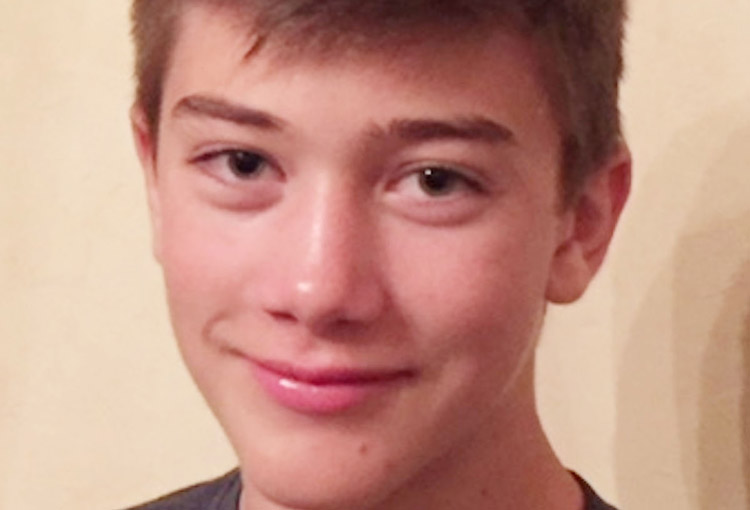 On June 4, three high school students will experience the joy of live theatre in a whole new way – as playwrights. Greenwich residents Andrew Casturo-Burnette and Will Donovan and Rye resident Kristina Dignelli were named winners of The Palace Theatre's 2018 Ernie DiMattia Emerging Young Artist Scholarship Awards for their writing of an original one-act play. All three will witness their voices and visions come to life with a staged reading by professional actors at The Palace in Stamford.
Andrew Casturo-Burnette, a ninth grade student at Brunswick School, was awarded first place – a $1,000 scholarship – for his play, Think Later. The Palace also recognized Rye Neck High School senior Kristina Dignelli with a second place scholarship of $500 for Nervous and Will Donovan, a ninth grader at Brunswick School, with a third place $250 scholarship for his work, Patient Zero.
The Palace has brought in Broadway veteran Luis Salgado to guest direct the staged reading, which will be attended by the playwrights' parents, teachers and friends as well as Stamford Center for the Arts board members and gala sponsors.
A well-known performer, director, choreographer and producer, Luis Salgado's 20-year career spans Broadway, film, television, and stages around the world. Broadway credits include In The Heights, Woman on the Verge of a Nervous Breakdown, Rocky and On Your Feet. Salgado served as the director and choreographer for a production of In The Heights at The Axelrod Theater in Asbury Park and an all Spanish production at The Gala Theater in Washington D.C.
"Congratulations to Andrew, Kristina and Will for their excellent work," said Michael Moran, Executive Director of The Palace. "Arts education is extremely important to The Palace. We are thrilled to welcome back Luis Salgado, an accomplished director and Broadway veteran, and are excited to see how he will bring the unique vision of each young playwright to life."
In addition to the staged reading, the three winners will be honored at The Palace's 9th annual Gala on May 30.
The Emerging Young Artist Scholarship Award was established in 2010 and is open to all high school students from Fairfield and Westchester Counties. Winners have included instrumentalists, vocalists, composers, actors and playwrights. In 2015, the award was renamed for Ernie DiMattia, former president of The Ferguson Library in Stamford and a longtime Stamford Center for the Arts board member.
The staged reading on June 4 will begin at 7 p.m. It is free and open to the public. Reservations are required and can be made by contacting Lisa Colangelo at lcolangelo@palacestamford.org. The Palace Theatre is located at 61 Atlantic St. in Stamford.