May 23, 2018
Greenwich Girls' Tracksters Third, Boys' 10th at FCIACs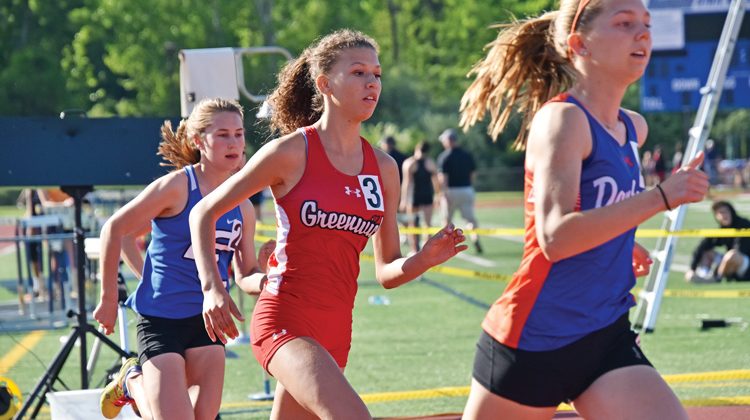 By Paul Silverfarb
Sentinel Editor
While it was a different venue, the results were just as strong as usual for the Greenwich High School boys' and girls' track and field teams during Monday afternoon's Fairfield County Interscholastic Athletic Conference.
Instead of its usual spot at Danbury High School, the FCIAC championship meet found its way to New Haven and Southern Connecticut State University's athletic complex.
The girls squad finished third overall, posting 81 points.
"I thought we did really well," said Greenwich High girls' head coach Evan Dubin. "I wasn't expecting us to win the meet going in. I was hoping we would, but Danbury was the odds on favorite and their athletes today performed at such a high level. But for us to finish the meet third place as a team is great. I am incredibly proud of the girls and the performance they did today."
Overall, it was Danbury that ran away with the gold, posting a total of 144 points. The next closest team was Fairfield Ludlowe and they grabbed 108.70 points. In fourth was Trumbull with 64 points and rounding out the top five was Ridgefield with 60.20 points.
The boys' team finished with a plethora of personal bests and took home 38 points, which was good enough for 10th overall.
"I thought we competed great," Greenwich High boys' head coach Jeff Klein said. "I thought we had some very good efforts and had some top finishes. Oliver [Fulton] got second in the 300-meter hurdles, Owen was strong in the triple jump and the 4×400 took third place. They were great for us but we also scored in a lot of different events. We also had a bunch of personal bests and that's all that you can ask for."
Big Red was four points away from Fairfield Warde in ninth and was 12 points better than Norwalk in 11th place. Overall it was the Hatters that swept the boys and girls finals, taking first place overall with 136 points. Staples finished with the silver and 89 points and Trumbull was third with 62 points. Brien McMahon netted fourth on the day with 48 points and Ridgefield took home fifth overall with 53 points.
The Lady Cardinals were paced by some familiar faces, but a slew of new names made their way to the top of the leaderboard.
"I think that overall we did really well," GHS junior Jordan Numme said. "Not only did we have great times, but we cheered each other on. We were involved in a bunch of intense races, but it was so much fun and exciting to have the entire team cheering you on and knowing that they are all there for each other."
Once again Emily Philippides, a senior, showed why she's one of the most dominant runners in the area. Her time of 2:13.04 was tops in the 800-meter run and was just under five seconds faster than Ludlowe's Alyssa Kraus.
Keeping the good times rolling was fellow senior Lia Zavattaro. Her height of 10-00 in the pole vault was tops in the FCIAC and was six inches better than Trumbull's Aleksandra Misiewicz.
Also having a standout performance was Numme. Her time of 58.84 seconds in the 400-meter dash was good enough for second overall. Not to be outdone was teammate Hetty McMillan, as the junior finished the 1,6000-meter run by capturing the bronze with a time of 5:13.32.
"I was happy with the way things turned out," Numme said. "I ran three events that I am very comfortable running. I was especially happy with my 400 because I had some really tough competitors going into it. But I tried to mentally push myself and gave it my all for the race."
When it came to one of the shortest and longest events on the track, the Lady Cardinals had a top five performer. Competing in the 3,200-meter run, GHS junior Caroline Webb took home fourth place overall and time of 11:49.55. Her time was six seconds faster than Trumbull's Paige Davis' fifth-place finish. When it came to the sprints, sophomore Jada Williams was lights out. Her time of 26.55 in the 200-meter dash was good enough for third place overall and just missed out on second, as Stamford's Earthaiza Watkins finished with a time of 26.50.
"The team did really well today and I couldn't be happier," Williams said. "We showed our talents and our freshmen and sophomores are really good this year. They helped contribute a lot to the team and helped us get those points. They brought a lot of energy to the meet. The seniors and juniors were amazing too."
In the 800-meter run, GHS had two athletes end the day with top 10 performances. Leading the way was sophomore Zoe Harris, who was third in the event with a time of 2:22.43. Not to be outdone was teammate Kate Ragone, as the senior's time of 2:25.76 was good enough for seventh.
And top 10 showings were the theme of the day for Greenwich, as several other athletes excelled in their respective events.
Competing in the 3,200-meter run, Greenwich junior Lauren O'Donnell finished ninth overall with a time of 12:23.08. Not to be outdone was O'Donnell's teammate Hunter Kemp, as the fellow junior took home 10th overall with a time of 12:23.67. In addition to her blistering time in the 3,200-meter run, Webb also competed in the 1,600-meter run and grabbed seventh overall with a time of 5:27.19.
Mere inches away from a top 10 finish was senior Mary Robinson, as her time of 50.65 put her in 11th place, while Trumbull's Kylie Adams' time of 50.60 was good enough for 10th.
In addition to her 11th place showing in the high jump (4-08), sophomore McCallum Harkins took home eighth in the triple jump, netting a distance of 31-09 ¾. Joining McCallum at the high jump was senior Olivia DiLascia. DiLascia's height of 5-00 placed her seventh overall.
"The make-up of our team really is a team aspect," Dubin said. "We all did really well today and couldn't get third place without everybody pitching in and doing their best. Emily, Jordan and Jada were all great and scored us a bunch of points in their individual races and helped the relays in certain ways. But overall, the entire team performance for the girls was great. They all stepped up and helped each other out."
For the boys, Klien was thrilled with his team's overall improvement throughout the season. And the results showed at the FCIAC championships, with numerous athletes achieving personal bests and top times.
"I thought the team did great," said GHS senior Oliver Fulton. "People stepped up in all the events. Our relays were great and individual events were great as well. It was a fun day. We need to take what we did great and apply it to the next week."
Nobody on the GHS boys' team had a better day than senior Oliver Fulton. Competing in the 300-meter hurdles Fulton came out of the gate strong and never looked back. His time of 41.04 placed him silver on the day and Fulton just edged out New Canaan's Sean Knight, who took third with a time of 41.10.
"I'm just out here to have a good time," Fulton said. "It was fun to place second in the 300-hurdles. It was exciting and the relays were exciting. So it was a fun day."
Also having a meet to remember was junior Owen Bianchi, as his distance of 42-09 in the triple jump placed him third overall and a foot better than his next closest opponent. Joining Bianchi in the triple jump were teammates Adam Sturza and Anthony Hill, both juniors, as Sturza finished 10th overall with a distance of 38-04 and Hill took home 11th overall with a distance of 38-03 ½.
Bianchi was also solid in the long jump, as he finished top 10 overall with a distance of 19-03.
Not to be outdone in the field events was Tyler Blizzard, as the senior was quite busy at FCIACs. He finished eighth in the shot put with a throw of 41-04, eighth in the javelin throw with a distance of 143-11 and 11th in the discus throw with a distance of 105-07. Also finishing top 10 was in the discus throw was teammate Ben Frey, as the senior's distance of 111-09 placed him seventh at FCIACs.
Joining Blizzard in the javelin was senior Paul Agresta, as his throw of 148-00 placed him sixth on the day.
On the track, several members on the GHS boys' team stood out. In the 800-meter run, senior Georgios Karakadas ended his day eighth overall, posting a time of 2:02.16. In the 200-meter dash, teammate Lucien Durcet, a junior, netted the seventh spot, posting a time of 23.55.
Freshman Zane Robinson-Nye also had a standout performance in the 100-meter dash. His finished the preliminary round second overall with a qualifying time of 11.59. As one of the eight finalists, Robinson-Nye's time of 11.62 in the finals was good enough for sixth overall and he also edged out Ludlowe's Jayden Tobios (11.64).
"I couldn't be more pleased," Klein said. "The boys' team really has come a long way since the season started. They worked hard and did everything we asked them to. The level of performance and improvement has been great. It's just what a coach would want and I am very proud of these boys."
Both Greenwich boys' and girls' relay teams had great success at the FCIAC championships. Leading the way was the girls' 4×800-meter team, as the foursome of Ragone, Harris, McMillan and Philippides ended the day golden and with a time of 9:26.27. They were two seconds faster than Danbury's second-place relay team.
Keeping the good times rolling was the girls' 4×400-meter team, as the group of freshman Sophia Bastek, Harris, Numme and Philippides took second overall and grabbed a time of 4:00.64. Not to be outdone was the girls' 4×100-meter relay, as junior Abril Martinez-Arraya, Williams, Numme and DiLascia finished fourth on the day (51.30).
Keeping pace on the boys' side was the 4×400-meter relay team, as the foursome of Durcet, Fulton, Karakadas and Robinson-Nye crossed the finish line third overall with a time of 3:29.79. Also going top five was the 4×100-meter relay team, as Fulton, Durcet, Robinson-Nye and sophomore Ryan Raybuck were fourth overall (44.55).
Although the FCIAC championship meet is in the rear-view mirror, that doesn't mean that the Cardinals are finished this season. On May 30, both the GHS boys' and girls' team will travel to Willowbrook Park in New Britain for competition in the CIAC class LL championship meet.
"The FCIACs is a very important meet," Klein said. "It's the league championship, but it's also the beginning of the championship season. There's more to come and we are looking forward to the LL's next week."
A few days later, on June 4, it's back to Willow Brook as both team will battle in the CIAC State Open meet.
"We need to pretty much do the same thing that we did today," Dubin said. "We need to just go out there and do what people are expected to do. If that means we can improve our times slightly, that would be great."
Tags:
Boys' Track
,
CIAC
,
cttrack
,
FCIAC
,
FCIAC Championships
,
Girls' Track
,
greenwich
,
Greenwich Track
,
Track and Field