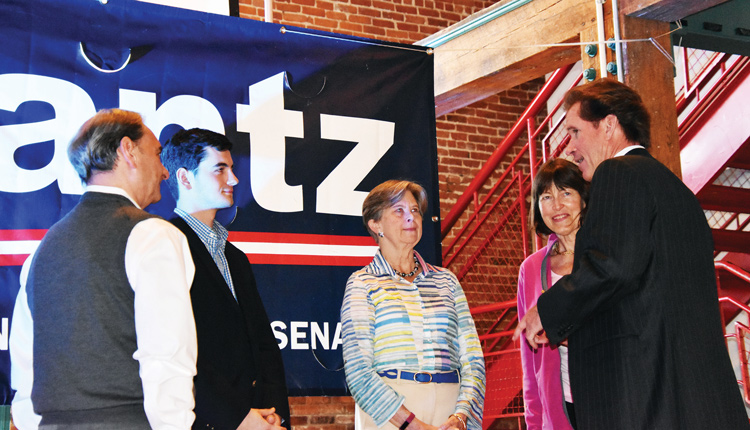 By Paul Silverfarb
Sentinel Editor
Greenwich resident Scott Frantz has been serving Connecticut's 36th Senate District for nearly a decade, but his work is far from done.
After five highly successful terms in the state senate, Frantz is once again ready to roll up his sleeves and get to work, as he's seeking his sixth term this November. And he once again has the republican backing.
"The fact that you're sitting with us and out here once again to support this nominee really means so much," said Frantz during his acceptance speech at the Arch Street Teen Center. "I know you care so much about this community, this state and this country and everything that goes on up in Hartford, in particular. It really means a lot. Thank you very much for your support throughout the years. I accept your nomination with great humility and great honor. I love what I do and love working for you guys."
Frantz, who was first elected to the Connecticut Senator in 2008, represents the down of Greenwich, as well as parts of Stamford and New Canaan that comprise the 36th District.
First Selectman Kevin Moynihan, who is six months into his role as top person in New Canaan, was the first person to speak and praise Frantz, saying that his getting to know Frantz has been one of the highlights of his political career.
"I have been very fortunate for the past couple of years to get to know Scott and realize what a great partner we have in Hartford, not only for New Canaan, but for us as public servants," said Moynihan, who also spend four years in New Canaan's Town Council prior to being elected as First Selectman. "So I am very thrilled to nominate for another term [Frantz] for another term. The intelligence and passion you bring to the role is amazing for us and I thank you for that. I am very thrilled that you are running and hopefully winning another term in Hartford."
Chair of the Greenwich Republican Town Committee Rich DiPreta also took to the podium and was more than eager to nominate Frantz for the possibility of another term up in Hartford.
"It's my honor to second the nomination of Senators L. Scott Frantz to be the Repubican State Senatorial candidate for the 36th district," DiPreta said. "We are so very fortunate to have you representing us in the state senate. Scott continues to fight hard for us every day, even if it hasn't been an easy road. During his 10 years, he's yet to serve in the state senate with the majority party. Still he has been instrumental with the finance committee in passing bipartisan budgets and the most recent one, which does not include any tax increases or tolls."
For Frantz, he's optimistic that this year's election will go a long way in helping him pass some key legislation. Frantz said that this November will be another huge and historic election throughout the Nutmeg State, as there will be a new Governor in Connecticut that will take office in January of 2019.
"I have sneaky suspicion that it's going to be a republican, which one I don't know," Frantz said. "But we also have the chance of picking up one seat in the Senate, maybe two, possibly three or four depending on how things go in the fall. We also have a chance to pick up a few seats in the House, possibly putting that into the majority as well. Imagine what we can do if we get the trifecta."
This current term has been positive for Frantz. After years of being in the minority, this term was different. A split in the Connecticut Senate has been key for Frantz and the republicans, as they have been able to pass more to help better the Nutmeg State.
"We could do great things," Frantz said. "The split in the senate has been the most wonderful thing that anybody could have given us. It's 18-18 Republican versus Democrat. It's given us so much more ability to control the agenda and to control what actually gets put in front of the state senate and also control what doesn't."
A perfect example was earlier this week, as Connecticut passed another bipartisan budget just before the midnight deadline and the end of the session.
"This one means so much to the future of Connecticut," Frantz said. "All the control that we had during last October's bipartisan budget and then some more. With this windfall that came as a result of the repatriation at the federal level, there a lot of money that's going to go right back into budget reserve fund and it's also going to go to pay down some of pensions obligations."
With Frantz accepting the nomination, DiPreta said that he's hoping that Frantz not only gets elected for a sixth term as state senator, but also hopes Frantz a gift as well.
"I say we send Scott a gift," DiPreta said. "This November, not only do we send Scott back to serve his sixth term in the state senate, but let's send him back to a Hartford that includes a republican governor, a republican-controlled house and yes, a republican-controlled senate. I, for one, can't wait to see what Senator Frantz can accomplish with that."