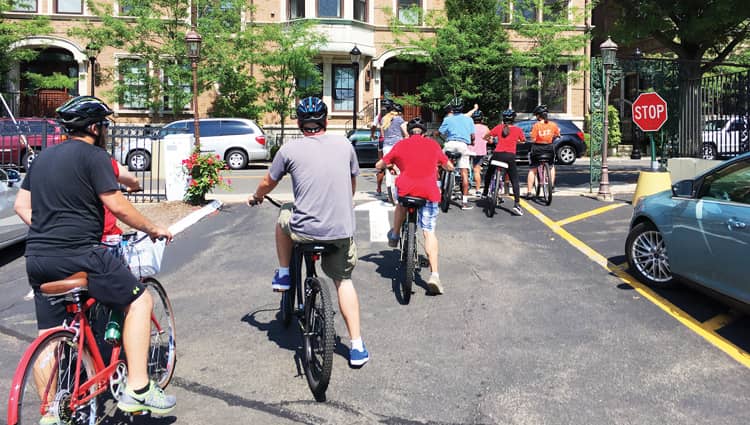 By Michelle Moskowitz
Sentinel Correspondent
For almost three decades now, Arch Street, the Greenwich Teen Center, continues to serve the youth community by providing teens (in grades six through 12) with a safe, welcoming environment for them to connect with peers and engage in positive social interactions through its programs – all within a trusted, drug and alcohol-free space.
In fact, Arch Street stands as the longest running non-profit, privately funded teen center in the nation, a contributing factor ranking Greenwich one of the safest places to raise kids today.
Before the building located at 100 Arch Street was transformed into a teen center back in 1991, the historic three-story edifice served as a Department of Public Works warehouse.
The exposed brick and bright open-airy space possesses a true coffeehouse feel to it, requisite with vintage arcade games, such as Donkey Kong and Pac-Man, as well as foosball and ping-pong, and restful nooks for teens to unwind and take a breather. 
There is also a resident dog, Honor, a 10-year-old Welsh Terrier, who is a staple among Arch Street friends. 
The center boasts an impressive dance floor, a multi-level stage for performances, as well as a café, rendering it a turn-key venue for its weekend socials, special musical events and educational seminars.
While enduring economic downturns over the years, Arch Street has remained a Greenwich fixture and has incurred steady growth in its attendance each year, helping teens grow into young adults, many who continue to frequent the center long afterwards.
As the longest running teen center in the U.S., it is hard to imagine that its origination took so many years to manifest.
The impetus of its creation is attributed to the late Christopher Haebler Frantz, brother of Senator Scott Frantz, who was a staunch supporter of the fight against drugs and alcohol, having lost two friends to drugs during high school.
It was Christopher's fierce determination to open a local teen center in order to combat such vices and his vision to create a safe haven dedicated to the welfare of Greenwich youth.
After many years of hard work, oftentimes facing rejection, Christopher's tenacity never waned.
Eventually, the Frantz's formed a partnership with Judy Donahue and Suzanne Prunier, members of the Council on Youth and Drugs, as well as Ambassador Charles L. Glazer (the founding chairman of Arch Street), whose shared mission in creating a teen center "was a match made in heaven," according to Sen. Frantz.
Finally, in 1991, Arch Street opened its doors to Greenwich teens, in honor of Christopher Frantz who had passed away in an unfortunate aviation accident, in 1986.
In the entrance way, hangs an embossed plaque emblazoned with the following: "This building is dedicated to the memory of Christopher Haebler Frantz and Ann Haebler Frantz – Both loved this town and its citizens."
"We are so fortunate to have a community that helped plan, build and support such a successful teen center," said Sen. Scott Frantz.  "Arch Streets programs have varied between community service, dance and everything else in between."
"The real secret to the success of the longest running teen center in the U.S. is Kyle Silver [executive director] who is an outstanding leader and has made Arch Street a true success story," said Sen. Frantz.
Silver, originally from North Carolina, has served as the executive director for Arch Street for over 20 years.  His vested commitment and easy relatability with people of all ages is what has helped drive the long-standing success of the teen center, considering the demographics and ever-mounting pressure of today's teens.
While Silver has continually developed and evolved an active program roster, more often than not, Silver is on-site, getting to know the students one-by-one, lending an ear, and providing gentle direction to those in need.
"A critical part of my job is really being there for the kids, going that extra step to help guide them if and when a positive change is needed in their lives," said Silver.
Aside from working with a solid executive board, over the years Silver has forged tried-and-true partnerships with local organizations and experts, aligning kids and parents with the right resources when necessary.    
Due to the rise of opioid addiction, divorce rates and the pervasiveness of technology, including the harmful effects of social media, teens need that stress-free environment where they can turn and seek help throughout those turbulent teenage years.
"Arch Street is excellent at disseminating information and getting the word out to the teens of the dangers of opioid abuse through educational programs and discussions," said Sen. Frantz.
Throughout the school year, Arch Street hosts regularly scheduled youth socials, for 6th through 12th graders.
The 6th graders have their own designated socials, while other grades will combine with one another, say 7th and 8th grades for example.
Local youths from both public and independent schools unite together for a fun night of socializing, games, dancing and pizza, and everything is included with the $15 entry fee.
All socials are fully staffed with a Greenwich Emergency Medical Staff member, as well as a police officer for weekend evening events.
Teens are required to check their coats and back-packs at the door, and only one person is allowed in the bathroom at all times.
"It's important to give kids a face-to-face social setting and give them a good reason to get off of social media," smiled Silver. "But, the kids know and respect our rules and protocols while here."
In addition to the teen socials, Arch Street provides a host of on-going programs, offered for free, such as a popular Zumba class with instructor Weverson Ponte. While the last class for the semester ended this past week, the class will be back in the fall, due to popular demand.
Upcoming spring and summer classes include a paddle boarding program, and a biking program in which students have access to the center's Electra bicycles, as well as helmets and snacks, and get to enjoy a 3.5-mile bike ride through Bruce Park with a tour guide. These programs begin the first week of May. 
In May 2017, Arch Street launched a new music production studio, known as Andrew's Studio, where teens are able to record, mix and produce their own music and/or talk show.
The studio was dedicated in loving memory of Andrew Rinaldi who passed away at the age of 24 after experimenting with a chemical that he thought would produce a safe "high" but, sadly, was fatal.
Rinaldi was not a regular drug user nor an addict.
Rinaldi had a great spirit and was very passionate about music, electronics and IT.  On behalf of his Memorial Fund, which is dedicated to promoting the well-being of young Americans, both Silver and Andrew's family felt that the music studio would have mass appeal to everyone, combining his interests.
Not surprisingly, it has been a huge success.
Available every Thursday, from 3:30-8:30 p.m., for students in grades 7th-12th, Andrew's Studio is spearheaded by Dexter Frisch, the Arch Street music teacher, D.J. and in-house engineer, also a 2013 GHS graduate and Arch Street alumni.
Students are required to reserve a one-hour time slot by emailing info@archstreet.org. Occasionally, if all Thursday slots are filled, Andrew's Studio will offer a Tuesday session to give everyone a chance.  All sessions are free of charge. 
Over the years, Silver has attracted great musical talent to the center, such as Greenwich resident and singer, Diana Ross and the punk band Taking Back Sunday.
In 2015, Greenwich singer and songwriter Caroline Jones, who has toured with Jimmy Buffet and Wynona Judd, hosted a free community concert, "Arch Street Acoustic," which included a contest for local teens and the winners were selected to perform with Jones.
While these big stars certainly draw credibility and visibility to the teen center, Silver emphasizes education in the arts education as a way to inform, entertain and inspire teens, including its vast alumni constituency as well.
"We are such a sports-based town, but it's important to recognize the importance of the arts and its impact," said Silver.
Years ago, Silver made a short film, "The Adventures of Average Joe," and received a grant from The Christophers, a Christian inspirational group whose mission is "to encourage people of all ages, and all walks of life to use their God-given talents to make a positive difference in the world."   
One Sunday per month, the center offers a live music event, "Arch Street Collective: A Live Music Experiment," where musicians can unite, jam together or solo, or simply just come to hear others play music that resonates with them.
The Collective was developed in conjunction with Felix Guiffra, a 2000 GHS graduate, Arch Street alumni and musician, and a recruiting officer for the CT Army National Guard. 
Silver said the impetus for this event was to provide a fun, safe forum for young adults who may or may not have gone on to college, but could certainly benefit from a drug and alcohol-free environment to enjoy a great night with great music.
While the night is free, all donations are given back to Arch Street to support live music and arts for teens.
Hernan Donoso, associate director of Arch Street for the past five years, a GHS graduate of 2000 and Arch Street alumni, says the best part of the center is how it brings community youth together under one roof.
"It's a melting pot of all our schools into one place, where you can meet new friends and truly be among a diverse group," said Donoso.
"We also offer a comfortable place for kids to explore their passions they may not get access to anywhere else."
In addition to its student-centered activities, Arch Street offers a plethora of speaker series and community events that draw in top experts shedding a spotlight on current issues facing teens, parents and the the community-at-large, as well provides much-needed resources and solutions.
Arch Street collaborates on an on-going basis with community organizations, such as Kids in Crisis, Stress Less Club, Liberation Programs and the Greenwich Prevention Council, on the planning and development of their annual community event: "Stress, Success & Teenage Setbacks." 
This year's theme is "How to Cope," featuring keynote speakers Zeke Thomas, DJ and music producer and Tracey Masella, LCSW, at Silver Hill Hospital, and will be moderated by Dr. Jeff DeTeso, a psychologist at GHS.
The objective is to give parents and teens practical coping strategies, ready-made resources and real-life role plays featuring the GHS Improv Troupe.
This free community event is scheduled for Monday, April 30, from 6-8 p.m.
Last October, Arch Street showcased an important event for teens and parents on the growing threat of teen vaping, which is the use of electronic devices, such as e-cigarettes that vaporizes and produces an inhalable vapor containing nicotine, THC and other harmful substances.
Speakers included Dennis Bludnicki, substance abuse specialist at Liberations Programs, Inc., Carlos Franco, GHS resource officer and Greenwich police department special victim's unit, and Lorraine Termini, Dean of students at GHS, among others.
In order to give teens a way to get involved, Arch Street has a student board of directors, comprised of approximately 40 9th-12th graders, who meet monthly and are responsible for event planning and community service activities, among other varied responsibilities. 
Silver has future plans for the teen center. In addition to the music recording studio, Silver intends to launch a community theatre.
"I want to provide kids with the opportunity to either write, act and/or produce their own plays [or produce existing ones] that address topics that are important to them [such as "bullying"] in an educational forum," said Silver.
While Silver said Arch Street is already equipped with a decent-sized stage, there will need to be modifications made to the space for proper lighting, sound and audio capabilities, and Silver said they just got a kick-off grant to start the process.
"This generation doesn't take pen to paper, but it's very helpful for students to express their thoughts through music, writing, and film so we can really draw out what's going on with them and see how we can best help them," said Silver. 
In addition to the theatre, the plan is to create a studio where kids can create their own films, including a Hollywood 101 workshop.
One famous Arch Street alumni is actor and musician Evan Ross, son of Diana Ross, who grew up in Greenwich, attended GHS and even taught a popular hip-hop class at the teen center.
Recently, Ross and his wife Ashlee Simpson, payed a visit to Arch Street when filming the first episode of their upcoming new series, "The Evan & Ashley Show," slated to air on the E! channel over the summer. 
Silver said Ross wanted to highlight how the teen center was an integral part of his upbringing with which he wanted to share with everyone.
Visit archstreet.org for more information or to sign up for its email newsletter, or call (203) 629-5744.
"We may not be able to prepare the future for our children, but we can at least prepare our children for the future." – F.D.R.