March 30, 2018
Brunswick Laxmen Ready for a Repeat Title Run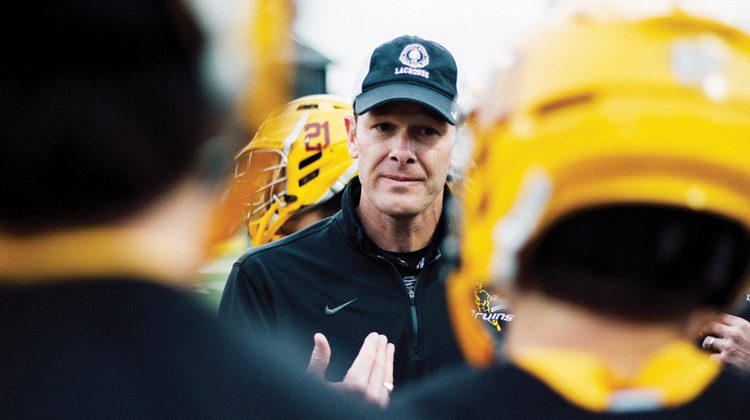 By Paul Silverfarb
Sentinel Editor
It's going to be quite the challenge for the Brunswick School lacrosse team to top last year's magical season. It's not every day that a team ends the season hoisting a championship trophy. However, this year's group of Bruins have their sights set extremely high.
Last season, the Bruins ended the season going undefeated in the New England West 1 Conference, posting an 11-0 record in one of the toughest conferences for high school lacrosse in the country. They also took home the program's second-ever New England West 1 championship and first outright. In 2014, Brunswick was named co-champions of the conference.
"The expectations are just as high as they were last year," said Bruce. "In fact, our preseason rankings are the highest we've ever been. We haven't felt the pressure yet. I'm sure we will once we enter league play. We beat Landon to start the year, who ended up being No. 1 in the country last year. So for us, there was pressure there because they were ranked below us in the preseason rankings. Our focus is the league and that starts Saturday against Deerfield."
According to the 2018 Inside Lacrosse/Under Armour preseason high school rankings, Brunswick School was ranked third in the country. At one point under Bruce's watch, Brunswick lacrosse was ranked in the preseason top five, but after an opening-season loss, the Bruins were quickly bumped out of the top 20.
"It's nice to be ranked there," Bruce said. "It's not what expect and what we place as much value on. I would have rather been ranked in the low teens and work our way up there. It's hard to go up unless you go undefeated. With our schedule, that's going to be hard to do."
Helping the Bruins get to the top of the league again will be senior captains Patrick Burkinshaw, at the starting goalie position, Xander Dickson, at the attack, defenseman Wilson Stephenson and Jack Ocken, at the midfield.
"I am hoping they can follow the lead from the captains last year," Bruce said. "If you're going to take the next step as a program, I believe that the captains have full control of it. We have had good captains that were great kids and leaders, and it didn't come together for us. They won't be bad captains if we don't reach our potential, but to even come close to our potential they are the ones that are going to have to do it."
Brunswick School has had a stretch of top-notch goalies, and this year Burkinshaw will keep the good times going. Last year, in his breakout season, Burkinshaw finished with 130 saves and was second on the team with 38 groundballs.
Bruce said that in last year's Landon game, Burkinshaw had one of the most spectacular games between the pipes that he's ever seen.
"That continued all season," Bruce said. "He's ranked the number one goalie in the country. But we also think we have the top three goalies in the country on our campus. All three are really athletic. Patrick is a star hockey player and he's an athlete. He's not a one-sport wonder. He sees the ball really well and puts his body in front of the ball. He's a good stopper, but he's also the best clearing goalie that we have had. When the ball's in his stick, he makes passes that are spot on. He's unique because he uses two hands on the stick instead of one. His clearing game is where he's best."
Helping keep the ball away from Burkinshaw will be one of the most talented and experienced defense around. Basically Brunswick's core group of defenders from last year's championship team, Stephenson, Matt Restieri and Chris Burdick, all seniors, will be back.
At close defense will be fellow senior Brandon Troy and junior Charlie Packard. At pole position will be junior Ian Murray, with his backup being senior Sean Amill
"Defensively, our poles and goalie are all returning, pretty much," Bruce said. "We have a real strong core over there and it's going to be intimidating for other teams. They are all incredibly talented. When you have a goalie and defense returning, as well as one of the top faceoff guys, you're going to give your young offense some time to figure things out."
As luck would have it, one of the top faceoff guys around, Jordan Ginder, joined the Bruins at the start of the year.
At the attack, Brunswick will be led by Dickson, the backbone of the offense. Last year, he finished second on the team with 58 points and was one point away from leading the team. He added 25 goals, 27 groundballs and led the team with 33 assists.
Joining Dickson will be junior Christian Ronda who had a solid season last year, finishing with 13 goals, nine assists and 15 groundballs. Also seeing a plethora of time will be senior Jack Montinaro, who was a defensive midfielder last season. He took home 28 groundballs and finished with five goals and four assists last year.
The midfield will be led by Ocken and junior Cooper Moore, who were both lights out for Brunswick last season. In addition, senior Greyson Wolfram will see some key time at the midfield.
And Brunswick's schedule is as challenging as ever. In the New England West 1 Conference, the Bruins are up against tough teams like Deerfield School, Avon Old Farms and Salisbury School. In addition, Bruce said not to sleep on teams like Taft School, Westminster School and Choate Rosemary Hall.
"It's proven to be one of the top leagues in the country," Bruce said. "There's a lot of talent in the league. There are going to be some rough games that we are going to play. We try to fill in our open spots with really strong out-of-conference games. We really don't play a Division II team. We are going to play The Hill Academy from Ontario, Lawrenceville School, New Canaan and Greenwich High School."
And don't think that the game against the in-town rivals won't have any meaning. The athletes on both teams know each other very well.
"I don't think this will be like any other game for our guys," Bruce said. "It will be a really fun atmosphere to play in. They have been growing up playing youth lacrosse together. We have a large number of Greenwich Youth Lacrosse players on our team and having an impact. Their whole team is basically Greenwich Youth Lacrosse players. The GYL is the biggest youth lacrosse organization in the country and both Greenwich and Brunswick benefit from it. It's not a league game, but it's going to be important for our guys."
So far, Brunswick has started the season in grand fashion. After a week of training in Florida, Brunswick took the field against Landon from Virginia, the same team that gave the Bruins its only loss last year.
Brunswick wasn't intimidated and took care of Landon in its season-opener, coming away with the 12-6 victory.
In the game, Moore took home four goals and one assist, while Dickson ended the day with four goals. Ginder, Wolfman, Ronda and A.J. Delgado netted one goal each, while Montinaro finished with two assists and Ocken took home one assist.
Burkinshaw finished with 13 saves and Ginder ended the day winning 18 of the 22 faceoffs he participated in.
"It was our only loss last year, so that one felt a little better than most wins," Bruce said. "That capped off a great week in Florida. It was a little hectic the week before break with the snow and nor'easter because we lost four days of practice. That's a big deal in the beginning of the season, but our guys really put the effort in and worked really well, especially during our training in Florida. We have a great group, and it came together quickly. For us to have success against Landon shows the dedication the team has to improving."
Tags:
Brunswick
,
Brunswick Lacrosse
,
ctblax
,
ctlax
,
David Bruce
,
greenwich
,
lacrosse
,
NEPSAC
,
NEW1