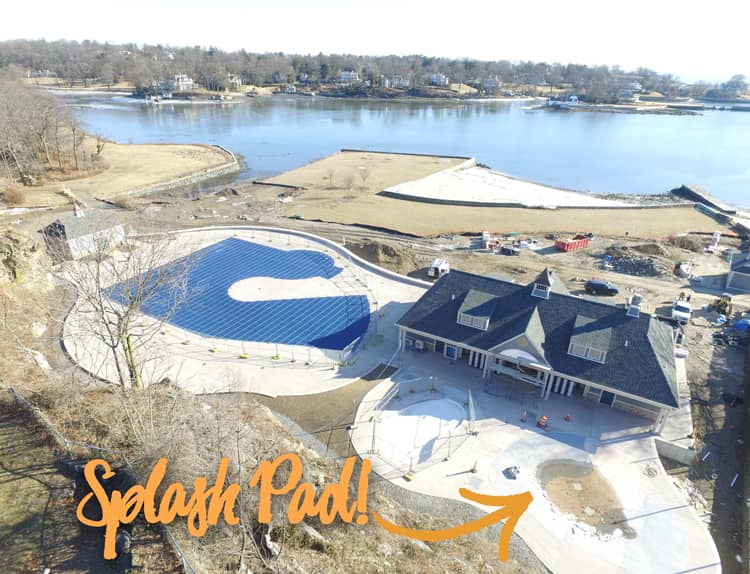 By Anne W. Semmes
Spring has sprung! Swimming weather is on its way!  And all eyes are on how the new Greenwich Pool complex is taking shape in Byram Park. But surely it's those very young eyes that are most intrigued by the Splash Pad at the Greenwich Pool complex, offering 1,000 feet of water play.  The Splash Pad, in addition to a Kiddy Pool and the Zero-Depth Entry Pool, will be available to Greenwich residents thanks to a public-private partnership between the Junior League of Greenwich (JLG) and the Town.
To realize the "bells and whistles" Splash Pad, the JLG enlisted Goodcircle, a crowdfunding firm overseen by Long Island-based co-founders Fred Doss and Joan Overlook. "We invite businesses to have a voice, to let their employees and their customers know they are participating in the Greenwich Pool in Byram Park Capital Campaign," says Doss.
The Junior League of Greenwich sought six premiere businesses in Greenwich: Moffly Media, Conte & Conte Landscape Architects, Wernert Construction, Miller Motor Cars, McArdle's Florist & Garden Center, and Splash Car Wash. "Each is at the top of their game," says Doss. "They do outstanding work and love the Town." Doss and Overlook were "startled and enthralled by the passion these businesses had for their community."
For the three-month crowdfunding campaign, which began in February, Goodcircle sends out a weekly email blast to the six sponsors who collectively signed on to raise $100,000 for the Splash Pad. The businesses then send the emails to their networks, their customers, their friends, asking them to please join this crowdfunding effort, and to click on the 'Donate Now' button on these emails.
"How could we not participate in something called the 'Splash Pad,'" says Mark J. Curtis, CEO of Splash Car Wash. Curtis sees the interactive water activities of the Splash Pad adding "a great element of fun to this wonderful project. It actually reminds us of the 'Super Sudzers' we have in our wash tunnels for the kids to play with."
Further description of the magical Splash Pad comes from Evan Burchell of Wernert Construction, the general contractor for the Greenwich Pool complex. "The Splash Pad is made up of six different water features activated with a push of a button by the kids in the Splash Pad area. A very fun, safe way for kids to cool off during those long summer days."
"The Splash Pad serves as not only a safe and playful atmosphere for the children in our Town, but a personalized place separate from the pool area for families to have some fun," agrees Kathleen Godbold, of Moffly Media, adding "Who doesn't love the idea of splashing around?"
But it is the passion to support the community which echoes with these six sponsoring businesses. "We are always looking to support local businesses, community development, and the Town of Greenwich's government and education," says Burchell of Wernert Construction, and, "Byram Park is such a beautiful setting in the Greenwich community."
For Mark Curtis of Splash Car Wash, it is "Greenwich people coming together to create a facility for Greenwich people who wouldn't normally have access to a pool during the summer." He adds, "Chris Fisher (Splash Car Wash co-founder) and I are lifelong Greenwich residents and have always felt the need to give something back to the Town that provided our start 37 years ago."
"We wanted to follow through and support the project as much as possible, because of our early involvement, and because this park is such an important Town facility," says John Conte of Conte & Conte Landscape Architects.  Conte's involvement traces back a decade ago to the imaginings of a new Greenwich Pool and Byram Park revitalization. He adds, "The new Pool complex creates yet another wonderful gathering place for Greenwich families, young and old, to come together and enjoy positive shared experiences."
Miller Motorcars Marketing Director, Matthew Horowitz, sees the Splash Pad as attracting families with young children to Greenwich. "Being a part of this crowdfunding venture," he says, "allows us not only to give back, but also motivate others in the community to do so as well. With our involvement, we will help the Junior of League of Greenwich reach their goal quicker!"
"We have partnered with the Junior League of Greenwich for years," says Christine McArdle, of McArdle's Florist & Garden Center. "Their commitment to Greenwich mirrors our own!" She sees the Splash Pad as "an exciting new feature perfect to introduce the youngest residents to the joys of Byram Park… and a way to encourage residents to spend time outside!" She finds "that Greenwich residents are amazing" with their outpouring of support for the project.
Kathleen Godbold, Moffly Media's Partnerships Manager, cites Greenwich Magazine's "long-standing, rich history of partnership and support for the Junior League of Greenwich and its efforts championed by the women in our community to make our Town the best it can be for our families and children. "As the Town Magazine for over 70 years," she notes, "It was a natural pairing to add the Splash Pad venture to our already wonderful partnership with the Junior League of Greenwich and the Town."
"Under the direction of the Junior League of Greenwich President, Deb McLaughlin, and past and present Junior League members,' continues Godbold, "this cherished and well-executed idea has finally come to fruition and we could not be prouder to provide media assistance to the JLG and foster another wonderful place for Town residents to feel at home. It's personal to us because it's personal to the Town. Creating a walkway of personalized bricks is just one more way we all fit together in the community."
To be a part of this special program to raise funds for the Splash Pad at the Greenwich Pool in Byram Park, please visit goodcircle.org/project/greenwich-pool-byram-park.  Every contribution matters and no donation is too small. Please take the opportunity to participate and add to the tremendous family resources in Greenwich.