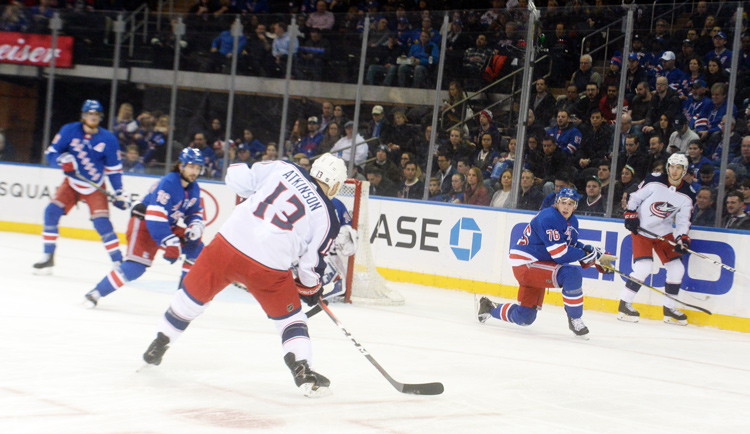 By Paul Silverfarb
Sentinel Editor
If the past three weeks are an indication of things to come for the Columbus Blue Jackets and Greenwich resident Cam Atkinson, don't look for them to give up battling for a playoff spot any time soon.
"These games are so important and you need your best players to perform when the games really matter," Atkinson said.
And playing big is something that has been coming easy to both Atkinson and the rest of the Blue Jackets lately. With Tuesday's 5-3 victory over the New York Rangers at Madison Square Garden, Columbus has pulled off a nine-game winning streak.
The streak has propelled the Blue Jackets to 87 points and put them in third place in the Metropolitan Division, one point ahead of the Philadelphia Flyers and five points ahead of the New Jersey Devils for the final playoff spot. The record of 41-28-5 also gives them the same point total as the Pittsburgh Penguins.
"We have to control what we can control, which is focusing on the task at hand and doing whatever we can to get two points," Atkinson said. "Standings are so close, but in order to get there, you have to just worry about yourself and just try and win."
And in the nine-game streak, Atkinson has been lights out. He has registered at least a point in seven of the nine games. Atkinson also has seen over 16 minutes of ice time in each of the nine games.
Back on March 15, against the same Flyers team that is fighting with the Blue Jackets for a playoff spot, Atkinson tallied the game-winning goal, which was his third goal of the contest. This week alone, Atkinson has been as solid as ever. On Monday, the Greenwich native returned to Boston and found the back of the net in overtime to help the Blue Jackets net a much-needed victory over the Bruins at the TD Garden.
"It shows that we are a resilient group," Atkinson said. "It wasn't the fanciest of wins and we were down a couple of goals, but we stuck with it and found a way to win. That's huge for us, especially with games being so important and points are so important. We are never out of the fight."
While Atkinson seemed to make a habit out of coming up clutch and scoring game-winning goals while playing for Boston College back in his college days, Monday's goal was still quite unique.
"It's nice," said Atkinson. "That was actually my first goal as a professional in Boston surprisingly. It's always exciting to score a goal and an overtime goal is nice. Where we are in the standings right now, any points we can get is crucial. It was a huge two points for us."
After getting the victory up in Beantown, the Blue Jackets traveled three hours south for a game against the Rangers at Madison Square Garden, its second in as many days.
"We need to keep it simple early on," Atkinson said. "They are going to take advantage of the fact that we are playing back-to-back and have to travel, but we just need to keep it simple, get pucks in deep forecheck and don't do anything fancy. We need to let our legs get underneath us and that's we need to play."
Led by Artemi Panarin, who netted a hat trick and an assist, Columbus built a 2-0 lead and stretched the score out late to ice the Blueshirts 5-3. Atkinson picked up an assist in the game.
"I feel good and I feel confident," Atkinson said. "I love playing [at MSG] and definitely am doing things that have made me successful in the past. I have to keep it going."
Columbus returns to action Thursday for the start of a mini two-game home stand before playing its west coast Canadian trip, with games against Edmonton (March 27), Calgary (March 29) and Vancouver (March 31).
"We are great and our mentality is that we are coming into every game with a business-like attitude and trying to come away with two points," Atkinson said. "That's what we have been doing lately and we are a confident bunch right now. We have to keep it going. It's fun to play in these games."
For Atkinson, playing at this high level was something that he's been working on for quite some time this year. After a slow start to the season, Atkinson was out of action for a month with a fractured foot. He returned to the lineup on Jan. 25 and scored a goal upon his return. But he still didn't truly feel like himself.
Since returning from injury, Atkinson has found his game again, and just in time for a playoff push.
"I feel really great," Atkinson said. "I'm demanding the puck, skating and playing with confidence. It's such a huge part of my success and I feel like how I felt last year when I was playing and even better. I just need to keep it going."