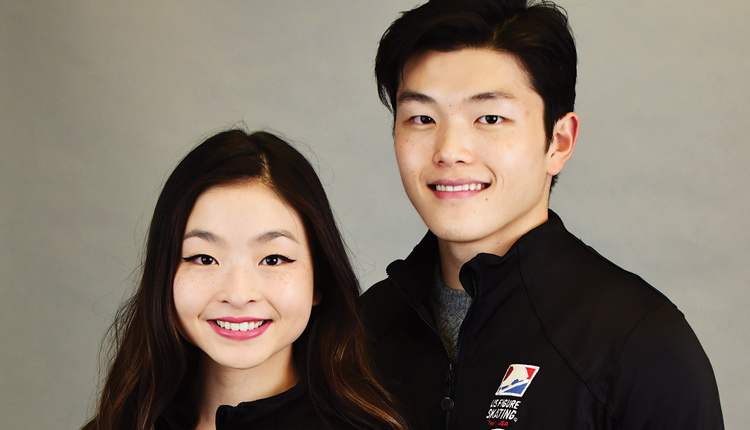 By Liz Leamy
Sentinel Correspondent
Maia and Alex Shibutani, the decorated brother and sister dance duo who grew up in Old Greenwich, did their country and original hometown proud last week by scoring a coveted Olympic bronze medal in Pyeongchang.
This powerhouse team, who are three-time World medalists (one silver, in 2016, and two bronze, in 2017 and 2011) and two-time U.S. titlists (in 2016 and 2017), skated two electric programs that catapulted them right to the third position on the leaderboard, designating them as the only 2018 U.S. Winter Olympic team members to wind up on a figure skating podium in the singles, pairs or ice dancing events in Pyeongchang.
This duo, who grew up skating at the Dorothy Hamill Rink in Greenwich and who, for the past 10-plus years, have been living in Ann Arbor, Michigan, where they train with Marina Zoueva, the iconic World and Olympic coach, were thrilled at the prospect of bringing home Olympic bronze.
"It feels like gold," said Alex, 26, who attended Brunswick School growing up. "It's unbelievable. I am so proud of how we fought through this week and the season, [and] I was really proud of how we skated today. We knew that regardless of what the result was going to be, we did everything that we could and have no regrets. We are really proud of each other, and the result was amazing."
For Alex and Maia, 23, who attended Greenwich Academy as a young girl, winding up on the Olympic podium was especially meaningful since it had been a goal they had been working toward ever since they first started skating together in 2004.
"This [free dance] program and everything we've been building on before [this point] has been for the Olympic Games," said Alex in a pre-Olympics media teleconference call held in early February. "We know what we're capable of and we're looking to put the strongest performances of our season and our careers out at this competition."
Certainly, the Shibutanis accomplished this mission in every sense of the word, as they performed two flawless programs for which they earned a combined total of 192.59, putting them in third among the 24-entry 2018 Olympic dance roster.
Needless to say, the Shibutanis' bronze medal finish seemed likely based upon an already banner 2017-18 season in which the two clinched silver at the 2018 U.S. Championships, in January, bronze at the International Skating Union Grand Prix Finals, in December, gold at the 2017 ISU Bridgestone Skate America Championships, in November, and first at the 2017 ISU Rostelecom Cup, in October.
"[The Olympics] are obviously the competition we've been working for all season. Everything builds to this point," said Alex. "You're constantly working to fine-tune and max out your points."
Facing off against such formidable contenders as Tessa Virtue and Scott Moir, the Canadians who clinched gold at this Olympics, first at the 2010 Olympics and second at the 2014 Olympics, and Gabriella Papadakis and Guillaume Cizeron, the two-time French World Champions who scored silver in Pyeongchang, the Shibutanis performed at optimal level, executing their signature twizzles, lifts, edges, steps and turns with the expertise and skill of premiere world-class contenders.
"Their programs made you want to get up and skate," said Slavka Kohout Button, a U.S. Figure Skating and Professional Skaters Association Hall of Fame member who taught the Shibutanis in the Greenwich area when they were growing up. "These programs also reflected their talent, skill and intelligence and showed the traveling and growth they've experienced through their skating."
According to Button, a longtime Greenwich resident and skating coach based in the Fairfield and Westchester County regions, the Shibutanis' short and free dance programs were exceptional in all regards.
"They were just terrific," said Button, coach of Janet Lynn, the five-time U.S. titlist and 1972 Olympic bronze medalist.
A golden, but challenging road
Reaching this Herculean point in their careers was not exactly an easy feat for the Shibutanis, as the two had faced some challenges along the way, particularly at the World championship level as lead contenders several years ago.
The duo, who maintain one of the most decorated competitive records of any U.S. dance team in contemporary skating history (scoring top honors at every U.S. Championships all the way from the Juvenile through the Senior rungs), reached a turning point during this time and decided to reconfigure and refresh their artistic strategy, a venture that turned out to be most effective.
After scoring bronze in their first season at the senior (Championship) level at the 2011 Worlds, the Shibutanis experienced a slight drop in the World standings over the next two seasons, placing eighth at the 2012 Worlds and eighth at the 2013 Worlds.
This slight change in their rankings, primarily due to the rocketing technical and artistic standard among all of the dance teams at the world level and big influx of strong juniors entering the Championship level field at that time, did anything but deter Maia and Alex, and motivated them to work even harder so they would be at the top once again.
In 2014, the Shibutanis placed sixth at Worlds (they were also ninth at the 2014 Sochi Olympics) and, in 2015, they climbed to the fifth position at Worlds.
In 2016, the Shibutanis experienced the biggest breakthrough season of their career, to date, due to the incredible artistic quality of their free dance program to Coldplay's moving composition, "Fix You."
That year, the duo clinched their first U.S. title and a silver medal at Worlds, which were held in Boston, Alex's birthplace.
In 2017, the Shibutanis continued to build on their momentum, going on to score bronze at the 2017 Worlds and a second U.S. title.
This year has proved to be another good one for this team, as they have added an Olympic bronze to their extensive collection of hardware, which also consists of three World and eight U.S. Championship medals in total.
Perhaps more than anything, the Shibutanis' programs, especially over the past few seasons, have had a major artistic impact on the sport due to their freshness, vitality and honesty.
These routines are also largely a reflection Maia's and Alex's own personal journeys as skaters as they seem to express so much of their individual personalities and philosophies, as well as obvious love for the sport, something that has served as an influential narrative for this discipline, especially at the world level.
"They have definitely impacted the sport," said Button. "Their programs are fresh, compelling and loaded with energy."    
Strong ties to Greenwich
In terms of their journey, the Shibutanis said their years spent growing up in town were important ones.
"We have ties to Greenwich," said Maia in the pre-Olympic media teleconference held at the beginning of February. "It was a great place for us to grow up." Alex agreed. "It was a great place for us to get started," said Alex in the same teleconference call. "We've been very fortunate to be in really good locations throughout our career that have helped us evolve and take the next steps."
As destiny might have it, Alex's and Maia's first season competing together (at the Juvenile level) was so successful, the family decided to relocate to Colorado Springs in order to train with the esteemed Patti Gottwein, at the Broadmoor World Arena.
Two years later, in 2007, the Shibutanis made another big move, this time to Ann Arbor, so Maia and Alex could train with Zoueva at the Arctic Edge Arena, in Canton.
"We've made a lot of sacrifices as a family," said Alex.
Clearly, the Shibutanis' way of doing things seems to have paid off, especially in seeing how everything has unfolded over the past number of years.
Perhaps more than anything, these two athletes seem to have achieved something far greater than the goal of being decorated Olympic, World and National medalists. Their most important victory of all is that, as good hearted, well-grounded and hard-working young adults, they have turned out to be excellent role models for the sport and the next generation.