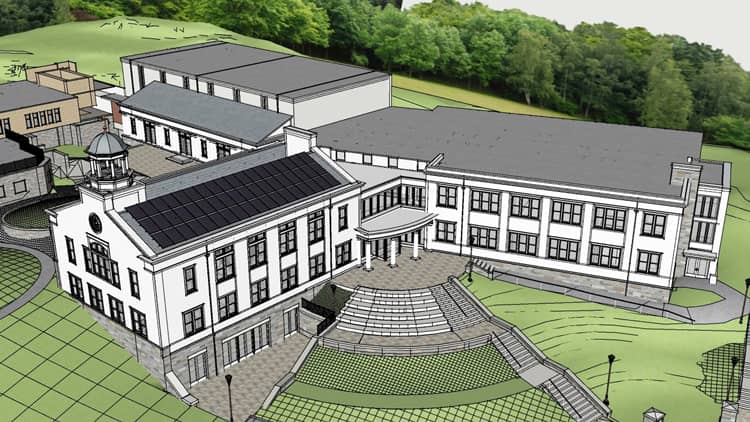 By Michelle Moskowitz
Sentinel Correspondent
On Nov. 20 last year, Stanwich School and Greenwich Country Day School (GCDS) simultaneously announced something that many in the broader education community and the local school communities considered to be seismic news.
"We have," reported GCDS in an email, "entered into an agreement in which GCDS will consolidate and assume all operations of The Stanwich School to open The Greenwich Country Day High School (grades 9-12)."
The vote to approve this ambitious plan had unanimous support from the Board of Directors at GCDS "to create the premiere, coeducational, independent high school in the country."
"I received hundreds of emails within four hours of the announcement from Brazil, Singapore, England, from alumni and friends saying, why didn't you do this sooner?" said Adam Rohdie, Headmaster at GCDS for the past 14 years. 
Since its inception in 1926, GCDS has earned a reputation as a school that is anchored around the ability to enable children to "discover and to develop what is finest in themselves."
There seems to be something real about the school's reputation, a "magic" that parents, students, alumni and teachers report as being genuine. Currently, GCDS goes up to ninth grade. Some ask, "Can that magic be reproduced in a high school experience?"
Throughout its 91-year history, GCDS has had periodic discussions about the idea of creating a high school, but nothing ever crystallized, until entering discussions with Stanwich School.
Officials at both schools were in agreement that based on their respective goals and existing assets, combining forces was a natural pairing that would not only benefit all students – but also the community-at-large, providing another option of an independent, co-ed high school. 
"The stars were really aligned with a great partner," said Rohdie. "We are both value-driven schools that try to instill in our kids the highest character. It's the right solution."
The Stanwich School, celebrating its twentieth year, is located at 257 Stanwich Road, just two miles from the GCDS campus. The proximity of the sprawling forty-acre Stanwich campus makes it a great match.
With approvals and permits from the Planning & Zoning Commission already in place, renovations to the Stanwich campus will result in a fairly quick turn-around for the development of a first-class, modernized high school, that will include a performance center, an athletic center and field as well.
Charlie Sachs, Headmaster at Stanwich School, reiterated the sentiment on the strategic alliance.
"It was a meeting of the minds of two communities with fundamental values who are philosophically aligned extremely well," said Sachs.
"GCDS has a national reputation and Stanwich will contribute to its enhancement, creating good citizens who are self-confident and self-reliant," said Sachs.
For the remainder of the 2018-2019 academic year, students of GCDS and Stanwich will remain on their respective campuses. Beginning in the fall of 2019, combined students in grades 1-8 will be enrolled at the GCDS campus and, with much anticipation and expectation, the new high school (grades 9-12) will have its grand unveiling. 
Lindsay Keating, a current sixth grade student who has attended GCDS since second grade, was quite pleased to hear about the news of a new high school. "I'm so happy that I get to stay at my school that I love so much," said Keating.
As stated in the school's announcement letter, "The combined Nursery to Grade 12 program will provide an extraordinary opportunity to serve all of our families, offering a rich academic experience, strong athletics, arts and extracurricular programs and first-class facilities at a co-educational, values-based family school."
"It is so exciting to re-imagine a high school curriculum and pedagogy today," said Rohdie.
"Other schools are handcuffed by current curriculum and other decisions. We have the ability to build a high school from the ground up and be a defining and differentiating force."
Re-imagining education in a rapidly changing global environment that is being reshaped by the pace of change itself is not an easy task.
Spearheading the efforts of the new high school is Chief Integration Officer Stephanie Rogen of the Greenwich Leadership Partners.
Rogen, with support from the Greenwich Alliance for Education, implemented the Innovation Lab at Greenwich High School which has had much success and positive feedback.
The Innovation Lab is a flexible learning environment that begins sophomore year, providing students with a cross-disciplinary project-based approach to skills development, ownership of learning, a focus on building a 'growth mindset,' and community involvement – while utilizing technology as a dynamic tool for learning.
Imminent hires also entail a Head of the High School, as well as a Director of College Counseling, combined with top-tier educational consultants, who will be conducting extensive research and analysis from the country's top innovative programs, with the goal of adopting the "best attributes for twenty-first century learning that is relevant and meaningful."
One in particular is a high-tech high school in California. 
In addition to new staff leadership, representatives from both schools, including parents and board members, are joining forces to ensure a smooth and inclusive transition process through an integration committee, a resources committee, and a High School planning committee.
Caroline Paradiso's family has been a "Stanwich family" for the past decade and offered her feedback on the news.  "The biggest gift of being a sixteen year Greenwich resident was the gift of having my [three] children attend Stanwich School during the Pat Young years [the founder of the school]," said Paradiso.
"GCDS taking over the Stanwich High School is good for Greenwich families and students. We want excellent schools in our community, and a variety of them to choose from.  The brand of GCDS will give the High School a new opportunity for the next stage of growth it needs to be a great school."
When asked how the new consolidated school can maintain its intimate class size, a key element in hands-on learning, Rohdie confirmed that GCDS will add additional sections to any classes necessary in order to maintain that low student/teacher ratio.
Factoring in that each grade from Stanwich has an average of sixteen students or less, the class sizes after the union may be even smaller than before.
Resident Shahryar Oveissi, a GCDS graduate from the class of '95 (who went on to graduate from Brunswick), is the current secretary of the GCDS board for which he has served for the past six years. He is also the the First Chairman of the GCDS Alumni Council and a parent of a Pre-K student at the school.
Serving on the special committee for the potential of a high school, Oveissi was fully supportive of the alliance of the two schools which, he concurred, share many similar characteristics, including its strong sense of community.
"I can't tell you the impact GCDS has had on me and its student body, building great, well-rounded kids due to its family-oriented culture, and incredible value system. You can just tell a GCDS student," said Oveissi through an assured smile.
"We have great confidence in [Mr. Rohdie] and hope to build the template for a high school that other schools will look to follow down the road."
Oveissi is currently the COO of WorkWellWin, a new leading innovative co-working/flexible office company, designed to inspire collaboration, innovation, wellness and community between its tenants.
"In my work, it's important to ask where can I impact people and organizations the most," said Oveissi.
While this reporter spoke with many parents and neighbors surrounding the buzz and excitement that permeate throughout town in anticipation of the new high school, she posed the question: what precisely is the magic that is GCDS?
"It's very real, if you spend just one day walking around on campus, you can feel it, taste it. The children love coming to school every day, and when I open the car doors to greet them, they just fly into the school, even the ninth graders," said Rohdie. 
"We inspire and produce continual learners who can adapt, question, analyze, and collaborate with others to find new solutions. These are the skills that will enable our students to tackle the world that none of us can accurately imagine," stated Rohdie.
With the proper assets, solid financial resources, and top-tier educators impassioned to build the next-generation of learning that will foster thoughtful, capable, conscientious leaders of tomorrow — that sounds like magic.
"To be authentic in the real world, you have to be a person with passion, grit and resiliency," said Rohdie. "I'm incredibly excited about this opportunity."
Perhaps philosopher and educational reformer John Dewey said it best, "Education is not preparation for life; education is life itself."
For more information, visit www.gcds.net/highschool.