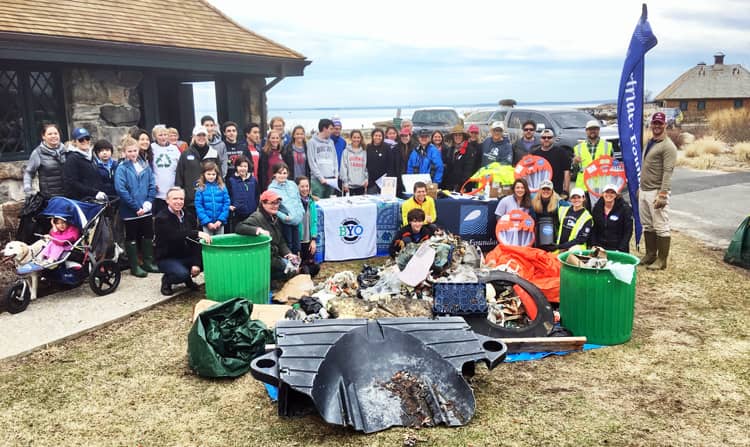 By Paul Silverfarb
Sentinel Editor
The cleanup of Greenwich Point took a surprising turn last Saturday, as BYO Greenwich, Greenwich Green & Clean, Greenwich Shellfish Commission and Greenwich Point Conservancy, as well as other organizations and a plethora of volunteers, spent a few hours cleaning.
While it appeared that Greenwich Point was kept up and pristine, the amount of trash that was picked up in just over two hours was both sad and staggering.
In fact, the volunteers and BYO Greenwich couldn't finish the project by themselves. They had to have a backhoe from the Town of Greenwich stop on by and pick up the nearly two tons of garbage that was picked up during the cleanup event.
"The importance of the event, apart from the removal of two tons of trash, was that so many volunteers and organizations heeded the call from BYO Greenwich and banded together to participate," said Roger Bowgen, Commissioner of the Town of Greenwich Shellfish Commission. "This can only serve to further increase the general public awareness of the need for this type of effort. It was very well organized and coordinated by BYO Greenwich, including assistance from the Town."
Before the cleanup kicked off, BYO Greenwich enlisted the help of the Connecticut chapter of Surfrider Foundation, who provided the estimates of trash that was collected during the event.
"It was amazing and I think everybody was in a state of shock at what the end of the event looked like," said a representative from BYO Greenwich.
In a breakdown of the nearly two tons of trash that was collected during the cleanup event, Surfriders estimates that there were 150 aluminum cans, 200 balloons (the majority being Mylar balloons), 500 cigarette butts, 48 glass bottles, 400 plastic bottles, 1,500 plastic bottle caps, 1,000 plastic straws, 30 buoys, 10 pounds of fishing lines, 10 pounds of fishing nets, 15 pounds of fishing rope and 15 pounds of glass fragments.
"All of Greenwich needs the help of every citizen and business," said Mary Hull, Managing Director of Greenwich Green & Clean. "It's easy to clean trash and reusing as much as we possibly can will affect the entire world. It's an easy way to make life better, not just for the Town of Greenwich, but for the planet."
But that's not all that was found on Greenwich Point. In addition, there were over 200 pieces of plastic fragments that were smaller than the size of a quarter, 200 pieces of plastic fragments that were larger than the size of a quarter, over 200 polystyrene fragments larger than a quarter, polystyrene fragments smaller than a quarter, and 1,000 plastic bags.
"We didn't expect this much," said the representative from BYO Greenwich. "It's apparent how bad the problem is and how not visible it is as well."
For the cleanup, there were four staging areas around Greenwich Point. One location was near the lifeguard station closest to Founder's Rock and other was close by in the parking spaces. A third location was near the Greenwich Point Yacht Club and the fourth station was in the parking spaces near Eagle Pond.
Annually, Greenwich Green & Clean holds two town-wide cleanups and that has been taking place for the past 31 years. In addition, many smaller outings take place between those two town-wide events, such as the cleanup by BYO Greenwich last week.
Hull can't stress enough the importance of those local outings where volunteers help make the community look stellar.
"Those smaller outings are the way to go," Hull said. "Pride in our town is crucial. Last weekend's joint venture, essentially organized by the young faces in BYO Greenwich who care about, not just Greenwich but the entire world, matters. We need to keep cleaning and keep saving our environment on an everyday basis."
"Picking up trash from the beach obviously protects the flora and fauna that inhabit the areas, both above and below the waterline," Bowgen said. "It reduces pollution and helps to maintain a healthy ecosystem."
Town of Greenwich First Selectman Peter Tesei said that it's important for the town residents to do their part to help keep Greenwich Point has one of the many pristine parks for residents to enjoy.
"We are grateful to the dozens of volunteers, organizations and sponsors who gave of their time and effort to participate in last weekend's cleanup," said Tesei. "The cleanup is an opportunity to remind all users of our parks that it is important to treat these natural habitats as though they are an extension of their own backyards — because in essence that is exactly what they are."