February 13, 2018
Lecturer Talks on Soviet Cosmic Achievements During the Cold War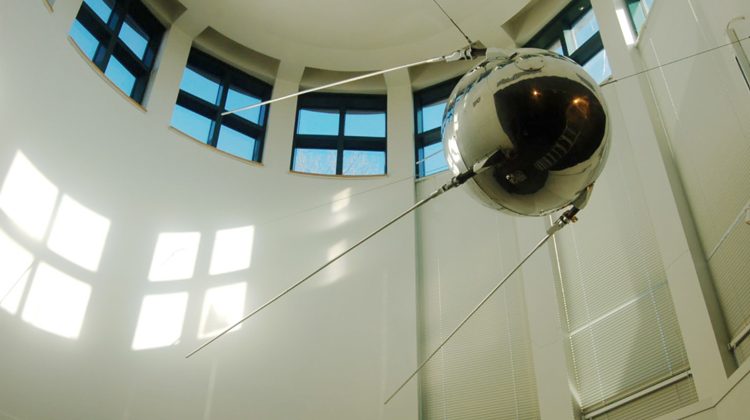 The Bruce Museum will host a wide range of programs complementing the new exhibition "Hot Art in a Cold War: Intersections of Art and Science in the Soviet Era." The exhibition, on display through May 20, features 40 works by 17 artists from the former Soviet republics of Estonia, Latvia, Ukraine, and Russia. Juxtaposing art made in opposition to state-sanctioned Socialist Realism with artifacts from the Soviet nuclear and space programs, the show touches upon the triumphs and tragedies unleashed as humankind gained the power to both leave the Earth and to destroy it.
On Tuesday, Feb. 13 from 6:30 to 8 p.m., Dr. Asif Siddiqi, will speak on "Out of the Secret World: Cosmic Visions in the Soviet Imagination."
Siddiqi, space historian and professor at Fordham University, specializes in the history of science and technology and modern Russian history. He has written several books on the history of space exploration.
The Soviet space program emerged at a particular moment in the post-Stalinist period when a burst of optimism about the socialist future provided a powerful setting for mass enthusiasm for the cosmos. Because much of the inner details of the space program were shrouded in secrecy, official Soviet publicity had to take creative liberties in advertising and promoting the space achievements of their cosmonauts. As such, official Soviet news sources de-emphasized technical detail in favor of monumental and colorful iconography that combined the fantastic with the heroic.
In this talk, Siddiqi explores the vivid and vibrant aesthetic imagery of Soviet cosmic achievements at the height of the Cold War — manifested especially in magazines and posters — as a way to explore the striking and often strange tensions between openness and secrecy that characterized the Soviet space program.
A reception takes place at 6:30 p.m., and the talk from 7 to 8 p.m. Admission in advance: Free for Bruce members and students (with valid ID), $15 for nonmembers. At the door: $10 members, $25 nonmembers. Reservations at brucemuseum.org/site/events
Tags:
Bruce Museum
,
greenwich
,
Russian history
,
space exploration