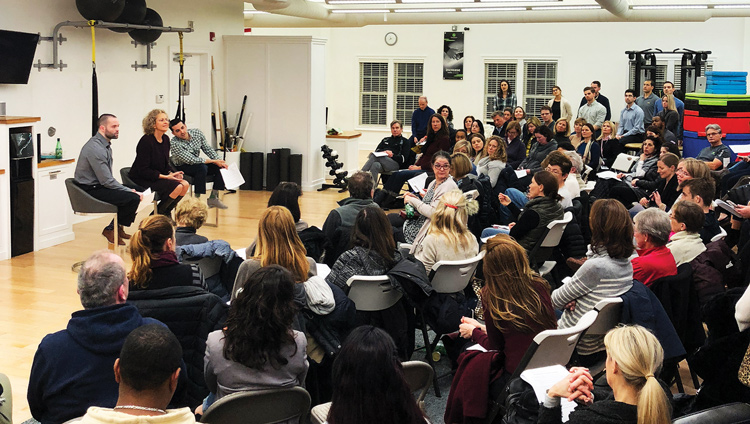 By Michelle Moskowitz
Sentinel Correspondent
Last week, Performance Physical Therapy and Wellness, launched the first of its newly released, "Get Well, Stay Well," lecture series, designed to inform, educate and provide the community with insight into the center's holistic approach to top-notch musculoskeletal care.
The orthopedic and sports-based physical therapy practice encompasses a comprehensive approach to wellness through its suite of services including: physical therapy, personal training, massage, nutritional counseling, Pilates, and, as of last September, cryotherapy, the process of using extreme cold temperatures for health benefits.
Founder and CEO Todd Wilkowski opened the first center in Manhattan, back in 2002.
Soon thereafter, Wilkowski saw an opportunity to bring his booming city practice to his long-time hometown of Greenwich, which he described as "a community that has a vibrant population, focused on being healthy and active."
"We appeal to the consumer who is looking for a well-rounded approach to not only their recovery from injury or illness, but guidance on how to stay well after they recover," said Wilkowski. 
Since 2006, patients have had direct access to physical therapy in Connecticut (meaning they don't need a physician referral to schedule an appointment).
Wilkowski says that Performance PT's team approach is most critical in providing the utmost care and encompasses the patient, therapist, doctor and other necessary health care professionals, ensuring a full-circle approach.
"Better quality of care can ultimately reduce a patient's overall health expenses by decreasing their recovery time and minimizing the need for more doctor visits or unnecessary medical tests," said Wilkowski.
Today, Performance PT boasts a total of six offices, with centers in Darien, Westport, Hamden and Stamford as well.
Last week's lecture, held at their state-of-the-art facility located at 35 River Road, was titled, "Understanding Inflammation, How Food, Exercise & Wellness Play a Role."
Guests were warmly greeted by welcoming staff smiles, a glass of chilled white wine or Perrier, and a choice sampling of some healthy nibbles provided by Rye-based Organic Pharmer, whose foods are free of gluten, dairy, soy, corn and egg.
The event garnered an impressive turn-out of 75 guests, spotlighting the importance of the evening's topic as the increase in chronic disease and systemic illness continues to rise.
The evening was moderated by Dr. Susan Blum, MD, MPG, founder and director of Blum Center for Health in Rye, N.Y., along with Michael Beecher, clinical director of Performance PT, and Nick Lambe, massage therapist and trainer of Performance PT.
Beecher welcomed the enthusiastic crowd who were eager to get seated and learn about ways to reduce inflammation in their bodies.
"We are so thrilled to be giving back to the community that has been so good to us over the years," said Beecher.
Moderator of the night, Dr. Blum, a pioneer in the field of functional medicine, has spent the past 20 years focused on treating, healing and preventing chronic illness in patients.
She also serves as the Assistant Clinical Professor in the Department of Preventive Medicine at the Icahn School of Medicine at Mount Sinai Hospital.
"All chronic illness is inflammation at the root, and we need to find that root cause so we can repair and re-balance the body," said Dr. Blum.
Dr. Blum cited how 70 percent of our immune system is in the gut, but environmental toxins, (such as mercury, plastic and pesticides) trigger an inflammatory response, as do infection, stress and, of course, the foods we consume.
While all of the panelists weighed in on the havoc that inflammation can cause on our bodies, such as fatigue, brain fog, pain, low energy levels, etc., they made general recommendations on how to keep inflammation at bay:
— Increase the amount of water you are drinking by 25%, as increased hydration improves anti-inflammatory pathways
— Spend at least three hours a month in nature (hiking/nature walk)
— Spend five minutes per day laying on your back and breathing through your nose
— Perform guided meditation for 5-10 min/day
— Conduct a full blood and inflammatory work up one or two times per year through insidetracker.com.
In response to the audience's questions regarding healthy food choices, Blum provided five key guidelines for choosing food as it pertains to reducing inflammation:
— Reduce refined sugar, high fructose corn syrup and refined grains
— Improve the quality of fat by removing refined oils and hydrogenated fat
— Improve the quality of animal protein by choosing organic grass fed and finished beef, free-range chicken and sustainably farmed, low-mercury fish
— Increase fiber, with more vegetables and fruits, choosing organic when possible
— Limit salt, food dyes and preservatives
Overall, Blum said to focus on eating foods that work to reduce inflammation, including colorful, antioxidant-rich produce, healthy fats, like nuts, seeds and avocado, low mercury fish, such as sardines and Wild Alaskan salmon, and olive oil, which adds an alkaline boost to the body when metabolized.
Dr. Blum also discussed the immense benefits of cooking with herbs such as turmeric, ginger and rosemary.
"It is not sustainable to be perfect 100% of the time, but focus on changing what you buy and cook for yourself and your family at home," said Dr. Blum.
"Then you can be less vigilant when you eat out."
Dr. Blum has authored two books, The Immune System Recovery Plan, and Healing Arthritis.
David Perlmutter, MD, author of the #1 New York Times bestseller Grain Brain and The Grain Brain Whole Life Plan, said this of Blum's book on arthritis: "Healing Arthritis leverages the most leading-edge medical research. This book will pave the way for dramatic improvement for countless individuals suffering from arthritis."
Lambe discussed some simple, yet effective techniques that work on preventing inflammation in the body, such as learning how to breath properly from the body's control center, and taking a few minutes per day to simply focus on the awareness of one's breath.
He also suggested the Headspace app to practice daily meditation, which has been proven to mitigate stress, a major cause of inflammation.
Many questions from the crowd were on the topic of brain fog and in preventing the onset of neurological disorders down the road, such as Alzheimer's disease, if at all possible.
Lambe addressed those questions by highlighting the importance of cross-body stimulating exercises, such as skipping, crawling and dancing, which have been shown to have neurological benefits. He said he integrates these exercises, when working with his clients, as a pro-active measure.
Overall, the panelists emphasized the toll that stress takes on our bodies and encouraged individuals to manage that stress through proper diet, regular exercise, and good, restorative sleep.
"I like to use the term 'preventive scheduling' — look at your own world and don't over-schedule yourself," said Dr. Blum.
"Some stressors we create ourselves, and even the perception of feeling stressed is enough."
The company's full team was in attendance for the company's first lecture.
Dr. Christopher Coppolecchia, DPT, TPI, physical therapist and certified golf fitness instructor, said that he loved his work and, in particular, "I love helping people and watching them achieve the goals they came into physical therapy with," said Coppolecchia.
"When someone comes in on crutches after surgery and ends physical therapy running on the treadmill, there is no better feeling."
The "Get Well, Stay Well" lecture series, offered free to the public, will be implemented throughout all of its locations, focusing on the needs of the local community.
Upcoming lectures include: "Golf: How Strength, Mobility & Technical Skill All Work Together" on March 1 at 7 p.m. at Performance Stamford at Twin Rinks, and "Teenage Sports: Breakthrough vs. Burnout" on April 3 at 7 p.m. at Performance Greenwich.
When asked what changes Performance PT has implemented over the years, founder Wilkowski said, "We are constantly changing the way we deliver our services – you have to in today's healthcare environment."
"One big change is how we have incorporated technology into our business in different forms (patient education, home exercise programs, etc.) which allows us to connect better with our patients/clients and stay up to date on their programs," he said.
When asked what's next on the horizon for physical therapy at Performance PT, Wilkowski said, "The days of seeing your physical therapist only when you are recovering from an injury and/or illness are gone. People should think of physical therapists as a primary care provider for musculoskeletal injuries. An annual check-up/tune-up with a physical therapist can keep you on a path to a healthy lifestyle, and our main goal at Performance PT and Wellness has always been to be a leader in providing musculoskeletal care in the communities we serve," he added.
Visit performance-pt.com for more information or to schedule an appointment.
Visit blumcenterforhealth.com for more information on Dr. Blum and her functional approach to health or to read her blog.