December 18, 2017
Music Legend Clapton to Perform at Greenwich Town Party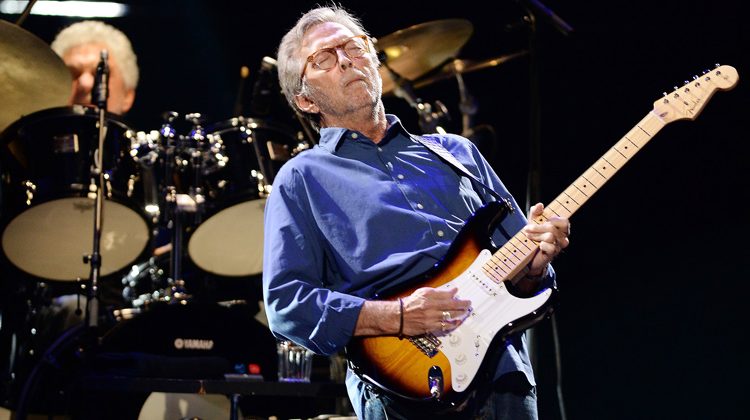 Grammy Award winner and Rock & Roll Hall of Fame inductee Eric Clapton will headline the eighth annual Greenwich Town Party (GTP), the all-day family-friendly music festival planned for Saturday, May 26 at Roger Sherman Baldwin Park.
Held annually on the Saturday of Memorial Day Weekend, this volunteer-supported community event is a popular kickoff to summer.  The event brings multiple generations of Greenwich residents together to celebrate town pride and the spirit of giving through live music, local food favorites, and family-fun activities.
Previous musical icons who have taken the stage include Paul Simon, James Taylor, Carlos Santana, Dave Matthews and John Fogerty.
"'Eric Clapton is God' has been a common expression since I started following Clapton nearly 50 years ago," said Ray Dalio, Greenwich Town Party founder, "and Greenwich residents will get to hear why at this Town Party which will be the best ever."
During his legendary career spanning over five decades, Eric Clapton has released 45 albums and received numerous awards and honors. He is the only triple inductee into the Rock & Roll Hall of Fame, as a member of both The Yardbirds, Cream and as a solo artist. He has won or shared in 18 Grammy Awards. Clapton was ranked No. 2 on Rolling Stone magazine's 100 Greatest Guitarists of All Time. In February 2018, Showtime Networks is debuting a new documentary, Eric Clapton: Life in 12 Bars, on the musician's rise to fame in which he narrates and gives exclusive access to his personal archives of music, photos, letters and diary entries.
New Sponsorships
Generous GTP Sponsor contributions support 80% of the party and allow those who may not otherwise be able to attend get significantly discounted tickets. This year, the GTP is introducing new three-year pledge opportunities which are available immediately. Individuals and businesses can make this special pledge to support the sustainability of the event. The Sponsor commitment offers unlimited access to the Sponsor Tent with catered food and beverages throughout the day and evening, and premier parking in the Island Beach Lot located directly across from Roger Sherman Baldwin Park. All sponsor levels are available at greenwichtownparty.org.
2018 Ticket Information
Community Tickets (general admission) will go on sale on Thursday, April 5, 2018; the cost remains at $85 per ticket. Neighbor Ticket and individual Sponsor Ticket sale dates will be announced in early 2018. Neighbor tickets provide access to Houlihan Lawrence Neighborhood Area with wine, beer and catered food, as well as designated parking.
In order to purchase tickets, one must be a Greenwich resident, Greenwich business owner or employee. These tickets have historically sold out in a matter of minutes, so organizers recommend purchasing tickets promptly when available. Tickets will be available for purchase on a first-come, first-served basis on the GTP website, greenwichtownparty.org.
Local Bands
A popular tradition of the GTP is the Town Stage, which will feature six local bands to round out the day's performances. Created to celebrate the diverse and abundant talent within the Greenwich community, the Town Stage band application is open to Greenwich residents of all ages, backgrounds and skill levels. Musicians and artists may apply at greenwichtownparty.org/participate/
Volunteers
As in years past, the GTP will be a volunteer-supported event, hosted in cooperation with the Town of Greenwich. Volunteerism runs deep in Greenwich, and this celebration relies on local organizations and residents to donate their time to make this unique large community event possible. Those interested in volunteering can apply at greenwichtownparty.org/participate/
About the Greenwich Town Party
Sponsored by the Greenwich Town Party, Inc., a non-profit organization qualifying as a public charity under section 501(c)(3) of the Internal Revenue Code, the party is a volunteer-supported community event. The GTP is created entirely by the people of Greenwich, for the people of Greenwich. Sponsorships and substantial donations from town residents and local businesses provide the majority of party funding each year, allowing more people to attend. Thanks to the continued generosity of GTP sponsors and donors, the tickets are offered at a significantly discounted price. Every donation to the Greenwich Town Party above $25 is matched by one generous donor.
For more information about Eric Clapton, please visit: ericclapton.com. For additional event and ticketing information, to sign up for email updates about the Greenwich Town Party, or to make donations, please visit greenwichtownparty.org. For questions or additional information about the Greenwich Town Party, please email info@greenwichtownparty.org.
Tags:
Clapton
,
Eric Clapton
,
Greenwich Greenwich Town Party
,
GTP
,
Hall of Fame
,
Rock and Roll Hall of Fame