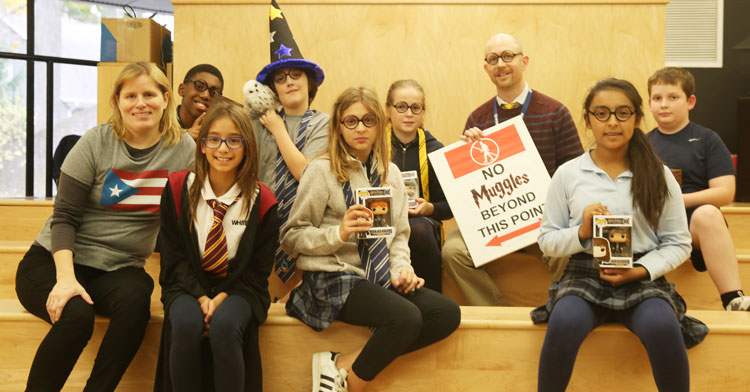 In the wake of the devastation experienced in Puerto Rico by Hurricanes Irma & Maria, a student group from Whitby School known as Dumbledore's Army planned and hosted a fundraiser to help hurricane relief in Puerto Rico. The event, entitled "Harry Potter's Hurricane Healers," co-sponsored by the Whitby Parents Association (Whitby PA), took place at Whitby's Performing Art Center Oct. 26.
Price of admission for the Movie Night was at least one first-aid item: Gauze, Band-Aids, Alcohol Pads, or Hand Sanitizer. Students also sold Harry Potter-themed baked goods for $1 a piece. The event raised more than $400 for Teens 4PR, and the team collected 410 medical supply donations. The funds and supplies were given to Teens 4PR, a non-profit platform to help young people fundraise for hurricane relief and reconstruction in Puerto Rico. Teens 4PR helps charitable organizations across the island including The Boys and Girls Club of Puerto Rico, Para la Naturaleza, and Centros Sor Isolina Ferré.
"I'm proud to say that this fundraiser was designed and hosted by 5th through 8th grade students," said Phil Lohmeyer, Student Activities Coordinator for the Upper School, and Upper School Design Teacher.
Dumbledore's Army, which includes over 20 Whitby Upper School students and staff members, met daily for more than three weeks to plan this event. The student-made bake sale sold items including Hogwarts House Cupcakes, Sorting Hat Cookies, and Dumbledore's Lemon Drops. The Trivia Contest created by 7th graders became part of the Upper School's "Color Cup Challenge," with the Blue Team winning the event by earning 36 total points. For each medical supply donated, the attendee was rewarded with raffle tickets for a chance to win prizes. This included Harry Potter "Pop!" action figures, a Muggles poster, and an official Hogwarts Magic Wand.
"The students helped plan everything: the bake sale, trivia contest, raffle, and more." said Beth Ferrer, Whitby's Community Service Coordinator. "Not only did they make it a fun event, they developed their fundraising skills while also contributing to the rebuilding of Puerto Rico."
Additional funding for the "Harry Potter's Hurricane Healers" event was provided by the Whitby Parents Association (PA). The PA also supplied parent volunteers to help with raffle tickets, donations, food distribution, and crowd control.
The Saturday after, the collected medical supplies left on a chartered flight to Puerto Rico. The flight carried 33 nurses and five doctors and was organized by Hispanic Federation, a non-profit organization founded by Hamilton-creator Lin-Manuel Miranda's father that has provided disaster-relief assistance to Latinos in the United States and Latin America for more than 25 years.
In an official statement from Dumbledore's Army, students stated: "We feel very proud of our work and are happy that we could help the people of Puerto Rico. Our hard work definitely paid off!"