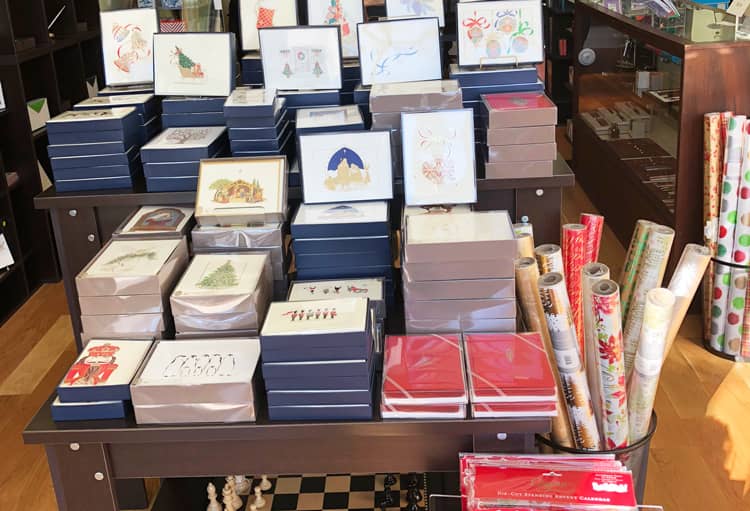 By Michelle Moskowitz
Sentinel Correspondent
While there are few remaining mom and pop shops on Greenwich Avenue today, there is still one boutique that remains time-honored and deeply rooted in the prosperity and cultivation of 'the art of correspondence' for the past 40 years.
Saint Clair Stationers, located at 25 Lewis Street, is the purveyor of high-caliber stationery including formal invitations for weddings, parties, baby announcements and holidays, day-to-day textured notecards for personal and professional use, as well a vast, curated selection of unique gifts.
The quaint shop evokes a tranquility, reminiscent of technology-free days, where the art of taking pen to paper is an art in and of itself.
While the holiday season is upon us, marking a celebratory, yet busy time for the store, Tamara Shakarjian, one of the store's proprietors, still had some time to chat with the Sentinel.
Shakarjian and her fiancé, Charles Hon, purchased the business together in March of 2014 — as they were seeking a local business venture that they could truly enjoy and flourish with — after both working demanding jobs at Pfizer for many years where they had met.
When the couple decided to take over the established business, Saint Clair was located at 96 Greenwich Avenue, where the previous owner had relocated to.
But much to the delight of the company's long-time Greenwich customers, the co-owners decided to move the treasured shop back to its original location on Lewis Street, where it had prospered for so many years in town.
Thirty-five years to be exact.
"Our clients were truly so happy and said it felt more authentic to be back at its original location," said Shakarjian.
And with the move back to Lewis Street, the new proprietors had the vision (and fun) in updating the 'look and feel' of the shop and put their own imprint on their new joint venture.
The large glass storefront with the regal Saint Clair emblem emits the day's bright sun and evokes a cozy warmth, and even calmness to the store upon entering.
The hint of holiday music playing softly in the background adds to the welcome invitation to browse its finely crafted wares.
Although the revised space has been downsized to 1,000 square feet — the boutique delicately brims with its fine stationery, ornamented holiday cards, and select assortment of accessories — all possessing an elegant mix of sophistication and simplicity.
Cards, stationery and many gift items can be uniquely customized to include monogramming, a personalized embellishment, or even a family crest or logo.
Time-treasured keepsakes such as photo albums, silver and wood picture frames and luxe journals are neatly arranged upon newly installed custom shelves.
The shop's walls are embossed in a paint color called 'water sprout' that Shakarjian and Hon enjoyed selecting together.
During this reporter's interview, held first thing in the morning, customers were already placing their orders while two, amiable, long-time employees were busy at work.
Arlene Rabusa has worked at Saint Clair's for 17 years, while her colleague, Fely Intal has worked there for 18 years.
They both took delight when sifting through the colossal books of stock inventory — giving this reporter just a glimpse of the vast world of fine stationery and the range of choices and price points that one can choose from.
Heavy, textured stock by Crane & Co., which has been in existence since the revolutionary days, and William Arthur are two of Saint Clair's major providers.
Shakarjian, a biologist by training who also worked at the Department of Defense, as well as in philanthropy, is an avid lover of languages.
Being fluent in English, Russian, German, Italian and French is perhaps what compels her to have such a deep appreciation of the written word, which is how she gladly spends her days now.
"It means so much more to people when they receive a beautiful, hand-written note because someone took the time to put pen to paper," said Shakarjian through a smile.
"You just don't feel the language when you are typing something the way you do when you hand-write something."
Even with her gentle, soft-spoken demeanor, it is evident that her adoration for Saint Clair's and all that it represents is something she takes great pride in as she gladly walked this reporter through every nook of the store.
The boutique's newest addition to their selection of couture stationery is custom calligraphy and manuscript illumination by renowned artist Karen Gorst, who according to The New York Center for Book Arts, has been ranked as one of the top 100 most influential calligraphers of the 20th century.
To commemorate this weekend's 9th Annual Greenwich Holiday Stroll, Gorst will be on-site inscribing gift tags and holiday cards with customized greetings and/or hand-written poems for Saint Clair customers this Sat., Dec. 2 and Sun. Dec. 3 from 2 to 4 p.m.
"Saint Clair's standard of fine quality and decades of serving the Greenwich community are a perfect match with The Gorst Studio's commitment to world class calligraphy and manuscript illumination," said Shakarjian.
When asked if the Internet and the ubiquitous evites has hurt the stationery business, Shakarjian paused and admitted that perhaps it did somewhat, but is optimistic that there will be a reckoning.
"Stationery is making a comeback and I think people are getting tired of doing everything online."
In time for holiday gift giving, the store is abundant with luxurious leather desk accessories, wood backgammon, poker and chess sets, and even chic eyewear by eyebobs.
Some of their exclusive items include the original Lynn Haney Santa figures (which are no longer being made), decorative candles, Wentworth wooden puzzles, and sweet confections such as Vermont maple syrup.
Shakarjian, who often writes at home just to unwind and relax, grew animated when showing this reporter their encased collection of fine pens including cross pens, Faber-Castell, Sheaffer, and the old-fashioned fountain dip-pens.
"Your handwriting can tell so much about you and is an expression of one's personality," said Shakarjian.
Another great stocking stuffer idea she suggested is the 'quilling post-it note covers' — finely knitted textured covers bound to add a hint of joy to anyone when writing their 'to-do' note.
When asked about the usage of trees and the importance of recycling, Shakarjian was quick to set the record straight.
"Our fine papers are made with cotton, or even bamboo which is fully recyclable."
Right after the holidays come to an end, the co-owners will keep the celebratory spirit going at their wedding which will be held in February in Hon's hometown of Vermont.
This reporter was curious as to which invitations they selected for their special day.
"We've chosen Crane's blind-embossed beveled panel invitations in white with the text in charcoal grey. There are no motifs or flourishes. It's very traditional and very elegant in its simplicity."
Visit saintclairstationers.com for more information or call (203) 661-2927.
Store hours are Monday to Friday, 9:30 am to 5:30 p.m. and Saturday 10 a.m. to 5 p.m., with an expanded holiday schedule including Sundays.