December 1, 2017
'PAWS-itive Patrol' Event Promotes Responsible Pet Ownership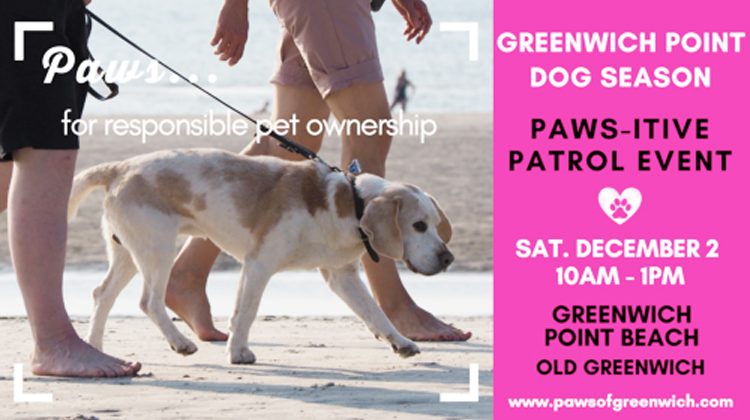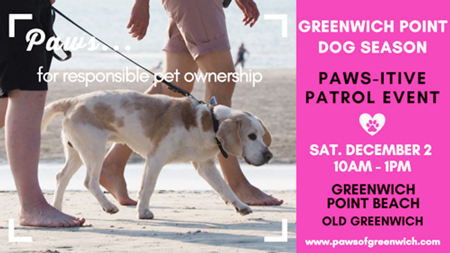 PAWS of Greenwich (POG), a non-profit organization and collective of Greenwich-area dog owner citizen volunteers, announces their partnership with the Town of Greenwich to promote responsible pet ownership in the local community. The partnership will kick-off this Saturday, Dec. 2 at Greenwich Point Park for PAWS of Greenwich's "PAWS-itive Patrol" event, which coincides with the launch of "dog season" at Greenwich Point Beach (Dec. 1 to March 31, 2018). The purpose of the event is two-fold: to celebrate Greenwich's furry residents, and to promote responsible dog ownership by educating pet owners of: town laws and regulations, dog licensing, leash laws, picking up dog waste, general dog behavior and more.
Volunteers from PAWS of Greenwich will be on-site and set up near the main concession stand where they will talk to passersby about the cause, dog-related town regulations, answer questions, hand out brochures outlining regulations for the dog season at Greenwich Point, and pass out dog license cards and event dog waste bags – in an effort to promote waste pick up.
"We appreciate the efforts of Paws of Greenwich and thank them for their partnership with the Town to provide this education program. It is important for people to know and follow the rules for the safety and enjoyment for all," said Joseph Siciliano, Director of Parks and Recreation.
PAWS of Greenwich launched in March 2017 by Greenwich resident Jessica Del Guercio and her rescue pup "Hope." The volunteer organization of passionate dog owners is working to revitalize Grass Island Dog Park and hopes to raise funds for a new dog park in town. The citizen collective assists with managing, maintain and patrolling the Grass Island Dog park. In addition to the efforts related to the park, PAWS is a thriving social media and online community that acts as a resource for pet-owners, regularly promoting information related to licensing and vaccinating pets, promoting adoptable pets from Greenwich Animal Control and their events, highlighting area animal rescues and their adoptable pets alerting residents of lost or found pets and assisting in their search, promoting appropriate dog behavior, and providing recommendations and information regarding pet-related services in town.
"We've been working hand in hand with the Town of Greenwich for many months, thus we are excited to announce an official partnership as we work towards the goal of making Greenwich an exceptional community that it both welcoming and safe for all residents, whether they are pet owners, or not," said DelGuercio.
For those interested in volunteering for the event, please sign up at pawsofgreenwich.com/volunteer. For more information about PAWS of Greenwich, or to make a donation, visit pawsofgreenwich.com or join the social conversation via their Facebook Page, Facebook Group, and Instagram.
Tags:
dog season
,
greenwich
,
partnership
,
PAWS of Greenwich
,
PAWS-itive Patrol